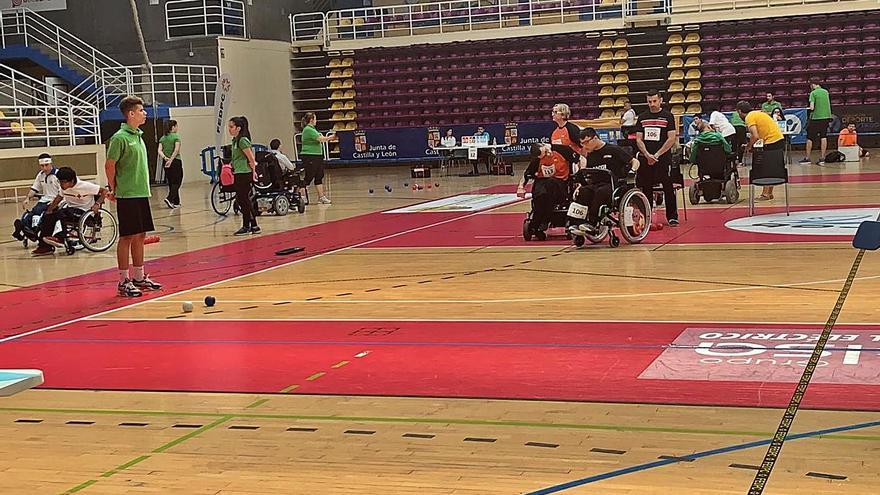 Ten years of sports career and a lot of effort they have paid off. María Jesús and Paco, parents of Paco Bautista, decided to motivate their son to start boccia and what is more important to train to become his coaches and that in this way he could evolve. A Paralympic discipline of precision and strategy that consists of performing different throws with balls of varying hardness. As explained by his mother and coach, María Jesús, «this characteristic is very important since all balls are not the same and the hardness has to be adapted to each player, in our case despite having been playing for nine years, we are still trying new hardness but you have to go little by little because they are expensive and you can't buy all of them at once.
Regarding their work as coaches, something that often surprises when they go to competitions, he explains that «at the beginning we started simply by throwing balls and learning with him, since we started from scratch, a little at leisure as a hobby, but when we understood the game better, we got hooked. At present the FEDPC has carried out a Boccia trainer course so that there is a regulated training as exists in other countries, an opportunity that my husband has taken advantage of to take the boccia trainer course organized by this entity to continue growing and helping our son ».
To the theoretical effort that his father is making, the organization that the family carries out to cover the training routine is added, which, as Paco Bautista's mother explains, "consists of two weekly training sessions except when there is competition nearby, which increases. He explains that «in the physical part we work on launching force, endurance, postural control, etc; and in tactics, the resolution of plays with assumptions is worked on, reasoning at all times with him what happens if he shoots in one way or another or how certain situations that may appear at the time of play can be resolved, we always try that he knows how to make decisions and that they be the right ones. Since we cannot talk to him during a game, he is the one who decides how he wants to play or how he wants to solve a game situation.
He assures that in addition to the aspects focused on sports, it is very important to work on the psychological part "we try to make him learn to relax since he sets himself great goals, he is very competitive; That he learns to lose, this is very important, we always tell him that he has to lose to learn so that he does not get frustrated and that he enjoys the game ».
Big doses of effort
Although having the coach at home may seem like an easy thing, María Jesús indicates that there are difficulties «you have to learn to separate the parental part from that of coach and athlete, It is not easy because you often take your training home with you and you have to set limits, many times when competitions approach we only talk about boccia, in training, at lunch, at dinner; It is difficult to learn to separate, but each time we are improving ».
A lot of effort, as his mother and coach assures us «when we are on the track and we see that everything is going well, regardless of whether he wins or loses, that the work comes out, it does not give an adrenaline rush that is very necessary to feel that we are on the right track; Without a doubt, the most important thing is to be able to share directly the entire sporting experience with our son. This trajectory has changed him but it has also changed our entire family structure, which is undoubtedly stronger now ".
A sports discipline that improves your life
For people with some type of functional diversity it is difficult to find activities in which they can develop and meet people, in this case Paco has provided that point of socialization. Traveling through different parts of Spain, developing like anyone else with their hobbies, their friendships, getting excited and motivated as well as having another incentive with their family. On a physical level it brings you many benefits, among others it improves the spasticity of your muscles, with the physiotherapy sessions and the RHB that are given linked to the sport.

www.informacion.es
Eddie is an Australian news reporter with over 9 years in the industry and has published on Forbes and tech crunch.