Jose Carlos Cueto
BBC News World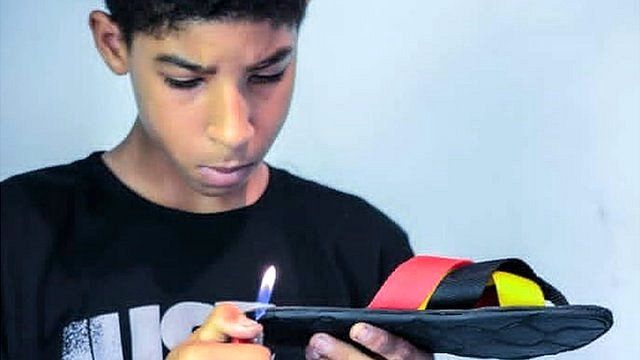 In the Venezuela of scarcity, the adolescent Andrés López challenges precariousness with ingenuity.
He's only 14 years old, but skill to spare. With his hands he assembles flip flops, 'cholas', as he calls them, using discarded materials.
For the sole it uses tire rubber. First quarte, then mold. Sews with needles drawn from women's heels. It is painstaking work.
"There were people here, in Ciudad Bolívar, who already made them. But they were crooked. They fit me straight", he says, with satisfaction, to BBC Mundo.
Ciudad Bolívar is the capital of the state of Bolívar, located in the southeast of Venezuela. Like most of the country, the city suffers the ravages of inflation, lack of foreign exchange, insecurity and shortage of basic products.
It was in this context that López, a product of chance, necessity and above all talent, invented a business to help his family to overcome the daily difficulties of the South American nation.
It all started out of an oversight.
Andrés López lost his flip flops and there was no money to buy new ones.
He lives with his mother, his 17-year-old brother, and his grandfather. The mother's name is Carla Cabrera and she cannot work because she suffers from severe anemia and must stay home.
"So I took some rubber to make some for myself. They looked good and I thought I could sell them," says the teenager.
"In the wake of my illness, the boy was encouraged to sell cholas"says his mother.
The decision was caused by family difficulties in obtaining cash and buying food.
Creativity and craftsmanship was inherited by Andrés from his grandfather, a Spanish carpenter who kept his workshop next to the house.
Grandfather and grandson spent several hours together and Andrés thus learned to use his hands; chop, assemble, invent.
The boy used to look for the discarded rubber there, near the neighborhood, but lately it is scarce and now he has to buy it or change a few meters for some of the cholas.
"I take the sole and the thread out of the rubber. I take out the needles from the back of the women's heels. I grab it, polish it and make a point of it," he describes.
The lack of foreign exchange is such in Venezuela that, at the beginning, sometimes I did not receive money for the flip flops. He had to settle for bartering.
"He exchanged them for flour or other food, although I insisted that he always try to sell them so that he could also buy something for himself," says Cabrera.
The family never imagined that the sale of cholas would become their main source of income and even a viral phenomenon on the networks.
Support
"Right now I make cholas to order. People give me their size and the color they prefer and then I make them. I make a pair a day and I sell them for five or six dollars"says the teenager.
Cabrera acknowledges that the first copies of his son were not so good: "the technique has been perfected little by little."
That is why he is grateful for the trust and involvement of the neighborhood, which from the beginning entrusted the adolescent with assignments to help get the business off the ground.
"Now it's curious, because we sit outside the house and almost everyone who passes by wears Andrés's cholas," says his mother.
"In the neighborhood there are people with allergies and fungus on their feet. It doesn't happen to them with the ones I do. Besides, they are non-slips ", says the boy about his product.
Mother and son consider that the business is successful, although in this Venezuela success is relative.
The profits go mainly in food, expensive to obtain due to the high inflation and the little cash available.
Therefore, for them the impact on social networks is very important, boosted on a couple of occasions thanks to the involvement of celebrities and influencers.
Also charity
Andrés López also puts his ingenuity at the service of charitable works.
Both he and his mother closely follow the work of the Venezuelan doctor María Torrealba on Instagram, where she makes public her work as a pediatrician.
In his account he shares the difficulties of Venezuelan families to obtain medicines for their children. Hence, I organize campaigns seeking support for them.
Andrés and his mother thought of writing to the doctor and offer him some pairs of cholas to donate to children who need them.
They were surprised when Torrealba made the offer public on his profile. One more boost for the profession of the adolescent.
"Right away, many outsiders wrote to order and help. A former Miss Venezuela, Daniela De Giacomo, paid for 30 pairs of cholas that we gave to Dr. Torrealba on children's day to deliver them to the community," says Andrés's mother.
Recently, the family donated another 15 pairs of cholas to the neighborhood.
The person who ordered and bought them told Andrés to deliver them to whoever he wanted. He distributed them to children and the elderly in the community who needed it.
Future plans
Carla Cabrera is concerned that her child will take responsibility for the home.
However, Andrés assures that in the future wants to start his own company, recover his workshop and get better tools.
The place close to home, where his grandfather did the carpentry, had an accident and was left homeless. A fire hit some gas cylinders and burst, being practically destroyed.
Meanwhile, Andrés' Instagram account has almost 11,000 followers and the business has expanded beyond Bolívar, selling in Caracas, Valencia and other areas of the country.
Now you can receive notifications from BBC Mundo. Download the new version of our app and activate them so you don't miss out on our best content.

www.bbc.com
Eddie is an Australian news reporter with over 9 years in the industry and has published on Forbes and tech crunch.