Madrid
Updated:
Keep

The mega ship Ever Given on Monday resumed the march for the Suez Canal, where maritime traffic has resumed after a six-day blockade due to the grounding of this 400-meter-long container ship. The rescue teams managed to unblock him last morning and, after new maneuvers throughout the day, they finally managed to put him afloat.
As the Suez Canal Authority advanced, the ship headed for the Great Bitter Lake, a wider area of ​​that waterway where it will be subjected to a technical inspection to check if it has suffered damage during the incident and the operation to refloat it.
At least 369 ships were waiting of the resumption of transit through this infrastructure of about 200 kilometers that connects the Red Sea and the Mediterranean, and through which approximately 12% of world maritime traffic passes.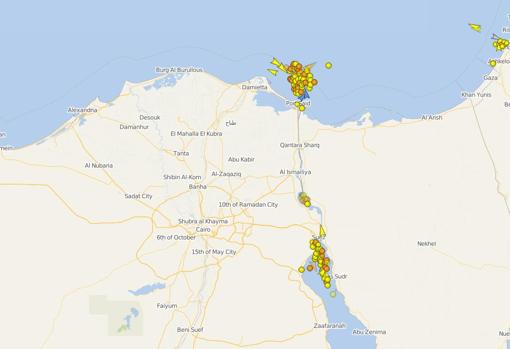 The president of the Egyptian authority that manages the canal, Admiral Osama Rabie, was in charge of announcing this afternoon the resumption of navigation after the entity "rescued and launched the giant container ship Ever Given", according to a statement. "He is free," said an official involved in that operation, according to Reuters.
The help of the spring tides
During the early hours of this Monday, and after the dredgers removed thousands of tons of sand around the hull, the tugs managed to unblock the ship from the eastern bank of the canal, where it had run aground. The operation was carried out during high tide, taking advantage of the fact that the full moon makes it especially high these days.
Hours later, coinciding again with high tide, work was resumed to put the Ever Given completely afloat, which was finally achieved at 1:10 p.m. local time (2:10 p.m. in mainland Spain) with the effort of a dozen tugboats. .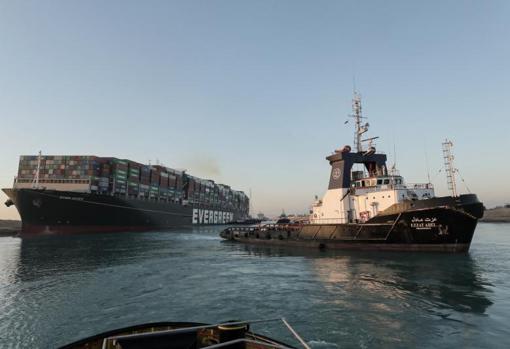 Despite the change in position when it was straightened (it had been stranded diagonally), the ship did not run aground again and was able to resume its northward march. According to the web vesselfinder.com, which tracks the position of vessels around the world, the Ever Given was sailing shortly after at a speed of three knots heading north.
The Egyptian President, Abdelfatah al Sisi, had previously ordered preparations to be made to lighten the load in case the towing and dredging maneuvers were insufficient to free the ship.
The mega-container ship ran aground last Tuesday and the accident was initially attributed to a sandstorm, although this weekend Admiral Rabie clarified that the gusts of wind were not the main cause, but there were also technical or human errors.
Following news of the ship's release there was a fall in the oil price, which had risen in recent days as a result of the blockage of the canal and the delay in supplies. The barrel of Brent fell 2% this Monday, although it later recovered and the decline was less than 1%, remaining around 64 dollars.
See them
comments

www.abc.es
George is Digismak's reported cum editor with 13 years of experience in Journalism