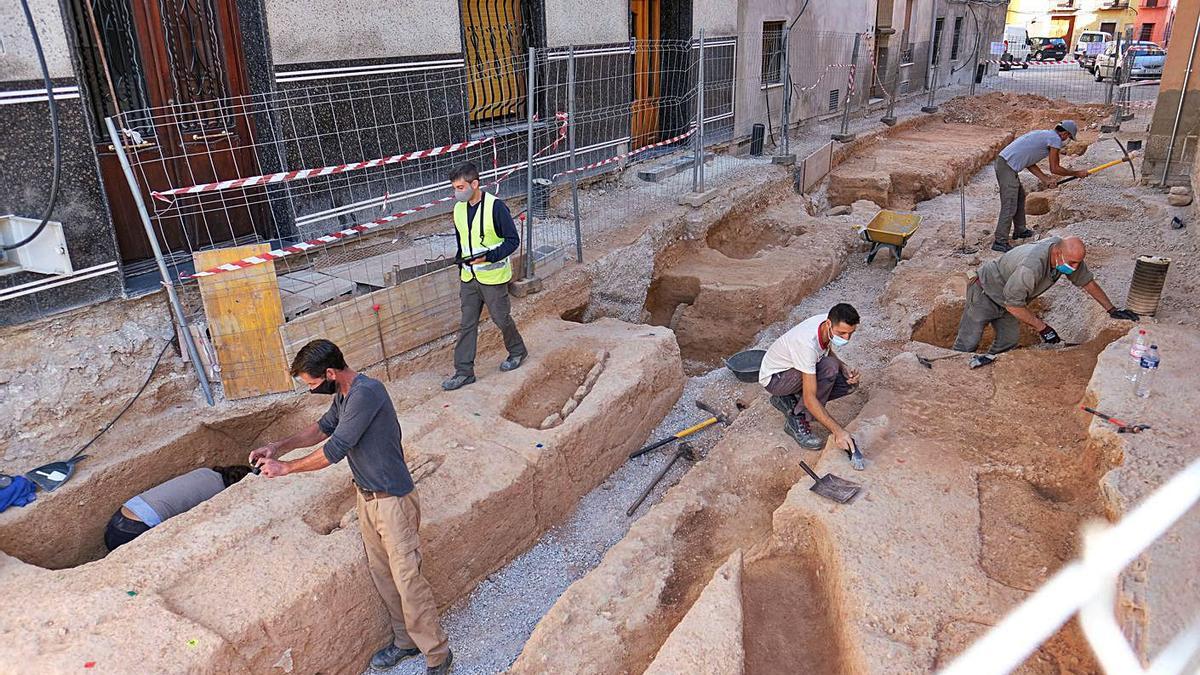 The cemetery from the fourteenth to fifteenth centuries found in the heart of Aspe, next to the access doors of the current houses, continues to grow as archaeological work progresses. At 60 graves excavated since the end of September will be added another 20, which have recently been located in the section of Ramón y Cajal street near San Luis street. A figure that, however, could increase in the next two weeks, which is the period foreseen to end the intervention as long as no setback arises. In addition, this same week four other burials have been exhumed, with a similar Islamic ritual, between Conde street and Barítono Almodóvar avenue, on the road parallel to Ramón y Cajal.
By virtue of the surveys carried out in the area, it is very likely that the number of tombs, as announced two months ago by the archaeologists responsible for the intervention, will reach one hundred. As they explained then Eduardo López Seguí and Francisco Molina Mas, archaeologists from Alebus Historical Heritage, the corpses extracted – mostly adults as well as some children – are in a right lateral ulna position and their heads are oriented towards Mecca. They were buried naked, wearing one or more shrouds, but without jewelry or other types of objects that would allow dating the find. In fact, so far only a small coin and another coin fragment, as well as a complete bronze ring. All these elements will receive restoration work shortly.
The graves appear perfectly aligned and ordered following the Islamic burial pattern. In this case, it is characterized by being a brick-walled hovel inside which the deceased was deposited.
The necropolis was located during the redevelopment and service renovation works on Ramón y Cajal and Vereda streets. The project to improve both streets was approved by the City Council last year to adapt them to the basic criteria of the commercial action plan. And this with the aim of improving circulation and pedestrian accessibility by also renovating urban furniture. The action, budgeted in 567,000 euros and co-financed by the Provincial Council, it will exceed the seven months initially set. But before proceeding to seal the burials, those responsible for the excavation will have to prepare a documented and photographed memory that they must deliver within a maximum period of two years, together with the discovered materials and the exhumed corpses, to the Aspe Historical Museum. Your director, Maria BernáHe explained to this newspaper last night that the necropolis located in the middle of the urban area occupied a large area of ​​land, which gives it an outstanding entity. But it is not the only necropolis discovered in Aspe. Years ago, numerous Islamic burials were also brought to light on La Cruz and adjacent streets.

www.informacion.es

Digsmak is a news publisher with over 12 years of reporting experiance; and have published in many industry leading publications and news sites.