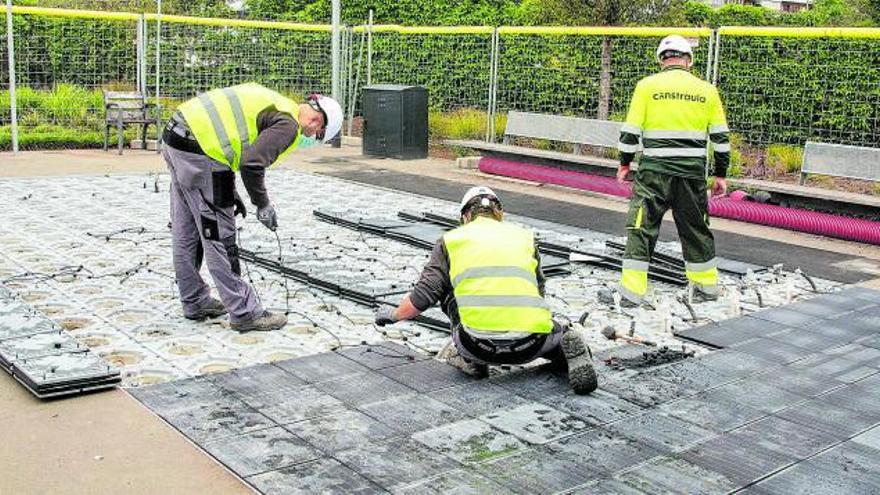 Sorigué paving is an example of the revolution that the construction sector is experiencing, whose leading companies are increasingly delving into technology, services and development teams. New materials and techniques change and it is necessary to adapt. Sorigué is a business group founded in 1954 specialized in the development of solutions for construction, services, materials and water technology and engineering. The firm has more than 20 companies and 3,800 employees on its staff. The second construction group of Catalan capital weathered the pandemic year with an increase in revenues to exceed 600 million, almost 7% more, and an attributed result of 6.9 million, 5% less.
The pavement developed by Sorigué, currently in the pilot test phase in the city of Barcelona, ​​is distributed with modules that -in their demonstration phase- occupy a total area of ​​50 square meters. This surface can generate 7,560 kWh / year, the equivalent of the energy consumption of three Catalan homes during the year. In this way, clean energy is generated and 2,722 kg of carbon dioxide emissions are saved per year. The project is aimed mainly at municipal corporations and local entities so that it can be placed on sidewalks and urban streets, but also in buildings and residential areas.
According to Joan Pons, Sorigué's Director of Innovation, "to develop this pavement we have taken advantage of elements that already exist in the urban environment to turn them into power generators, applying criteria of sustainability, energy efficiency and low environmental impact." Pons adds that "the investment in this type of urban solutions could be recovered in about five years, with the installation having a useful life of more than 20 years." The manager explains that "to develop this flooring, the talent and creativity of the Hungarian start-up Platio were used. This collaboration has been very enriching for both parties and has generated knowledge exchange, teamwork and new business synergies.
The Lleida-based company is working on two more projects to find new power generation systems for pavements, roads and other asphalt mixtures. Photovoltaic pavements are one of the exponents of the so-called smart cities, which strive to find an optimal integration of the latest technologies in everyday life.
For Pons, "although construction companies have typically been quite conservative when developing R&D projects, the emergence of new technologies and materials has accelerated the pace of project development." In recent months, a significant advance has been perceived in the use of tools that automate certain processes, in modular and industrial construction to increase efficiency in building works (shorter execution times, higher quality, and reduction of waste), or the use of wood for the construction of buildings. In addition, digitization has also contributed to ordering a sector with highly complex and specialized engineering projects.

www.informacion.es
Eddie is an Australian news reporter with over 9 years in the industry and has published on Forbes and tech crunch.