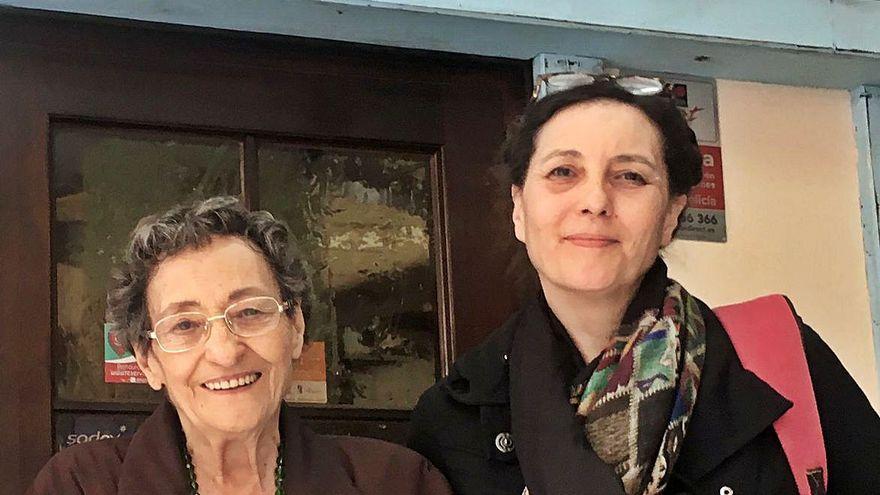 In Cavalo Morto, when a horse dies, Lêdo Ivo is called to resuscitate it, when an evangelist dies, Lêdo Ivo is called to resuscitate it, when Lêdo Ivo dies they call the tailor of the butterflies to resuscitate it … » .
Three nights ago, a few hours after receiving the news that Guadalupe Grande Aguirre I had just died at the Hospital Clínico de Madrid, the verses of the poem Cavalo Morto, by Juan Carlos Mestre, were stitched to my thought like an obsession. The few hours that I slept brought me back to her, in her eyes, to the nights of long conversations in which there was an involuntary purpose to avoid loneliness, to ignore it, perhaps to share it. A simple call activated the mechanism of affection, of the delight of listening, of feeling, from a distance, that we were walking in the same direction or that we were advancing, without losing our step, in the opposite direction to the others. And this mode of approach had become more frequent, more intense, with time and with circumstances. With the death of Félix Grande, her father, in 2014, my encounters with her and with his mother, the writer Paca Aguirre, multiplied as a necessity. I will never know if the trail that guided me was the literary, the human or the confluence of the two …, but the beginning goes back, I am sure, at least twenty years ago.
Of all those worlds that friendship gives you in its full sense, I remember, with a special magic, the Madrid home of the Grande-Aguirre family. At least two decades ago, love and curiosity took me there, to number 8 Alenza street. The heat that Félix's embrace gave off when he arrived, Paca's tender kiss or Lupe's balmy gaze were just the prelude to a journey without time, without awareness of the hours. This was the house with walls lined with wisdom. An infinite corridor, bricked with books, from the floor to the heights, welcomed you when you entered. But the books spread through the bedrooms, through the living rooms, through the most unsuspected spaces like a happy plague. The room, however, was dedicated to the grandfather, Don Lorenzo Aguirre, his paintings and his long memory. I never left that home without feeling better about life and worse about the world and its henchmen. I did not leave that apartment without the splashes of those infinite talks about poetry, about poets, but also about our moral stance in the face of shame, about that present and necessary critical gaze.
The years only served to get me closer to them. I have met few beings of that nature, so necessary, so essential to make this life a less indecent and more just place. The goodbye of Félix Grande six years ago prevented him from enjoying the wide recognition that his wife would receive shortly after his dismissal, especially in 2018, when the Ministry of Culture granted him the National Prize for Spanish Letters, or in 2019, during the Alicante Book Fair, attending the greatest tribute he could dream of in his own land, in the city of his childhood. None of us would ever imagine that just a few weeks later, Francisca Aguirre would also leave us, although the landscape of her memory, like that of Félix, was kept safe in the daughter of all desires, in Guadalupe, inherited from a line of poets. humanists, committed to life to the point of pain, with those who suffered history, not with those who made it.
The tear comes when a brutal, unexpected claw also tears someone like her from us in the midst of her fullness, when death snatches her away without the slightest warning and takes her fifty-five years ahead, the peace of her hands and much to do, to write, to tell about his immense inner world. Poetry, literature, music and painting were his best and greatest traveling companions. His poems, reflective, delightfully irrational, of an unsettling serenity, were at the height of his upright face, of the dignity of his soul; his essays as well, his aesthetic thinking, his civic and ethical preferences, his works on Concha Méndez, Luis Rosales, Juan Rulfo, Carlos Edmundo de Ory, César Vallejo, Sylvia Plath or the Brazilian poet Lêdo Ivo, whom he translated, together with Mestre , in an unforgettable anthology entitled The village of salt.
Precisely, right now I would like to call the tailor of the butterflies to resuscitate her, so that she can get back on the other side of the phone, like so many nights. I would like to make mine these verses that she wrote in her first book: Okay, let's not cry anymore, / The afternoon is still falling slowly. / Let's take the last walk / of this wretched hope. I would like to tell her that she is not alone, that she was never alone, and that before sleeping, turning off the light, I will feel her voice again whispering words like rain, weather, frost, father, memory … Just that.

www.informacion.es
Eddie is an Australian news reporter with over 9 years in the industry and has published on Forbes and tech crunch.