Las Palmas
Updated:
Keep

Answer He arrived in Tenerife by boat, there he lived in a Red Cross center for a time, until the tests showed that he was of legal age. He is 19 years old, he confesses, and since he was transferred to Gran Canaria he lives in a small camp in Las Alcaravaneras beach, in Las Palmas de Gran Canaria. He doesn't like living on the streets, he says, but this young man from Touba (Senegal) He just wants to help his family in his country and believes that this refuge he has found on the beach is the only way to achieve it.
He has asked for asylum, international protection, and celebrates that it has been granted. But nevertheless, it is a long process and you still cannot work, which forces him to sleep in a tent, eat at Caritas and live on what he can. Every day he goes to Spanish class, and is already able to communicate relatively fluently. He says he doesn't talk much, but smiles when he discovers that he is able to make himself understood.
He has been living on the beach for 25 days. Like him, many young people leave Touba for lack of opportunities, without work and because their future was to work from sunrise to sunset for a salary that does not give them to eat. In Bilbao he has a friend, and once he formalizes his papers and if he is able to earn some money, his goal is to reach him.
With Amsa and sharing a hut live three other Senegalese, who have met on the beach. Masamba arrived on the island six months ago and has been in this camp for 10 days. He lives on the beach because he fears that he will be transferred to the Peninsula, he does not know anyone there and he has no family. They are just one example of the different camps on the island that the Arguineguín dock has left and the migration crisis in recent months. The trail of the so-called 'pier of shame', the epicenter of the humanitarian and social crisis and a place of overcrowding of up to 2,600 people at the beginning of November 2020, is still alive. Although the breakwater of the Moganero municipality is no longer the precarious home of thousands of migrants, many have been those who have been left by the way, consolidating the misery from which they fled in a boat from their country.
From dream to nightmare
The ineffectiveness of the competent authorities in managing the arrival of cayucos remains palpable, since the options for migrants are far from being worthy. Current resources are mass camps that were born to be an emergency shelter and that have become a home for months, or tourist accommodation where they live in overcrowded conditions. The plug that the islands suffered turned them into "Jail island", as defined by the president of the Cabildo de Gran Canaria, Antonio Morales placeholder image, on several occasions.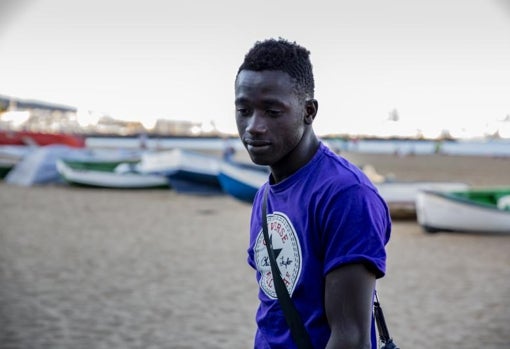 Many of those who experienced the surge in arrivals at the Arguineguín pier discarded the resources, after experiencing devastating episodes over the past year. This was the case of the 64 migrants who were expelled from the Canary Islands 50 in Gran Canaria due to bad behavior, or situations such as flooding with fecal water in the camp, frequent fights for months due to the overcrowding of the Las Raices camp, in Tenerife, problems with food, low temperature and humidity, stomach diseases and fungi, among other examples.
These are some of the consequences that these sheltered migrants have suffered during their stay in the Canary Islands and why they seek an alternative in illegal camps. The European dream turned into a nightmareAlthough the pressure in the camps has dropped, they do not want to go back.
The testimonies of the different migrants to ABC who have rejected this reception coincide in some things. They talk that they have no freedom, no options, that they were treated like numbers, that the food was of poor quality, that they were hungry or could not sleep. Those who are luckier have found a host family, others live on the streets.
Around 2,200 people
Currently the acceleration of referrals and transfers have relieved the pressure on the camps and shelters of the Plan Canarias. According to ABC's calculations, these resources could house around 2,300 people. Of these, approximately 1,400 are in centers, another 740 in different resources and around 300 in isolation due to Covid or due to contact with a positive in specific facilities. In the Canary Islands there are 7,000 capacity places maximum for irregular immigrants.
See them
comments

www.abc.es
George is Digismak's reported cum editor with 13 years of experience in Journalism