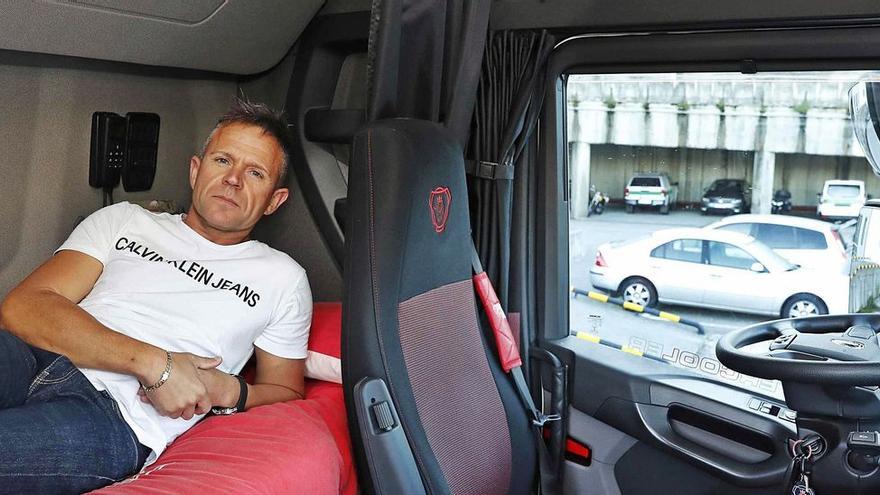 They are regulars of the roads and scholars of the polygons. José Ángel Otero has been in the truck for 23 years. It works mainly in the container port of Guixar. Manuel Martínez (fictitious name to remain anonymous) has 30 winters behind him as a truck driver. His usual route starts from Galicia and ends in Ireland. Round trip, 11 days and up to 21 days out, taking and bringing merchandise, mainly fish. José Ángel is autonomous; Manuel, employee. And both find little or no strangeness in those controversies that claim that trucking companies have a hard time finding truckers. "The salaries that are being paid are intern salaries", José Ángel is afflicted. "Many left the profession for this."
In transport there is no stipulated schedule. Family conciliation is rather a chimera. "You have to like the truck a lot. This is a vocational profession ", say the transporters. For both of us, yes, it is a vocational choice. Because working eight hours in a factory earns the same, with a stipulated schedule that allows you to spend the nights at home. "There are no people to work because there is no pay. They will have to raise transport rates to be able to pass it on to salaries ", claims José Ángel.
The message is the same. One, despite the different perspective: José Ángel works the national transport, Manuel, the international one. The current rates are those of years ago, companies suffer from the lack of drivers, transportation costs increased by 40% considering highways, fuel and other truck expenses. But all this was not passed on to the shippers' rates nor, on the same average – and consequently – to salaries. "The base salary of a driver is 1,000 euros net", remember. For an international driver, they are around 2,400 euros per month.
As a freelancer in the Vigo container port of Guixar, José Ángel covers Galicia and Portugal with his truck. Sometimes he also makes sporadic trips to the rest of Spain. For example, "they give me a trip to take tomorrow. To be in Porto at seven in the morning. They don't put any more conditions on me. I have to load the container the day before. I decide if I sleep in Porto that day, so as not to get up early, or if I leave Vigo early ", he says. Depending on the volume of work in the port, you may be asked to make another trip when you return around mid-morning. The same day. A short one. And normally, In the early afternoon, you are assigned the next day's transportation.
Hopefully, these dynamics allow you to eat at home for a few days. In normalized periods, he also sleeps a couple of days a week in his bed, with his family. The rest of your work week, Monday through Friday, in the truck. The cabin is fully equipped: a bed, refrigerator, even microwave, coffee maker and other amenities to make life more comfortable. "I try to eat in the truck. I bring the food. It is for an economic question but also because it is my food ", he comments. "There are a lot of people who take the container from home because with what they earn they can't afford to eat out."
Sometimes you know your destination from the day before. Others, however, do not know until they arrive at the cargo terminal. "You have the right not to make more trips if you don't want to," he acknowledges as a self-employed person, "but, of course, you have to comply as a carrier." Last Tuesday, work took him to Algeciras. Other trips are shorter.
"Maybe, between one load another you have 3 hours of waiting," he says. After three and a half hours of driving, there is a 45 minute break to eat. "In total, we can drive nine hours a day. Except for two days a week we can drive ten. But that is not the real journey. Our availability includes about fifteen hours. Of those fifteen hours I can drive ten. The rest are waiting ", he remembers.
And in the places of loading and unloading, the deal often leaves something to be desired, comment the two carriers. Not only because times are tight and delays, at least, unwanted, but because in some places do not allow them to enter the bathroom, because the words may not be good or because they are asked to help load the goods from the truck. "Some habits were creating unwritten laws. And in this way, the logistics platform saves a job, "they comment.
Manuel left his house on October 1 and his journey of linking two trips to Ireland has not allowed him to set foot in his house until last Thursday. They are 21 days of work transporting merchandise. His day includes 9 hours of driving which, just like his partner. Between the uploads and downloads, they can be delayed to 15 hours of availability, agrees with José Ángel. "I start at nine in the morning and at twelve at night I have to be stopped," he says.
On his last trip he left Vigo, he went to Madrid to load, in Bilbao he embarked by ferry. A journey in which you share 30 hours with colleagues from the truck to Cherbourg or Calais. In England unloading, although "no longer we go as much to England as before", recognizes, "by the Brexit". Then he goes up to Scotland and, after a stop, heads to Ireland. There he reloads the truck with the fish brought by the boats that fish in the Gran Sol. And he sets off on the way back to Pasajes, Avilés, Burela or Celeiro, "It depends on the fish that comes". Or to A Coruña or Vigo, "if it's trawling".
To eat, he pauses for 45 minutes or an hour. He works 6 days in a row and, on the seventh, he rests for 24 hours. When he completes three weeks working and transporting merchandise, he has 45 hours of free time, at home, and an additional 15 that he usually accumulates in those weeks. Internationally, with similar work dynamics, "the majority of carriers earn 2,000 euros." Have breakfast, lunch and dinner en route. "Sometimes you go to eat from the menu, but I always have breakfast and dinner in the truck. I would have to sleep in a hotel but I also sleep in the truck ", says this transporter. "That is if you want to take some money home."
They both enjoy the freedom to work. That's why the vocational thing. Although they are, rather, regular visitors to roads and industrial estates. After the 2008 crisis, they say, conditions for carriers were getting worse to what they are today. Reconciling with family life is more complicated for international routes. "The salaries, the conditions are not adjusted to what you sacrifice," reflects Manuel. "People, whether salaried or self-employed, must be respected. From there, there will begin to be drivers as there has been a lifetime, "ditch Otero.
Price competition in rates
The road transport sector suffers from the lack of professionals throughout Spain. The associations of the sector estimate that there are about 2,000 truck drivers to cover the employment needs in Galicia, a demand for professionals that may reach 2,250 in the next three years according to Ramón Alonso, president of Asetranspo. The situation did not originate today. It has been dragging on for years. Carriers point to low wages as the main reason the profession is not attracting more staff. The rates charged by shippers have not been renewed for years and this has an impact on salaries. Also in the remuneration received by the self-employed, since they denounce that, to get a job, there is often downward price competition. Simply, the one who offers the service the cheapest wins.

www.informacion.es
Eddie is an Australian news reporter with over 9 years in the industry and has published on Forbes and tech crunch.