Good morning and welcome to our continued coverage of the world economy, financial markets, the eurozone and business.
It could be a volatile day in Turkish financial markets, after President Recep Tayyip Erdogan dramatically fired the head of the country's central bank on Saturday morning.
The shocking firing of Naci Agbal surprised investors, who had welcomed Agbal's move toward a more orthodox monetary policy since his appointment late last year. That included a sharp interest rate hike on Thursday, which had bolstered confidence in the currency.
But Agbal's departure has caused the lira to fall: it fell by almost 15% in night operations, towards the all-time lows observed last November (before Agbal's appointment).
It is currently trading at around 7.85 lire to the dollar, a drop of around 9%, as investors fear that monetary policy could loosen again, triggering a new currency crisis at an already worrying time for emerging markets.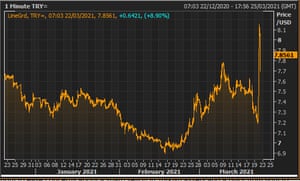 In 2018, Erdogan famously described high interest rates as the "mother and father of all evils". He maintains that they cause high inflation; a point of view at odds with conventional economics.
This is the third time Erdogan has fired a central bank chief, and analysts were quick to warn that reversing recent interest rate hikes could be destabilizing.
Tim ash, Senior Sovereign Emerging Markets Strategist at Bluebay Asset Management, said:



"This decision is almost as bad as Brexit in terms of being the worst public policy decision I can remember in the history of a country.

"The markets will express their views on Monday and there is likely to be an unpleasant reaction."
"This implies that the government will try once again to stimulate the economy with low-rate policies," he said. Demiralp Jungle, Director of the Economic Research Forum at Koc-TUSIAD University, in Istanbul.



"This priority has a high potential to backfire by causing extreme pressures on the lira and further shrinking the economy," he said.
The new governor, Sahap Kavcioglu, is a former banker and legislator of the ruling party. It has taken steps to reassure markets, Reuters reports:



Kavcioglu sought to ease concerns about a strong Turkish asset sell-off and a shift from a strict policy to a flexible policy, and told the banks' chief executives on Sunday that he did not plan any immediate policy changes, a source told Reuters.
European equity markets are expected to open lower, with last week's government bond sell-off fresh on the City's mind.
Fears of a third wave of Covid-19 in Europe, and the growing dispute between the UK and the EU over access to the AstraZeneca vaccine, could also weigh on markets this week.
The latest US housing data, and a Chicago economic survey, could intensify the debate about how long the US central bank can leave interest rates at record lows.
Today we hear from Fed Chairman Jerome Powell laer speaking on a panel on central bank innovation at a Bank for International Settlements event on Monday morning.
The agenda
12.30pm GMT: Chicago Fed National Activity Index for February
13:00 GMT: BIS Innovation Summit session on central bank innovation in the digital age
2pm GMT: US Existing Home Sales in February



www.theguardian.com
George is Digismak's reported cum editor with 13 years of experience in Journalism