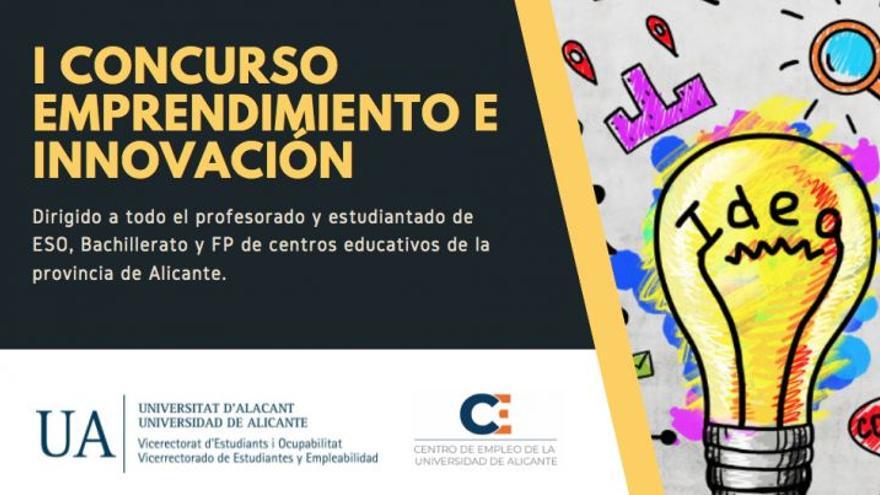 The University of Alicante, through the Employment Center dependent on the Office of the Vice President for Students and Employability, has called the first edition of the Entrepreneurship Contest and Innovation, aimed at students of Compulsory Secondary Education (ESO), Baccalaureate and Vocational Training cycles (FP) of educational centers in the province of Alicante.
The objective pursued is "to promote and stimulate entrepreneurial and innovative activity among pre-university students and the skills and abilities that this entails, such as creativity, confidence and the ability to take risk, tenacity, responsibility, leadership or solidarity, among others", they explain from the UA.
The registration period for the contest is open until February 4, and later projects can be submitted until April 1.
Each project has to be developed by a working group made up of at least one teacher responsible for the project and a maximum of six students enrolled in the academic year 2021-2022.
Awards
Participation in the contest is divided into two categories. The first includes ESO students or intermediate level training cycles; and the second, to Baccalaureate students and higher level training cycles.
In each modality there is a first prize of 600 euros, a second prize of 450 euros and three second prizes of 150 euros each. In addition, a prize is established for the best Didactic Unit presented by the teaching staff endowed with 200 euros; and the coordinating faculty of the projects classified in first or second place will also receive a prize of 150 euros.
In addition, each project must be related to the achievement of one of the 17 Sustainable Development Goals (SDGs) approved by the UN and corresponding to the 2030 Agenda.
Finalists
The finalist projects will be presented publicly at a conference that will take place at the University of Alicante, where the proposal will be presented and any doubts or questions that the jury may raise will be resolved.
At the end of the presentations, and after the deliberation of the jury, the winning projects will be publicly judged.
Incentive
In reference to this contest, which for the first time is open to pre-university students, the Vice-Rector for Students and Employability, Rosario Ferrer, explains that "we started this program with great enthusiasm because we believe it is a good way to encourage teachers and students to carry out initial entrepreneurial training."
He adds that "it also constitutes one more action that fosters the necessary connection between the UA and secondary schools."
In the same vein, the rector's delegate for the Employment Center, Nuria Grané, highlights that "we have no doubt that entrepreneurial training is a good tool to achieve those skills that are highly valued by employers and, of course, we find this program extremely interesting, which allows us to promote entrepreneurial capacity in pre-university stages."

www.informacion.es
Eddie is an Australian news reporter with over 9 years in the industry and has published on Forbes and tech crunch.