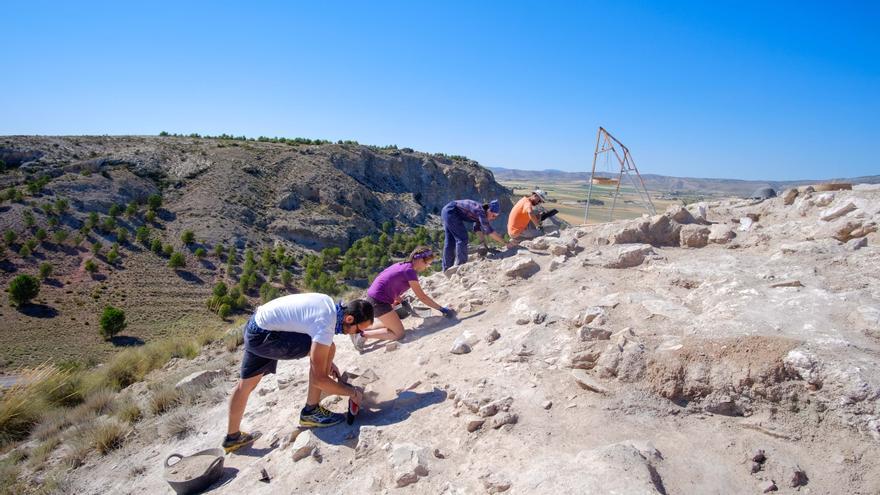 On the hillside, scientists have documented an important settlement dating from the Late Bronze Age (1700-1300 BC) that occupies an area of ​​approximately 10,000 square meters. A fire, associated with the destruction and collapse of an important section of the settlement, and related to a set of urban transformations that took place around 1500 BC and that can be related to socio-political changes observed in other parts of the peninsula, is the second objective of the current campaign. They will complement the excavation work with inventory, cataloging and study of the recovered objects. This activity has as its main purpose, in addition to research in prehistoric archeology, the training of students.
Predoctoral researchers attached to researchers from the University Institute for Research in Archeology and Historical Heritage will also participate in the archaeological work, as well as a dozen students from the Degree in History and the Master's Degree in Professional Archeology and Comprehensive Heritage Management of the UA. The intervention is financed by the budgets of the City of Villena, as well as with the research funds of the UA researchers.
Open Doors Days
In the field of transferring research results, the July 23 and 24 Open Doors Days will be held during which the settlement can be visited; part of the team members will explain both the general characteristics of the town and the main novelties discovered during the campaign. Due to the current health situation visits will be regulated by the Villena Tourist Office.
The results of the investigations carried out in Cabezo Redondo have allowed a better understanding and knowledge of the societies of the Bronze Age of the Iberian Peninsula thanks, in part, to the involvement of team members in important international research projects. In this sense, his contributions to the knowledge of the genetic evolution of the societies of recent prehistory stand out, as well as the palaeoenvironmental evolution, of the dietary patterns or the reconstruction of the international commercial networks in which the Cabezo Redondo played a fundamental role as a receiving and distributor center for raw materials and exotic products, such as glass paste beads.
4000 years ago
4000 years ago, in the Ancient Bronze Age (2000 BC) on the top of the Cabezo Redondo hill, in Villena, the first settlers documented to date raised the oldest occupation. It is a small settlement delimited by a thick wall of terracing to which are attached a set of small houses in whose interior researchers have documented both structures, such as benches, post tracks, or buckets, such as archaeological materials associated with the activities carried out in its interior, such as ceramic containers, linked to different functions, loom weights and mills among other vestiges.

www.informacion.es
Eddie is an Australian news reporter with over 9 years in the industry and has published on Forbes and tech crunch.