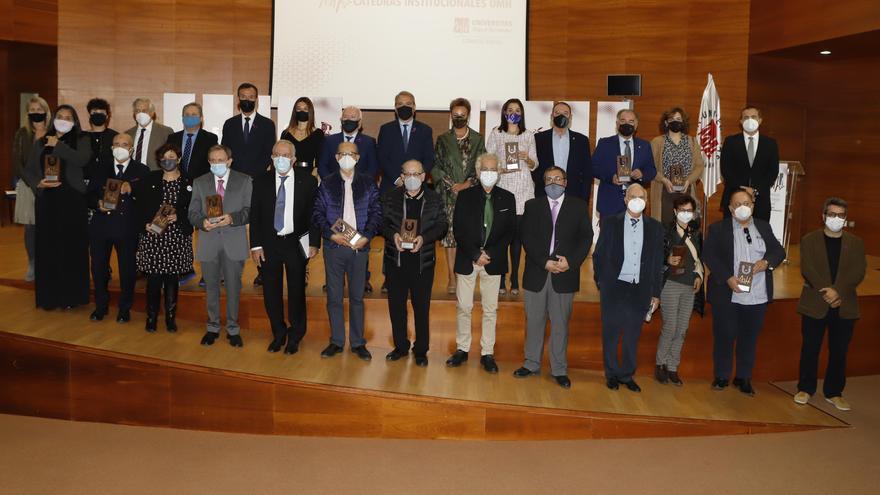 The Social Council of the Miguel Hernández University (UMH) of Elche has presented this morning the awards of the VI edition of the Institutional Chairs Awards of the UMH '. With these awards, it is intended to recognize the trajectory of people and entities that have excelled in the field of institutional chairs of the University.
The event was attended, among other personalities, by the president of the Social Council of the UMH, Joaquín Pérez Vázquez; the rector of the University, Juan José Ruiz Martínez; the Minister of Innovation, Universities, Science and Digital Society, Carolina Pascual Villalobos; the mayor of Elche, Carlos González Serna; and the vice-rector for Institutional Relations, María Teresa Pérez Vázquez.
The awarded In this VI edition they have been: the ANALCO group, manufacturers of a wide range of footwear products, for the San Crispín Footwear Chair; For the Dama de Elche Chair, the Archaeological and History Museum of Elche 'Alejandro Ramos Folqués' (MAHE) has been awarded for its constant work to disseminate the Iberian Culture of the Ilici territory; and José Antonio Román Marcos, Master of Capella del Misteri for 17 years, for the Misteri d'Elx Chair.
Likewise, the Palmeral d'Elx Chair has recognized the technicians of the Plant Health service in the province of Alicante Lourdes Morales Cuello and José Vicente Miralles, for their continuous work in the last 15 years in the care of the heritage of the Elche and Alicante palm grove ; Hidrotechnoagua and, on its behalf, its director, Rafael Morán, for the UMH Headquarters Chair in Rwanda, since it is a solidarity company that collaborates in the development and supply of the Nemba Hospital in Rwanda; the brothers Fernando and Juan Huedo Díaz, for the Pedro Ibarra Chair, for the donation of 5,100 photographs of the Misteri d'Elx; and the Gudie Lawaetz Chair of Cinematography and Documentary has awarded the Spanish Television program 'Versión Española'.
The Legal Clinic Chair has awarded the La Mama d'Elx Breastfeeding Association for the impact of the work that has been carried out in it; The Miguel Hernández Chair has recognized Francisco Esteve, Professor of Journalism and pioneer and reference in Hernandian studies and in the foundation of associations dedicated to the poet; and the Anneta Nicoli Chair has recognized Mariví Montfort who, from the beginning of the Chair, has collaborated in the creation and organization of content for the annual program.
Institutional chairs, dependent on the Vice-Rectorate for Institutional Relations, are those created with the purpose of contributing to the generation and dissemination of knowledge in specialized areas of broad social impact and of interest to the University. Its activities can be training, research and development and / or dissemination.

www.informacion.es
Digsmak is a news publisher with over 12 years of reporting experiance; and have published in many industry leading publications and news sites.