According to the Second Principle of Thermodynamics, the physical law that backs up the Universe, everything tends to the maximum disorder: if we cross our arms, entropy always increases. Life is an example of resistance to entropy based on energy expenditure: living organisms thus manage to stay organized in the growing surrounding disorder. Every morning, when we make the bed, we know that at a certain point it will fall apart, just as when we tidy up the kitchen or the closet we know that it will get messy, but we must not stop doing it: order gives us peace of mind, eliminates visual noise , allows us to live in an orderly way, recovering the feeling of control over existence, if such a thing is possible.
Professional organizers (they are overwhelmingly women) work ordering closets, houses, offices, storage rooms, documents, whatever comes their way. Some also organize the desktop of a computer or the applications of a mobile, or even the time of life, the agenda. They are not decorators, nor cleaners, nor personal assistants, nor are they dedicated to moving, although they have elements of all these professions. His craft, that mediation between matter, space and mind, is not new, but it is still quite unknown. When many hear about professional organization, Marie Kondo comes to mind, the Japanese woman who, with her method, her books, and her Netflix series, put the problem of order on the table, with international success.
A fundamental and preliminary problem of organization is the abundance of things that are produced and owned in affluent societies. "Until relatively recently, objects were very valuable: trousseau, tableware, farm implements, passed from generation to generation," explains architect Mónica Miranda, who works as a professional organizer at Comprehensive Order, taking advantage of the facility to imagine spaces that his studies give him. "But at one point everything got out of hand," he adds. The objects began to proliferate for many reasons: industrial production, the invention of plastic, improvements in transportation or the relocation of production to countries with more lax labor and environmental regulations. If for our grandparents the difficult thing was to fill the house with things, now the difficult thing is to keep it empty. "To have a tidy house it is essential to get rid of what we do not need," says Miranda, "the overabundance of things can cause us anxiety." Indeed, do you not feel a certain peace when, in a hotel room, there are hardly any objects or decoration and everything is rectilinear and neutral, and you do not feel attached to anything? It is almost like not existing.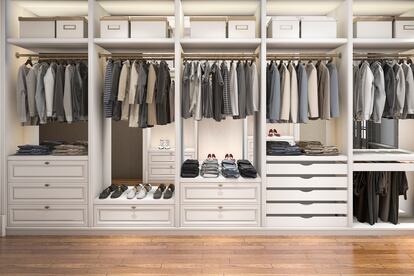 Getting rid of things is not that simple: the human being generates attachment to his possessions, even if they are objects of no economic or emotional value, and the mind goes on inventing excuses to keep them. "It is incredible how we generate attachment with completely conventional and mass-produced objects," he says. Paloma Pou, architect of the project Simple. That's why we need help: our excuses made out loud to someone else can get ridiculous and fall apart. "Of course, in addition to throwing things away, it is important to know how to buy, not to acquire more things than necessary, all that we are never going to use, and a good way to learn is to get rid of what we do not need," says Pou.
The most demanded in the sector is the organization of closets or entire homes, although services are also offered to organize removals or to manage inheritances. Miranda refers to cases of people who have problems coping alone with the things that a deceased loved one leaves behind, the books, the clothes, the small objects of someone who has abandoned us forever and who keep a large number of memories among their atoms. Although, "it is not so much about philosophies or about getting zen: it is about very pragmatic questions. There are people with professional or personal problems because of the disorder, "says Pou. The organizers, in addition to organizing, provide tools so that their clients can defend themselves tooth and nail from the domestic chaos from now on.
The Association of Professional Organizers of Spain (AOPE) brings together around a hundred of these professionals (only two are men). "The great problem of the profession is that it is still not well known, and that the first professional in Spain began 17 years ago and in the United States they have been since the 1970s," explains Arantza Olasagarre, president of AOPE that operates in Bilbao under name In Orden. In AOPE they discuss ethical questions: a professional organizer can see many things in the house, have access to documents or privacy that she should not reveal, in a kind of professional secret.
A professional must conform to the tastes and conceptions of the client: it is not about getting into someone else's home and life to do things your way, but about serving others. "You have to be careful with the faces that they put on, with the expressions and reactions, even if among someone's things you see something that horrifies you," says Olasagarre, who also specializes in organizing spaces for blind people, since a relative nearby had this condition: "These people are looking for personal autonomy, being able to combine their clothes or prepare their clothes without help, and the ways of organizing the house are different." Why are women overwhelmingly among the organizers? "I believe that this comes, like so many other things in our day to day, from the time of the caves, when women were responsible for keeping the family alive and keeping the house in order," concludes Olasagarre.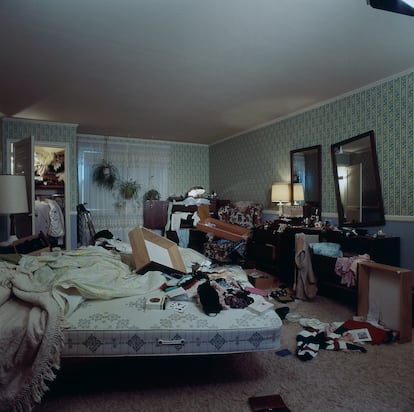 elpais.com
Eddie is an Australian news reporter with over 9 years in the industry and has published on Forbes and tech crunch.