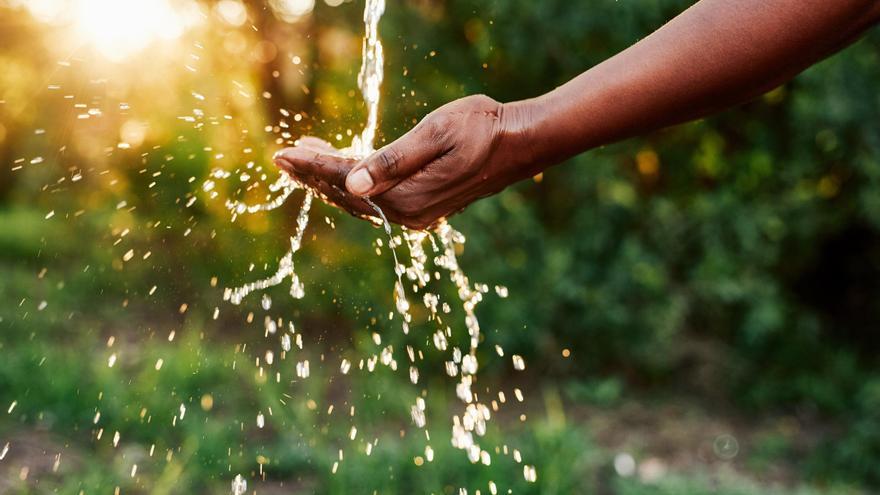 Without water we are nothing. Our whole life revolves around the liquid element and that is incontestable. But the pandemic has shown that water is also a powerful weapon against the spread of disease and that is why valuing it and making it reach everyone should be a common and priority objective.
'The value of water' is the slogan chosen in 2021 to commemorate World Water Day, an event instituted in 1992 by the United Nations to remind humanity of this essential liquid life and all social and economic activities depend and that, in addition, in the last year it has been revealed as an essential resource to protect human health. And it is that simple and everyday gestures such as washing hands often with soap and water have been shown as implacable weapons against the spread of covid-19, except in some places on the planet where, according to UN data, 2.2 billion people still lack access to this good as precious as it is rare at times.
According to United Nations data, the shortage of drinking water already affects almost 30% of the world's population and this percentage is expected to continue to rise due to the harmful effects of population growth, the demands of agriculture and industry, and the worsening impacts of climate change. Unicef ​​has recently denounced that one in five children in the world lives without sufficient access to water, while the OECD has assured that "the pandemic has amplified the importance of access to water" for something as simple as washing your hands.
This year the United Nations has launched the # Water2me campaign to learn what water means to the planet, understand its value and how to better protect this vital resource with the help of everyone. In the meantime, urgent action is needed to help the universal and egalitarian access to drinking water and provide adequate sanitation to protect people's health, a premise on which the experts consulted by Efe agree.
"The covid-19 pandemic has made the significant disparities between first and third world countries, between urban and rural areas, between rich and poor societies even more burning," says Mikel de Pablo, Head of Projects of AQUAE Foundation. This is the reason, he continues, that leads the AQUAE Foundation to "put the focus" on education and awareness in the efficient use of water, because "it is essential that we all get involved in protecting this resource, essential for life, as it is that we take care of natural spaces and biodiversity" so that "by learning to value water, we will advance towards the achievement of SDG 6: Water cleanliness and sanitation for all before 2030 ".
Santiago Martín Barajas is coordinator of the water area of ​​Ecologistas en Acción, and reminds EFE that access to drinking water and sanitation "are human rights that are not guaranteed in certain parts of Spain" as in some camps for immigrant workers in the countryside, or municipalities that have cut off the water from public sources to avoid contagion of covid-19. "Water is not given the value it has," says Martín Barajas and denounces that while water for irrigation is paid at 8 cents per cubic meter, the supply costs 2.15 euros per cubic meter and that makes "the 85% of the water consumed in Spain is used to irrigate the field and not to cover environmental, social and economic costs for its obtaining and distribution ".
Fernando Morcillo, president of the Spanish Association of Water Supply and Sanitation (AEAS) affirms that due to the 2008 crisis investment in water renewal in Spain "fell to a minimum" and since then there has been a "very strong deficit" that, he warns, "in the long term will generate problems to enjoy the quality of the water we have now." "Spain is the European country with the most history and track record in water management" but at the same time "we have scarce and poorly distributed resources", laments Morcillo and assures that we Spaniards have become "comfortable" with distribution and sanitation in our homes and it is necessary "to value this asset so that future generations can enjoy the comfort we enjoy today."
"It is not about giving value to water, but about recognize the value it has for the maintenance of life and diversity"Gonzalo de la Cámara, researcher and Coordinator of the Department of Water Economics at the IMDEA Institute, tells EFE that he advocates placing this element" at the center of our decisions on the economic and social development model. "He considers that the pandemic has demonstrated that enjoying the right to drinking water and sanitation is a "global issue" that has to come hand in hand with "a supranational response and cooperation" and has served to discover the importance of urban wastewater treatment and sewer and know how current and future pathogens evolve.

www.informacion.es
Eddie is an Australian news reporter with over 9 years in the industry and has published on Forbes and tech crunch.