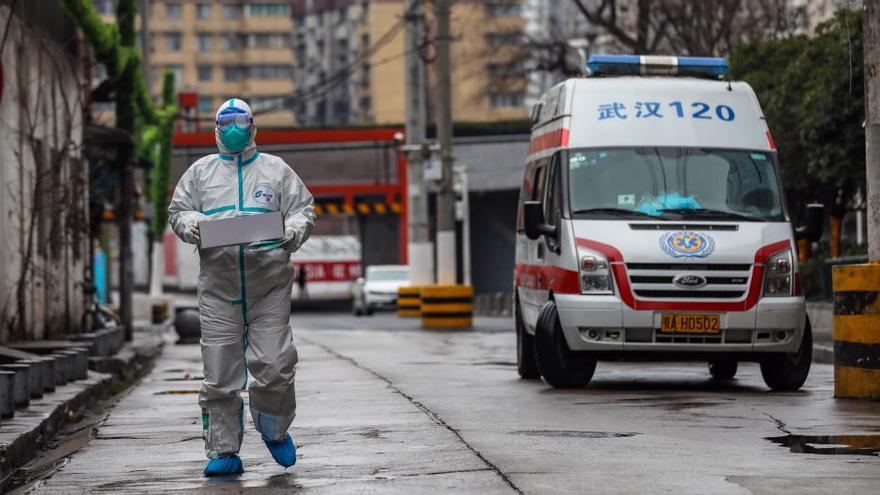 The coronavirus pandemic accumulates 53.3 million cases and more than 1.3 million of deaths worldwide after registering about 580,000 positives in 24 hours, according to the balance updated to this Saturday by Johns Hopkins University.
Specific, 587,426 new positives have been registered worldwide in the last day for a total of 53,385,255 cases, while the global death toll stands at 1,302,841. More than 34.4 million people have managed to overcome the disease worldwide.
United States has registered in recent days the worst case data of the entire pandemic and marks on this balance its new daily record, with some 184,000 infections in 24 hours, which accounts for 10.7 million in general terms. Deaths from COVID-19 on US soil amount to 244,345.
India, on the other hand, has managed to reduce the rate of infections in recent weeks, although it already exceeds 8.7 million cases and accumulates 129,188 deaths. The Asian country is the one that has registered the most recoveries to date, more than 8.1 million people.
Brazil remains in third position of this classification that is configured from the data of 191 countries and territories with coronavirus cases. The South American giant has registered more than 5.8 million cases and 164,737 deaths.
France, for its part, has become in recent days the epicenter of the second wave in Europe and already includes in its balance more than 1.91 million positives and 42,600 fatalities, ahead of Russia, which accumulates more than 1.86 million cases of COVID-19, and 32,156 deaths.
Spain is listed below, with more than 1.45 million cases and 40,769 fatalities, followed by the United Kingdom, which, with 1.3 million cases and 51,396 deaths, has overtaken Argentina in recent hours, in turn the second country with the most cases in Latin America, with 1.29 million infected, and accumulates 35,045 deaths from the disease.
Colombia is also over a million positives, with 1.18 million infections and 33,669 deaths; and Italy, with 1.1 million cases and 44,139 deaths.
Next, Mexico registers 997,393 infected people and 97,624 fatalities, compared to the 930,237 infected and the 35,067 deaths that are recorded in Peru. Another advance registered in the last hours is that of Germany, with 785,093 cases and 12,404 deaths, which has surpassed South Africa in the last hours. This country continues to be the most affected by the pandemic in Africa, with 746,945 cases and 20,153 deaths. Behind is Iran, with 738,322 infections and 40,582 deaths.
Poland, at record rates
Poland, which has chained several infection records, already exceeds 665,547 cases of COVID-19 with 9,499 deaths, while Ukraine -540,332 infections and 9,795 deaths-, Chile -528,030 positives and 14,738 deaths-, Belgium -525,012 positives and 14,106 deaths- and Iraq -514,496 cases and 11,580 fatalities- also figure above the average threshold million.
With more than 400,000 positives are Indonesia, with 457,735 positives and 15,037 fatalities; Czech Republic, with 454,030 cases and 5,926 deaths; The Netherlands, with 443,533 infections and 8,430 deaths; Bangladesh, with 428,965 cases and 6,159 deaths; Turkey, with 407,939 cases and 11,326 deaths; and the Philippines, with 404,713 positives and 7,752 deaths.
Already in the range of 300,000 infections are Pakistan (354,461), Saudi Arabia (352,601); Romania (343,725) and Israel (322,695), while in the range of 200,000 to 300,000 infections are Canada (290,705), Morocco (282,336), Switzerland (257,135) and Nepal (206,353). The latest addition to the group has been Portugal, with 204,664 cases.
Above 100,000 positives are Austria (191,228), Ecuador (178,674); Sweden (177,355), United Arab Emirates (147,961), Panama (144,477), Bolivia (143,069); Jordan (136,555), Kuwait (135,650), Qatar (135,367); Dominican Republic (132,554); Hungary (131,887); Costa Rica (122,123); Kazakhstan (119,833), Oman (119,442); Armenia (115,855), Japan (115,360); Guatemala (114,123); Belarus (111,622); Egypt (110,319); Lebanon (102,607), Honduras (102,079), and Ethiopia (101,757).
China, the country where the pandemic originated, counts 91,807 infected and 4,742 fatalities.

www.informacion.es

Digsmak is a news publisher with over 12 years of reporting experiance; and have published in many industry leading publications and news sites.