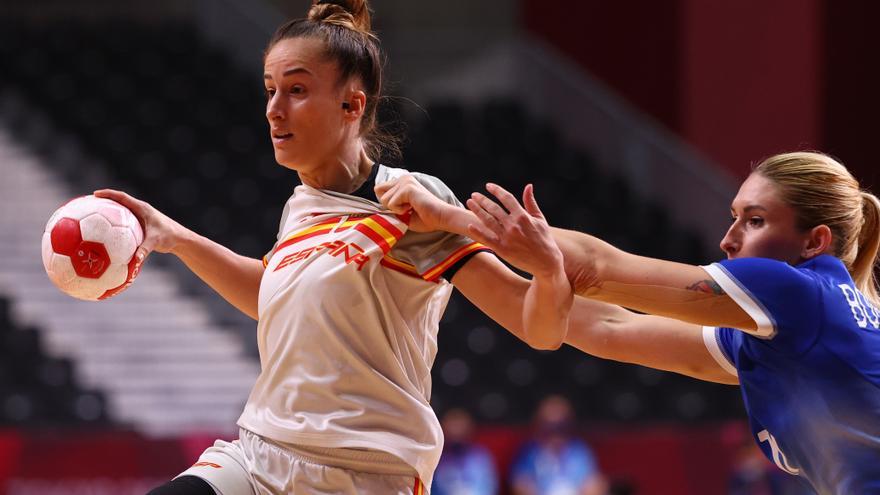 The Spanish women's handball team could not certify his classification for the quarterfinals of the Tokyo Games, when he fell this Monday by 31-34 against Russia, and now It will depend on whether Sweden, already qualified, draws or beats Hungary to stay alive in the olympic tournament
It was clear from the beginning the Spanish team that was going Russia was going to propose a tremendously physical match With which to take advantage not only of the size and strength of their defenders, but, above all, of their speed to run one counterattack after another.
A stake that Spain, despite its obvious physical handicap, did not hesitate to accept, turning the initial minutes of the match into a frenzied going back and forth from one area to another, with which the 'Guerreras' did not go badly at the start.
And is that if Russia wanted to run to exploit its physical exuberance, those of Carlos Viver accelerated and accelerated each of his actions to have to attack as little as possible with the organized Russian defense.
But playing at such speed requires precision that Spain could not always bring to its game, sparking a series of inopportune turnovers that served to fuel rapid transitions for the Russian team.
So in just over ten minutes went from a hopeful 6-6 to a more than disturbing 10-16 in the absence of just over ten minutes for the conclusion of the first half, which seemed to put the Spanish team on the ropes.
A very delicate situation from which a veteran like Silvia Navarro rescued the selection, with her always timely stops, and a very young Paula Arcos, who at 19 and on her debut in a great international competition did not hesitate to throw the Spanish team on her back.
Arcos not only returned with his game the precision lost to the Spanish attack, but he also managed to generate the necessary spaces to begin to crack the defensive framework of the Russian team.
The offensive improvement did not take long to move to defense, without the obligation to chase the Russian players on the run, began to generate more and more problems for Alexey Alekseev.
This allowed Spain to start reduce their disadvantage until the break came just a little behind on the scoreboard (17-18).
A sensational comeback that Carlos Viver's managed to culminate at the beginning of the second half, when Spain with a goal from Lara González managed to definitively turn the scoreboard (19-18).
But when everything seemed to be going better for the "Guerreras", offensive inaccuracies reappeared in the Spanish team, which in a seen and unseen he was seen again with a disadvantage of six goals (20-26).
Spain had to row again and at times it seemed that it was in a position to be able to do it again (26-29) at the hands of Nerea Pena and a very successful Marta López, who converted every ball that came to her.
However, neither Russia, nor much less the sensational Daria Dmitrieva, scorer of five goals and Anna Vyakhireva, who closed the match with seven goals, were willing to allow a new comeback for the Spanish team.
So what Spain tried everything, But not even the attack with seven outfield players proposed by the Spanish coach, served to avoid a defeat (31-34), which leaves the fate of the 'Warriors' in Tokyo in the hands of the already classified Sweden.
Datasheet:
31 – Spain: Castellanos; Carmen Martín (3.1p), Almudena Rodríguez (4), Ainhoa ​​Hernández (-), Lara González (2), Alicia Fernández (3) and Jennifer Gutiérrez (1) -starting team- Navarro (ps), Marta López (7 ), Eli Cesáreo (-), Pena (6, 2p), Sole López (-), Arcos (2) and Barbosa (3, 2p)
34 – Russia: Sedoykina; Managarova (3), Vyakhireva (7), Dmitrieva (5), Bobrovnikova (1), Kuznetsova (4) y Makeeva (4) -equipo inicial- Kalinina (1), Gorshkova (-), Sen (2), Vedekhina ( 2p), Fomina (1p), Ilina (4,3p) y Skorobogatchenko (-)
Scoreboard every five minutes: 3-5, 6-7, 8-10, 11-16, 13-17 and 17-18 (Rest) 19-21, 20-25, 22-27, 26-30, 27-33 and 31-34 ( Final)
Referees: Hansen and Madsen (DEN). They excluded Kuznetsova and Vedekhina for Russia for two minutes.
Incidents: Match corresponding to the fifth day of group B of the women's handball tournament of the Tokyo 2020 Olympic Games held at the Yoyogi national stadium. No spectators.

www.informacion.es
Eddie is an Australian news reporter with over 9 years in the industry and has published on Forbes and tech crunch.