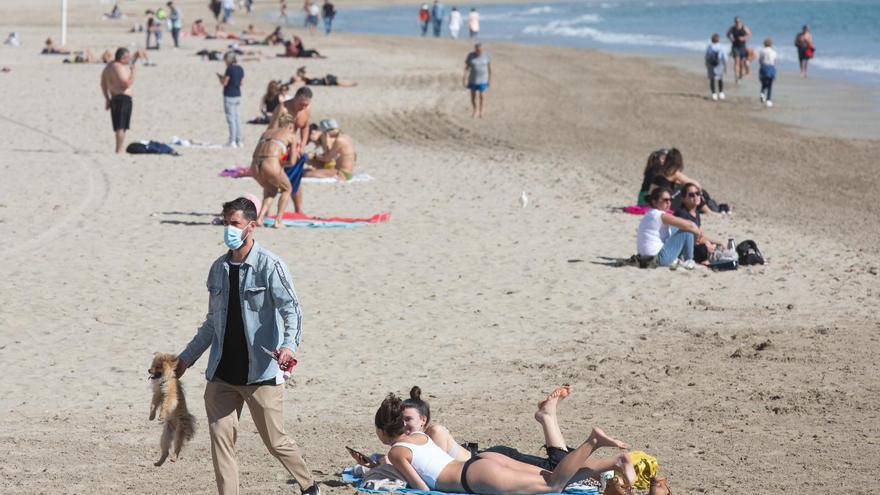 The 23 degrees expected maximum temperature this Monday will be just a pause in a week that according to the State Meteorological Agency is unstable and even with significant alterations in temperatures because at 23 degrees today on the coast (Alicante) and 19 in the interior in the central hours of the day will fall to 14 and 10 degrees, respectively, tomorrow Tuesday, the day for which the Aemet gives a 70% risk of rain. Spring and winter alternate at the beginning of the year.
The maritime storm that affects the coasts of northern Spain and the wind of up to 100 kilometers per hour in the Pyrenees and Castellón have put 6 communities on orange alert this Monday (Aragon, Asturias, Cantabria, Catalonia, the Basque Country and Valencian Community), has informed the State Meteorological Agency (Aemet).
In addition, on this day they have activated the yellow alert (risk) Balearic Islands, Castilla-La Mancha, Galicia, Murcia and Navarra in some cases due to bad seas and wind, but also due to rain and risk of avalanches.
In Aragon there is an orange warning (important risk) first thing in the morning due to strong wind, up to 100 kilometers per hour in the Huesca Pyrenees, and during the rest of the day the yellow level is activated due to rain of up to 60 liters per square meter on the peaks and risk of avalanches at high altitudes.
In Asturias, Cantabria and the Basque Country, the orange alert for rough seas has been activated, with winds of up to force 8 and waves that can reach 7 meters in height.
Are also expected 80 liters of rain per square meter in 12 hours in the Catalan Pyrenees, where they are on orange alert, and gusts of wind of up to 100 kilometers per hour that trigger the risk of avalanches in that area. In addition, a strong wind is announced, although somewhat less intense (about 90 kilometers per hour) on the coast of Tarragona, which has a yellow warning for coastal phenomena.
The Valencian Community There is an orange alert for wind between 90 and 100 kilometers per hour in the province of Castellón and yellow for a coastal wind of force 7 in this same province and in Alicante.
In the Balearic Islands there is a yellow warning for bad seas and force 7 winds in Ibiza and Formentera and for waves of up to 3 meters in Menorca, accompanied by gusts of wind of 70 kilometers per hour, the same intensity that is expected to be reached in the province of Albacete (Castilla-La Mancha) and in Murcia.
On the Galician coast, a combined sea and waves of up to 5 meters are announced and in Navarra the yellow alert is due to the risk of rain of up to 60 liters per square meter, which could reach 100 liters in 12 hours in some cases, and due to the risk of avalanches in the Pyrenees.
The Aemet warns that with the orange alert there ise significant meteorological risk, with a certain degree of danger for usual activities, and with yellow there is no meteorological risk for the general population, although there is for some specific activity. AND

www.informacion.es
Eddie is an Australian news reporter with over 9 years in the industry and has published on Forbes and tech crunch.