"Travel the world without leaving home". It sounds like the slogan of a documentary channel, a platform like 360cities or even, curling the loop a bit more, a manufacturer of 4K televisions. In the mouths of those responsible for The World cruise, the phrase is nevertheless a faithful and precise description of its services: the between 150 and 200 passengers that it usually takes on board actually travel without leaving home and also around the world, so Antarctica to Hawaii, passing through Asia, Africa and anywhere that can be reached by sea.
And they also do it in a unique way because The World is not a conventional cruise, it is not even a ship to use, with a traditional passage and planning. Its managers define it as something similar to an "international community of adventurers" who are united by their passion for ocean travel… and exclusive luxury. After all, millionaires who have bought or leased one of its 165 residences to navigate the globe travel on board. Today he boasts of being "the only residential mega yacht working".
The vessel set sail for the first time in March 2002, it flies the Bahamas flag and is designed so that its select passengers do not lack for anything while traveling from port to port, seeking exotic destinations. From the outset, the cabins are —that is— houses in the most literal sense of the word: each traveler adapts them to his taste, just as he would with his mansion, choosing furniture and decoration. The ship includes 165 residences. All exclusive, but not the same: there are studios and there are spacious apartments with up to three bedrooms. "All have been sold, although there are a select number of residences for resale," she notes.
Fans of travel… and luxuries
Interested?
Their prices range between 2 and 15 million dollars, an amount to which you must add annual costs that are calculated based on the dimensions of the residence. The range is quite wide. There are studios of around 30 square meters and a huge residence with three bedrooms and 301 square meters.
Such an investment, of course, would not only allow you to enjoy your cabin and the trip. On board The World incorporates all kinds of luxuries: art gallery, billiards, Balinese beds, gym, conference center, game room, library, swimming pools, a sports center where you can play virtually on the best golf courses world, spa and a restaurant area with chefs and winemakers. And all among a long list of services and facilities, such as theater or nightclub.
The ship has a length of 196.35 m, 29.8 beam and a draft of 7.05. Her gross tonnage is 43,188 tons and those responsible for her assure that she is capable of moving at a maximum of 18.5 knots. On board it usually travel 280 crew members and between 150 and 200 residents and guests. And although, the company assures, they can spend all the time they want on the ship, the normal thing is that they do so between three and four months a year. When it comes to highlighting her virtues and merits, the company boasts that The World is the largest private residential yacht that exists.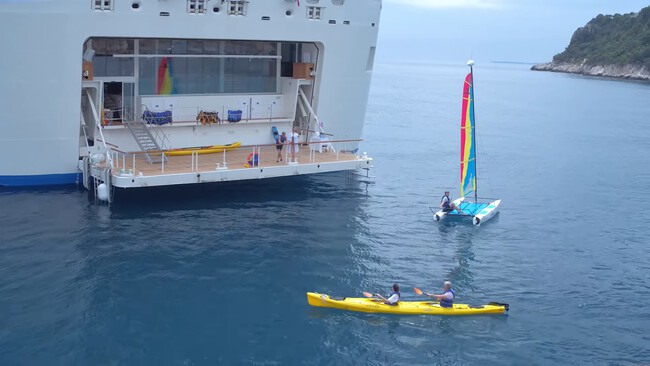 "The World is the world's largest private residential yacht, with its residents traveling the world without leaving their homes. It remains the only residential mega-yacht in operation today," he stresses. "This community at sea has visited more "Thousand ports of call in more than 120 countries. With a continuous global route that allows her to circle the globe every two to three years, the ship is a floating city, equipped with high-end facilities and amenities."
If at this point you consider joining his community and investing the two million dollars that one of his studios costs, you may have just made up your mind when you find out what itinerary he has planned for 2024. Also in that The World It is different. The voyage is not decided by an agency or shipowner to use.
It is its captains and residents who collectively decide the annual itinerary of the ship based on the maritime routes and concerns of the passengers themselves. Each season is planned three years in advance and decided by vote. Once under way, the liner usually stops an average of three days in each port so that its travelers can get to know the cities in which they stop.
During her maiden voyage, The World sailed from Oslo to Lisbon, from where she continued on to Venice for her christening. In 2024, the initial plan contemplates three expeditions and more than a hundred destinations, including ports where she had not called before. "The extraordinary Voyage 2024 raises the bar, even for the exceptional standards of The World", stand out in Aboard The World.
His road map is certainly impressive: Antarctica, South Georgia, the Malvinas Islands, Argentina, Uruguay, Brazil —where he arrives in time for Carnival—, Tristán da Cunha, Tanzania, Kenya, South Africa… The journey continues through the Indian Ocean, it ventures into Asia, passing through Japan, Taiwan or the Philippines, and already in October its goal is to reach New Zealand before turning the stern towards the landscapes of the South Pacific. The new year will welcome you in Cabo San Lucas.
Who said that to travel you had to leave home?
Images: Roel Hemkes (Flickr), Bruce Tuten (Flickr), Naitokz (Flickr) and The World (YouTube)
In Xataka: This is Freedom Ship, the megaship designed to become a floating city with 100,000 passengers
George is Digismak's reported cum editor with 13 years of experience in Journalism