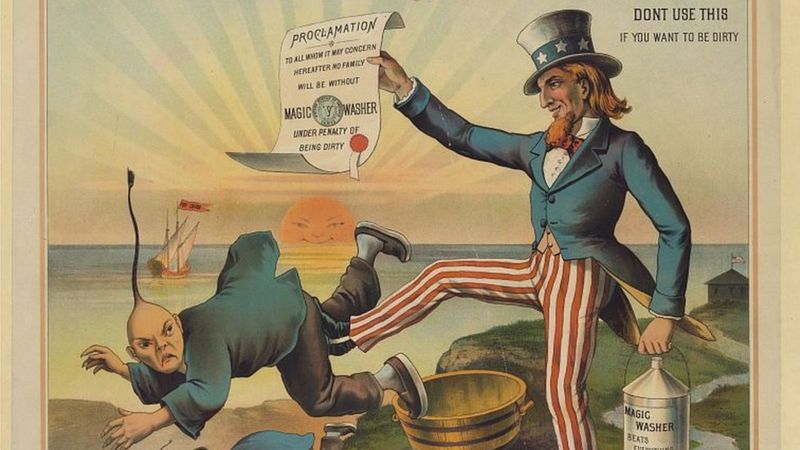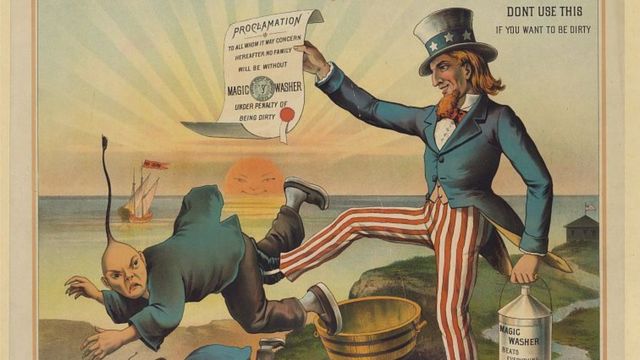 They spit on them, insult them in the street and, on occasions, are victims of physical attacks.
The United States is experiencing an increase in racist attacks against citizens of Asian origin.
Only between March and December 2020, 2,808 complaints about this type of attack were reported, of which 8.7% involved physical assaults and 71% supposed Verbal harassment, according to data from the Stop AAPI Hate organization.
Behind these actions, many see the effects of far-right rhetoric blaming Asians for the covid-19 pandemic. A speech that former President Donald Trump was accused of being part of during his tenure with his recurring references to the "Chinese virus."
But anti-Asian sentiment is not really new to America, dating back to more than 150 years ago, when began to speak of the "yellow danger", to refer to the alleged threat posed by the citizens of East Asia to Western civilization.
The first migratory veto
"At the end of the 19th century, white nativists spread xenophobic propaganda about the lack of neatness of the Chinese in San Francisco," said Adrian de Leon, professor of American and Ethnic Studies at the University of Southern California (USC), in a article in The Conversation.
"This fueled the passage of the infamous Chinese Exclusion Law, the First law in the United States to ban immigration based solely on race"added De León.
This law, passed in 1882, was very popular and enjoyed the support of groups of workers who feared that the Chinese labor supply would drive a drop in wages, as well as racist groups that promoted fear at the idea that the United States was literally going to be inundated with Chinese.
This rule, which prohibited Chinese immigration, initially included some caveats and kept the doors open for merchants, teachers, students, tourists, and diplomats.
These exceptions would later disappear to give way to a veto to all immigrants of Chinese origin, first, and then to almost all those from East Asia.
"It is It is the beginning of what the Chinese in America call the reign of terrorErika Lee, professor of History and Asian American Studies at the University of Minnesota, told the program. The World of PRI.
"[Es] a period in which there is no integration. They are also prohibited from becoming naturalized citizens. They create an underground economy and a shadow society, "he said.
"There is an informal segregation that prohibits Chinese from moving to certain areas. There is a formal discrimination that prohibits certain occupations. There are laws against miscegenation, "he added.
Filipinos and Japanese
But the stereotyping of Asians does not stay within the territorial confines of the United States.
At the beginning of the 20th century, when the Philippines was a colony controlled by the United States, American forces denigrated the local inhabitants in their own country.
"Colonial officials and doctors identified two enemies: Filipino insurgents rising up against American rule and 'tropical diseases' infecting the bodies of the natives. By pointing to the political and medical ungovernability of the Filipinos, these officials justified the continuation of US colonial rule on the islands"De Leon pointed out.
After the attack on Pearl Harbor in late 1941, it would be up to the Japanese to embody the "yellow danger" stereotype.
Outrage sparked by the attack by the Imperial Japanese Navy sparked a wave of attacks against Japanese citizens or Japanese descendants in the United States, including burning houses and assassinations.
In February 1942, President Franklin Roosevelt issued an internment order against those suspected of sympathizing with the enemy, which also affected German and Italian-Americans on the east coast of the country.
"The vast majority of those who were detained in 1942 were of Japanese descent. Many of them were naturalized citizens, second and third generation Americans"De Leon pointed out.
Asiansversus other minoryou were
The entry of the United States into World War II led to the repeal in 1943 of the Chinese Exclusion Law, 61 years after its approval.
The impetus for this decision, however, had less to do with ending a racist law and more to do with bringing more coherence to efforts to assemble a trans-Pacific coalition to combat the Axis powers.
"By allowing free passage of Chinese immigrants to the United States, the nation could show its supposed aptitude as an interracial superpower It rivaled Japan and Germany. Meanwhile, Japanese-Americans remained in internment camps and African-Americans remained subject to Jim Crow segregation laws, "De Leon explained.
In the decades that followed the end of World War II, the image of the East Asian immigrant community in the United States took a more positive turn, as they began to be seen as "a model minority", who managed to progress economically through study and work.
De Leon, however, realizes that this vision has a dark side.
"In reality, as cultural historian Robert G. Lee has argued, inclusion can and has been used to undermine the activism of African Americans, Aboriginal peoples, and other marginalized groups in America. In the words of writer Frank Chin in 1974 : 'LWhites love us because we are not black'"he explained.
But his outstanding contributions in economics, culture, or science have failed to save Asian Americans from outbreaks of xenophobia in the United States.
In 2003, during the epidemic of severe acute respiratory syndrome (SARS) – caused by a type of coronavirus that was first detected in China in 2002 – a wave of xenophobia emerged against citizens of Asian origin. .
A 2008 study, conducted by sociologist Carrianne Leung, picks up the paradox of how female health workers of Chinese and Filipino descent were publicly recognized and celebrated for their work in hospitals and other health centers, while at the same time -outside those facilities- they were subjected on a daily basis to acts of racism that even led them to fear for their safety.
During the covid-19 pandemic, a similar situation has occurred again, not only with attacks on the streets but even, according to the US press, there have been people who have refused to be treated in hospitals by health personnel of Asian origin.
Now you can receive notifications from BBC Mundo. Download the new version of our app and activate them so you don't miss out on our best content.

www.bbc.com
Eddie is an Australian news reporter with over 9 years in the industry and has published on Forbes and tech crunch.