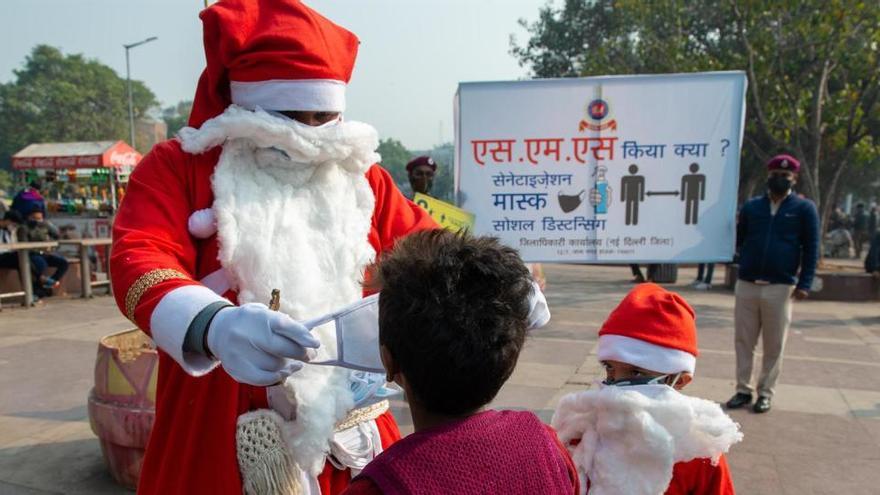 The coronavirus pandemic has registered in the last 24 hours more than 472,000 new cases and 8,319 deaths -daily figures significantly lower than usual for the Christmas holiday-, bringing the total to more than 79.8 million infections and 1.75 million fatalities, according to the balance published this Saturday by Johns Hopkins University .
With the new data, the global count already stands at 79,853,907 infected people and 1,750,617 fatalitieswhile patients who have recovered number 45 million, with India leading the way with more than 9.7 million people cured.
The United States has registered in recent weeks worst case data of the entire pandemic and it already exceeds 18.7 million people infected with 330,279 fatalities.
India, the second most punished country in the world, continues with the downward trend in the rate of infections. So far it has more than 10.16 million cases and accumulates 147,343 deaths.
Brazil remains in third position in this classification, which is configured based on data from 191 countries and territories with coronavirus cases. The South American giant has registered more than 7.4 million cases and 190,488 deaths.
In the case of Russia, it records 2.96 million positives and 52,985 deaths, while France, located in fifth position, has so far registered 2.6 million infections and 62,548 deaths.
UK stays like sixth country hardest hit by the pandemic, with 2.22 million positives and 70,302 deaths. In Turkey there are 2.1 million people with coronavirus and 19,371 deaths. Italy, for its part, has exceeded two million infections in the last hours and already leaves 71,359 fatalities.
As the ninth country most affected by the pandemic, Spain accumulates 1.85 million infections and 49,824 deaths. The 'top ten' is closed by Germany, with 1.6 million cases and 29,580 deaths.
Another evolution in recent hours has been the displacement of Argentina as the second worst hit country in Latin America. Colombia now accumulates 1.57 million cases and 41,690 deaths, about 200 cases more than those confirmed by the Argentine authorities, which have confirmed 42,422 deaths.
Mexico is also over a million cases, with 1.37 million positives and 121,837 fatalities; Poland, which has 1.24 million positives and 26,992 deaths; Iran, which registers 1.18 million infections and 54,440 deaths; Ukraine, which accumulates 1.04 million positives with 18,255 deaths; and Peru, which exceeds one million cases with 37,317 deaths.
Still under a million, South Africa, the country most affected by the pandemic in Africa, registers 983,359 infected and 26,276 deaths, ahead of the Netherlands, with 755,038 positives and 11,015 deaths, and Indonesia, with 700,097 cases and 20,847 deaths. The Czech Republic, Belgium and Romania exceed 600,000 infections, of which Chile, Iraq, Canada and Bangladesh are over half a million.
With more than 400,000 positives are Pakistan, the Philippines, Switzerland and Morocco. Already in the arc of the 300,000 infections are Sweden, Israel, Portugal, Saudi Arabia, Austria, Serbia and Hungary.
In the range of 200,000 to 300,000 infections are Jordan, Nepal, Panama, Georgia, Japan, Azerbaijan, Ecuador and Croatia. Above 100,000 positives are the United Arab Emirates, Bulgaria, Kazakhstan, Belarus, Lebanon, Slovakia, Dominican Republic, Costa Rica, Armenia, Bolivia, Denmark, Kuwait, Moldova, Qatar, Guatemala, Greece, Palestinian Territories, Egypt, Tunisia , Oman, Lithuania, Ethiopia, Burma, Honduras, Slovenia, Venezuela, Bosnia and Herzegovina, Paraguay and Malaysia.
China, the country where the pandemic originated, counts 95,460 infected and 4,770 fatalities.

www.informacion.es
Digsmak is a news publisher with over 12 years of reporting experiance; and have published in many industry leading publications and news sites.