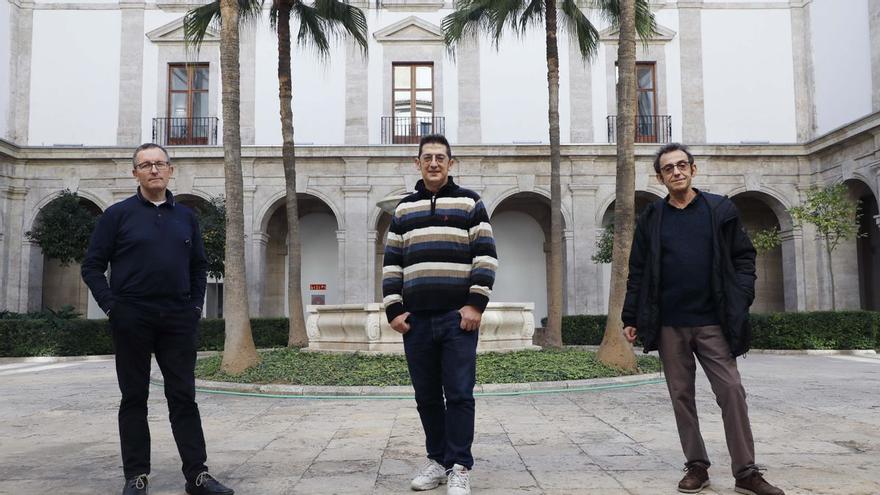 Carlos Gómez was given one year to live in 1987, when the word VIH equaled "death". At the hospital where he was diagnosed, he lost his friends. "Then people died. I lost several people close to three months after being diagnosed," he recalls. Marcela was also diagnosed in 1995 and together with her partner, who was already in a delicate state of health and later died of the disease.
Today Carlos and Marcela have a normalized life and without further problems, despite being HIV carriers. The situation has changed dramatically 40 years later since the first cases were known in the world. From the famous slogan 'Silence = Death', a phrase full of hope has been passed: 'Undetectable = Untransmittable '. It means that people with HIV who are in treatment and have such a low viral load that it is not detected in the tests do not transmit the virus, not even through sex without a condom.
Although Carlos Gómez, president of the Coordinator of HIV and AIDS Associations of the Valencian Community (Calcsicova), refuses to treat this phrase as just a slogan. "It is scientific evidence. That undetectable people do not transmit it. It is important to convey this ", he remarks. Ramón Espacio, vice president of the Cesida state association explains that it is essential to transmit this information "so that people with HIV know it and can live their sexuality as they see fit." Also so that the people around them do not put the stigma on them.
Although, in reality, one should first speak of a "self-stigma", according to Gómez. It is people with HIV who first punish themselves by feeling guilty for having contracted the virus. "It is thought that you have done something wrong, that it is your fault, you feel fear of rejection or transmission to other people," says Gómez.
"You can live with a quality and life expectancy similar to that of the general population," explains Gómez.
Right now, 14,553 people in the Valencian Community live with HIV and receive antiretroviral treatments, according to the Ministry of Health. A total of 354 people have been diagnosed this year in the three provinces. Most of these diagnoses, according to Sanitat, have been to men (5 to 1 compared to women) in the age range of 20 to 44 years.
Normalized lives
That is why, as he explains, it is very important for these people to have all the information they lack, especially at the beginning, to be aware that today it is one more chronic disease "with which you can live perfectly" . What's more, "right now you can live with a quality and life expectancy similar to that of the general population." Current treatments, Gómez explains, are no more than one pill a day, although scientific advances are expected to finally allow the bi-monthly injection.
Marcela Macheda is also a mother. Another of the myths that weigh on the group. "If you follow the doctor's instructions, take the medication and have an undetectable viral load, babies don't have to be positive," he says.
On the other hand, there is external serophobia, much less than decades ago, but which still exists. "We still see a lot of work rejection of people for having HIV. For example, companies often ask for the optional technical opinion even though they cannot legally", explains Espacio. There is also – he continues – a structural stigma. "For example, until three years ago people with HIV could not be the police or the military, and today they cannot carry weapons," he says. The problem with these regulations is that "they continue to contribute to stigma," Espacio denounces.
As Enrique Alcañiz, from the Ámbit association points out, "HIV is still linked to criminalized lifestyles. There are studies in which respondents associate people with the virus with drug addicts or prostituted women, these thoughts still exist, "he says. Despite everything, he clarifies that" little by little we notice some improvement, especially because there are less prejudice about LGBTI people".
Greater number of tests
Forty years after the first cases, the objectives of the associations are twofold: combat misinformation and increase the number of diagnostic tests among the population. Because, precisely one of the biggest problems is late diagnosis, which accounts for around 40% of cases, according to Espacio.
"It is important that more diagnoses are carried out, because these people are a great source of transmission," says Espacio. Gomez recommends that "everyone who has sex should have it at least once a year." In Calcsicova it is possible to take one of these tests for free and anonymously. And they remember that timely diagnosis is essential for the future.
Disinformation is another of the great problems faced by these associations. "The message of 'I am not going to die' is clear today, but the information helps those people with the emotional shock and fears, especially at the level of sexual or work life. Everything has to be worked on. "
Macheda, diagnosed 26 years ago, advises anyone who goes through this to "It is true that there is no cure, but you can lead a normal and normalized life. And the most important thing is that you normalize it, not wait for someone to do it for you, "he says.

www.informacion.es
Eddie is an Australian news reporter with over 9 years in the industry and has published on Forbes and tech crunch.