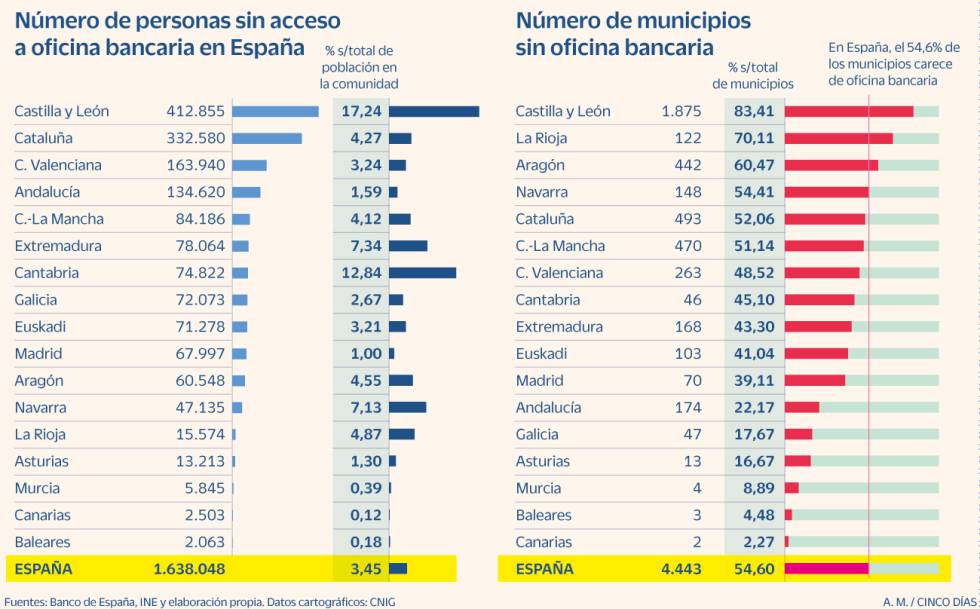 More than half of the Spanish municipalities do not have a single bank branch. The progressive reduction of the network together with the commitment to online banking have left a large part of the so-called Spain emptied without a branch to go to to manage their finances in person. According to data from the Bank of Spain updated at the end of June, of the 8,131 municipalities in Spain, 4,443 did not have an office, 54%. In total, more than 1.6 million people are without access to an office in their municipality.
Although in relative terms it means that only 3.5% of the population in Spain lacks access to a branch, finding an office in some autonomous communities can be difficult. In addition, the situation arises that it is precisely in rural areas where there are no bank branches that citizens have the greatest need for them. These are, in general, agricultural areas with little population where a good part of the inhabitants belong to an age group that has more difficult access to digital channels of banks and for which access to cash is still very important.
The Bank of Spain itself in the report Cash infrastructure and vulnerability in access to cash in Spain warns that around 1.3 million people are in a vulnerable situation to access cash and stresses that "it is essential to ensure that citizens who wish to use this means of payment have access to it."
The most depopulated AA CCs with branches
Observing the map of Spain emptied of bank offices, it can be seen that the northern autonomous communities are the most depopulated with branches. In Castilla y León, 80% of the municipalities are empty of offices. The orography of the territory and the fact that it concentrates many small towns has traditionally caused it to be the most affected autonomous community with a low density and coverage of offices. Only 373 of the 2,248 municipalities have at least one branch.
In fact, according to the aforementioned Bank of Spain report, the Castilian-Leon provinces are the ones with the highest number of people in situations of high vulnerability in accessing cash: in Zamora 18.7%, in Ávila 13 6%, in Salamanca 10.6%, in Palencia 9.1%, in Soria 8.6% and in León 7.8%. Burgos, with 4.1% and Segovia, with 3.2% are somewhat below, but remain at high levels considering that the national average is 0.7%.
In La Rioja the situation is similar. Only 52 of the 174 municipalities have financial establishments. In total, 15,574 inhabitants do not have access to face-to-face banking services, which represents 4.87% of La Rioja residents.
Similarly, in Aragon (60.5% of the municipalities without offices), Navarra (54.4%), Catalonia (52.1%) and Castilla la Mancha (51.1%), most of the towns do not have with access to bank offices so its inhabitants cannot manage their personal finances in person. In the autonomous community of La Mancha, the low coverage of bank offices in the province of Guadalajara is particularly noteworthy.
On the other hand, in the southern regions and the islands, most municipalities do have access to financial services in person. In the Canary Islands, only two municipalities do not have bank offices, while in the Balearic Islands there are three and in Murcia, four. Andalusia, despite its territorial dimensions, only has 22% of the municipalities without access to a bank branch. In part this is due to the work of credit cooperatives, deeply rooted in Andalusian provinces, which find their market niche in rural areas.
As a curiosity, the smallest towns that have at least one bank office are Cerbón, in the province of Soria, with 27 inhabitants; Aribe, in Navarra, which has 32 inhabitants; and Setiles, in Guadalajara, which has 80 inhabitants.
On the other hand, the municipality of Berrioplano, also in Navarra, does not have any office despite adding 7,457 inhabitants. There are also no branches in La Canonja, in Tarragona (5,956 inhabitants), nor in Palazuelos de Eresma, in Segovia (5,538 inhabitants).
Avoid financial exclusion
To alleviate this absence of face-to-face banking services and avoid financial exclusion, some initiatives have been carried out. CaixaBank has inherited the Bankia ofibus, a mobile branch that runs through municipalities at risk of financial exclusion. In 2020, the entity absorbed by CaixaBank served 250,000 people residing in 373 municipalities that carried out 200,000 operations.
Likewise, in September 2020 Correos announced an agreement with Santander to offer basic banking services throughout Spain through the 4,675 citizen service points of the public body. In addition, postmen can take money to any address in Spain.

cincodias.elpais.com
Eddie is an Australian news reporter with over 9 years in the industry and has published on Forbes and tech crunch.