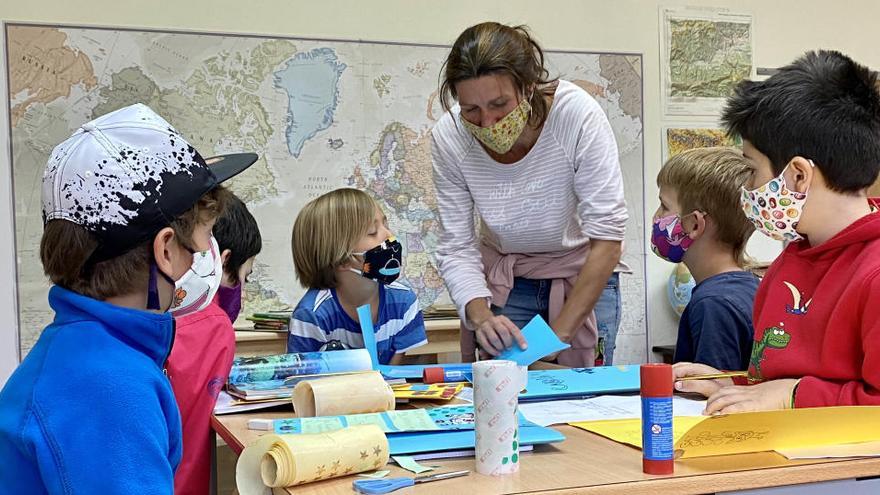 The non-university teachers and administration and services staff, as well as some workers in closed environments, will be vaccinated in the second phase of the campaign of the covid-19, that expected to start in March, when the priority groups of the first stage have been immunized.
This is how the 'Vaccination strategy against covid-19 in Spain', which catalogs the population groups that will progressively receive the injections, depending on the drugs that are approved and their availability, divided into three stages.
The document details each of the 15 population groups and clarifies for some of them in which stage they will receive the drug, so that residents and health and social health personnel of residences and care for large dependents will be the first, and children, youth and adolescents and adults without risk are not a priority.
In between, non-university teachers and administration and services personnel (PAS) and workers in closed environments such as prisons or immigrant centers, for which the strategy does place in the second stage of the campaign.
It does not specify it in all cases, because it is an "open evaluation, subject to continuous updating and that can expand the groups to be assessed and the groups included in each of the groups as more information becomes available".
So collects the other 11 population groups that will be vaccinated after the four priority groups:
1. PEOPLE IN CONDITIONS OF RISK
16% of people between 0-64 years have risk conditions (8 million), and increased to 60% in ages between 65-74 years (2.8 million) and 80% in people over 75 years (3.7 million). People with chronic diseases and other conditions "should be taken into account in a special way for vaccination because of their special vulnerability."
2. PEOPLE WHO LIVE OR WORK IN COMMUNITIES OR CLOSED ENVIRONMENTS
It includes different subgroups that "deserve separate attention due to their particularities and that can be expanded according to the information available"; some of these environments to consider are penitentiary institutions; interned; juvenile centers; of internment; shelters; student residences or religious communities.
Their heterogeneity and the difficulty in identifying all the subgroups "mean that prioritization as a collective is considered in a second stage", with the exception of those already prioritized or essential workers in these environments (prison officials, social health personnel, etc.) ".
3. VULNERABLE BY SOCIOECONOMIC SITUATION
These are situations that occur more in women, people with a lower socioeconomic level, migrants, people belonging to ethnic minorities, people with language barriers, in an irregular administrative situation, elderly, dependents, people with addictions to substances and with a diagnosis of serious mental disorder.
Its priority access is stated as "an additional public health measure"to other structural and social measures; the main difficulty is heterogeneity and its capture, but it encourages" making an effort "to increase it" in the prioritization scenario in which they are incorporated. "
Some 10 million people live below the poverty line; 23,000 are homeless; 1.6 million people in a situation of dependency; 46% of the immigrant population in a situation of socioeconomic vulnerability and 750,000 people are of gypsy ethnicity.
4. ESSENTIAL WORKERS
"The prioritization of this population group requires a disaggregation", so will be prioritized based on the impact on social function, the lives and livelihoods of other people and the ability to perform these functions from a distance.
Its greater exposure and transmission, among other issues, "means that 4.2 million people with essential jobs -excluding those who provide services in Health, Social Services and Education- should be prioritized in the first phases."
5. TEACHING STAFF
Pre-school (65,719 teachers), primary (373,794), secondary (414,550) and high school (215,664) teachers receive a premium "in a second stage, due to the high risk of exposure and transmission."
And "for the ethical and legal requirement to protect the right to education of children and adolescents and their free development of personality."
"Protecting them not only protects the health of children and adolescents, but also and fundamentally their right to education," says the text, which also adds that the vaccination of teachers and PAS "can be a stimulus for them to act as agents that facilitate a positive vision of vaccines among students and their families ".
In the field of university and professional training, "prioritization may not be so relevant", because protection can be obtained through synchronous "online", digital or bimodal training (except workshops or practices).
6. CHILD POPULATION
"With current evidence, the child population – in Spain there are 7 million children under 14 years of age – cannot be considered a priority group for vaccination at this time" and, furthermore, the vaccines that are authorized may not have results of use in she.
However, it is necessary to take into account "some uncertainties pending clarification", such as its role in transmission and aspects related to the safety and efficacy of the vaccine.
7. ADOLESCENTS AND YOUNG PEOPLE
Similarly, the 7 million people between 15 and 29 years of age "cannot be considered a priority group for vaccination, although the availability of more knowledge about their role is pending in the transmission and the safety and efficacy of the vaccine ".
8. ADULTS
Almost all the recommendations conclude that, in a situation of vaccine shortage, it would be one of the last groups to be vaccinated. In Spain there are 24 million people between 30 and 64 years old.
9. POPULATION OF AREAS OF HIGH INCIDENCE AND / OR OUTBREAK SITUATIONS
In community transmission situations, the prioritization of these areas "is doubtful and, possibly, the benefit of the vaccine is greater in other indications."
In circumstances of very low transmission and vaccine scarcity, it could be considered to apply it first in targeted areas that have high transmission and problems for its control or for the control of complex outbreaks.
10. PREGNANT AND INFANTS
Your inclusion will be subject to the existence of a vaccine licensed for use in pregnant women.
11. POPULATION WITH A HISTORY OF INFECTION
Given the little information on aspects such as the possibility of reinfections or memory immune response after infection, it is "necessary periodically re-evaluate the decision to exclude or not from vaccination people with a history of infection, who have had an antigenic test, positive PCR or positive serology test, especially in people prioritized for vaccination due to their vulnerable condition ".
In any case, according to the available evidence, vaccination, in addition to being safe, will induce an immune response in these people, but this aspect has to be assessed by the European Medicines Agency.

www.informacion.es
Digsmak is a news publisher with over 12 years of reporting experiance; and have published in many industry leading publications and news sites.