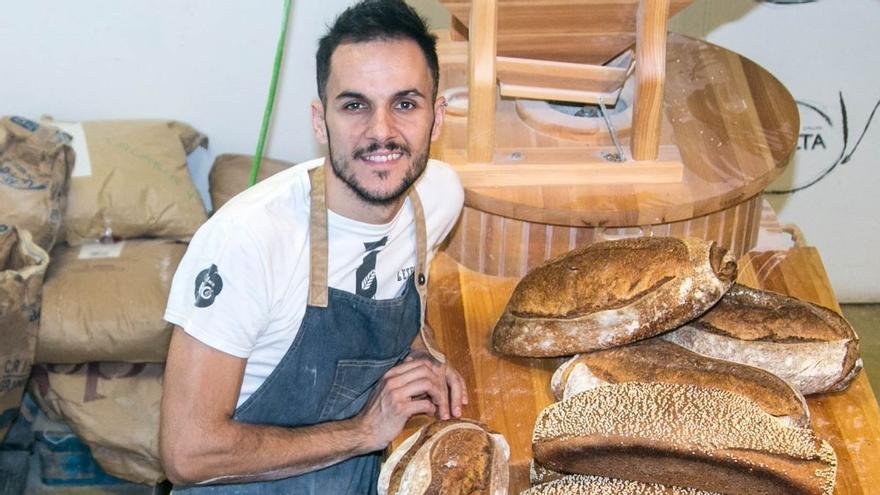 Jordi Morera is one of the great promoters of bread. The representative of the fifth generation of L'Espiga d'Or, which was named 2017 World Baker by the International Union of Bakers and Confectioners, just published 'Baker for a day'(Espasa), a book that joins the essential' Today you will make bread '(Now Books), for a more general public, and' The revolution of bread '(Montagud), more technical. It also gives courses 'on line' of homemade bread through Courses with Crumb.
We have asked him to tell us some tricks to make a perfect homemade bread. And he, delighted, gives them to us. Of course, it warns that to make good bread "you have to have patience and time, and organize yourself well." "Unlike other areas of the kitchen, in this area neither many nor very rare ingredients are needed, but the important thing is the process."
The flour
"You can make bread at home with any common flour, bought in the bakery or in the supermarket. It will look good. In fact, for beginners I recommend it. Just buy a normal, bread-ready one. If in the end you dare, you can start to play mixing with whole grains or old white and whole wheat so you can experiment. Notice: the strong flour does not have more quality, it just has more protein, which is good for breads with a lot of water, very hydrated, or for briochería, but for the vast majority of homemade breads are not necessary. "
Water
"With the tap, that's fine. As long as it is drinkable there is no problem, unless it has a lot of lime, for example. But it doesn't have to be mineral. The important thing is the temperature of the dough, which should be 24-25 degrees Celsius. dough, so in winter you will have to heat it a little and in summer, refresh it even with an ice cube if necessary ".
Yeast or sourdough
"The third ingredient (the fourth is salt) is yeast or sourdough. To ferment, you will need one of the two. I recommend fresh yeast that you can buy at any bakery or supermarket. If they don't have it fresh, dry it in powder. , but then you should put half because it is stronger .. Be careful, do not be confused with the royal yeast, which is a promoter for muffins and cakes.
The other way to ferment bread, in a wild and much more interesting way, is with sourdough, but it takes seven days to make. Of course, you will only have to do it once in your life and then store it in the fridge for future uses. It is made with whole wheat flour (rye is especially good) and water, mixing flour and water in equal parts every day in a jar at natural temperature. It is a life bomb because it will ferment, it will increase, it will have bubbles … ".
The kneading
"Contrary to what many believe, you do not need a kitchen robot nor do you have to stay for a long time but give the dough to rest. Mix water and flour for two or three minutes and leave the dough covered for about 20 minutes. In that time, the consistency of the dough will have improved. We work it again with our hands with the rest of the ingredients, two or three more minutes, and we let it rest for about 10 minutes. And so on, until we see that the dough is already it does not stick to the hands, it is fine, it has structure and it is not like a mud from the beginning. With two or three rests, increasingly short, it would be enough ".
Fermentation
"The first fermentation, in which it takes on volume, is done at room temperature for one or two hours or in the fridge until the next day. I advise leaving it covered at room temperature. After this fermentation you must shape the bread; It is very flat, let the dough rest for another five minutes and repeat the format.
The second fermentation takes place in the fridge: you can leave the dough in a bowl covered with a cloth until the next day. "
Baking
"When you go to bake it, preheat the oven to the maximum possible temperature. About 250 degrees would be perfect. Leave the oven tray inside at medium height so that it is very hot and another metal container on the floor of the oven to be able to steam later. Once it has gained temperature, let it preheat for at least another 10 minutes so that it reaches the highest possible temperature.
You take the bread out of the fridge, put it on a baking sheet or a platform so that it does not slip like a shovel when putting it in or taking it out of the oven, and cut it into the shape that interests you. You put the bread and, attention, very important, you throw a glass of water in the metal container on the floor and close the door quickly. With that high temperature and that steam, the bread will begin to grow and make.
In the first 10-15 minutes, keep the maximum temperature but only with the resistance below on. After that time, you can go down to 200 degrees and start the resistance of the upper part. That is, hot up and down. Leave it like that for half an hour. From that moment on, open the door carefully because a lot of steam will come out and check if you have to compensate the cooking in some way, because maybe it is more done from the bottom than from the top, for example. If you have to correct, a last five minutes in the oven will suffice. Let it cool and you can eat it now. "

www.informacion.es
Eddie is an Australian news reporter with over 9 years in the industry and has published on Forbes and tech crunch.