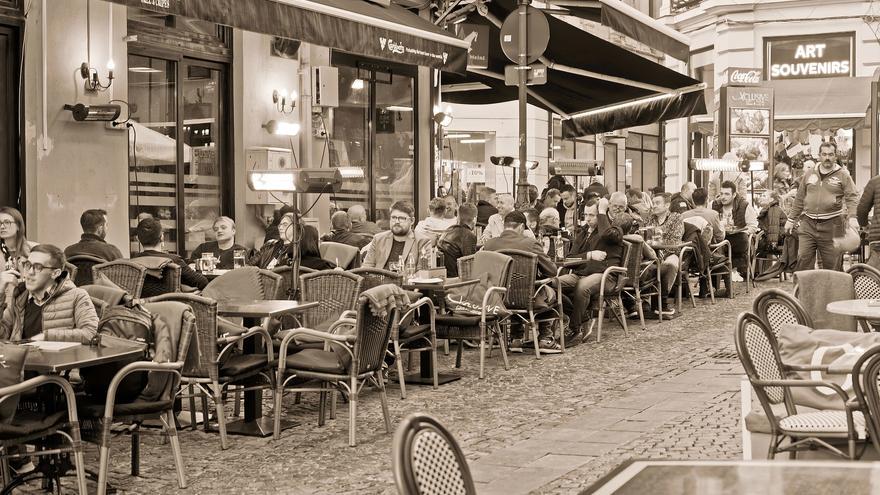 My friends, as I was saying, were not only classmates or interns at the University, they were also housemates during the years that "our voluntary exile" lasted in a provincial capital, far from what until then had been our homes since the childhood. When you are 18 years old, more adolescent than adult, just landed in a new place and you begin to discover the university world, its parallel life and a new way of living, everything is magnified. During the coexistence, any theme, feeling or illusion is lived so intensely, with such passion that the result was not always the desired one. Many of those groups, until then lifelong friends forced to live in rented flats, fell apart, sometimes for reasons such as not taking the garbage down on your shift, or not cleaning the toilet when it was your turn, or not picking up the kitchen, or throw parties while others tried to study. Questions that now seem trivial to us, but that in their day were of vital importance and gave some order to that chaos, which for us was an ordered chaos, where six or seven pre-adults lived and were formed. We didn't have the feeling of struggle, but with the perspective of time we were struggling to make our way into society in the early 80's. And always with less than a thousand pesetas, six euros, in your pocket to spend the week, including the trip back to town by train. We hitchhiked to the university.
We are the university students of Felipe Gonzalez, the one of "NATO entry NO". We are the teenagers of Rosendo Market and "Leño", from Triana, Ramoncín, Loquillo and Alaska. Also from Mecano, The last in line and Nacha Pop. We are children of the Pink Floyd wall and, from Serrat, Sabina, Victor Jara Y Bob Marley. We are the ones who saw musically grow Madonna. We are the university students of the radio cassette player, the phone booths and the collect calls. From discos, arcades and arcade games. The students of the photocopies.
In the last chat with my friends, we tried to understand the festive, relaxed and often reckless behavior of adolescents in the midst of a pandemic. We already know that, once most adults are vaccinated, the youngest are in the spotlight as responsible for the new infections by covid 19. Many times, trying to understand what is still an unthinking and thoughtless behavior of young people at parties and large bottles, we have tried to compare our adolescence with that of the adolescents of 2021, my friends and me too. But wanting to compare our 18 years with those of today is totally impossible. We were not better, nor worse, we were different. What undoubtedly all adolescents of any age have in common is what the philosopher already said in 1914 Ortega y Gasset and it is: "I am me and my circumstances, and if I don't save her, I don't save myself." And it is that, although we want to group ourselves into generations, the environments, the circumstances that surround each individual are unique and very personal. Generations are usually united by music, books, video games, the way they dress, … But they all have one point in common, such as rebellion, and the most classic is that of always going against the rules. The covid apart from death and desolation, has also arrived plagued by rules, restrictions and prohibitions. Manipulating that indiscipline, that rebel that every adolescent carries inside, as some political leaders are doing, they manage to develop the best breeding ground to democratically overthrow governments. You will agree with me that it is impossible to know how the eighteen years of past generations would have acted in a global health crisis like the one we are experiencing.
Possibly this summer, at least that is how we stay, we will meet again. And as always after these meetings, the host will have the fridge full of lunch boxes with a little of this and a little of that. With all that aperitif, drink or cold cuts that the day before the meeting it seemed to us that it was impossible that it was not part of the feast we were preparing. And also, we will have that aftertaste of longing, that emotional hangover and other types. When the day comes to an end, picking up the table, we always reach the same climax, the same conclusion and that is that past times were never better than today. This are my friends. They know who I'm talking about.

www.informacion.es
Eddie is an Australian news reporter with over 9 years in the industry and has published on Forbes and tech crunch.