The Connected plugs are one of the "smart" devices with more possibilities. If we also take into account that they are among the gadgets smart more affordable, it is easy for many people to get started with home automation by buying a smart plug.
The premise promises: configure it and you will be able to turn on and off the device you connect to it. However, What uses can we give to a smart plug in practice? In this article we propose a few uses, but surely there are many more: you can contribute your ideas, if you wish, in the comments.
Brief notes on "smart" sockets
It is worth making a brief review of the operation of "intelligent" plugs, whose functionality lies in its connectivity and compatibility.
The most commercial outlets connect via Wi-Fi (2.4 GHz band), but there are also Bluetooth and Zigbee and Z-Wave. In the last two cases, they will require a hub to act as an intermediary between the router and the device.
After your setup is complete The least we can do is manage the plug from the mobilebut there are also those that we can control with our voice if they are compatible with the respective ecosystems and assistants, such as Alexa, Google Assistant or Siri.
With them we can perform tasks such as:
To allow or not to allow the passage of electricity through the device.
schedule schedules for the current to pass
Monitor electricity consumption (only on certain models).
The key is in what we connect to the other side. Are ideal for turning on, off, programming simple devicesthat work by connecting directly to the current, or that have a mechanical manual switch that we must leave activated.
Two very important details that can be overlooked When choosing a smart plug: be careful with the available space, because they are usually bulky and sometimes do not fit, and if you are going to connect a high consumption appliance, make sure that it is compatible with the power.
Ideas for using a "smart plug"
For connect a security camera. If you want the benefits of a camera but are jealous of your privacy and don't like the idea of ​​the camera having access to everything you do, you can plug it into a wall socket smart.

Usually, for hard-to-reach sockets. If, for example, you have a plug behind a piece of furniture and you want to take advantage of it without stretching or bending over, simply leave the device plugged in at all times and manage its on/off remotely.

A smart plug can be very useful for monitor the consumption of the refrigerator, one of the household appliances that consumes the most. Likewise, if we have a second home, it can be interesting to use it and thus make sure that when we are not there, it is not working. And just before we get there we can turn it on.

They also consume a lot of washing machines and drying machines. Plugging them into a socket smart you can avoid the stand-by when they have finished their program. Remember: both for this case and for the previous one, make sure that the smart plug supports its specifications
via GIPHY
Be careful because this one has a trick. What is the first thing the technician tells you when you have a problem with the router? Indeed: if you have tried to turn it off and on. Can you turn off and turn on a router from the mobile as long as the plug is connected via Bluetooth, such as the Philips Hue Smart Plug Plug (29 euros). Because if you are connected via Wi-Fi you will only be able to do half of the task.
Philips Hue Smart Plug, with Bluetooth, Compatible with Alexa and Google Home
Electric stoves and radiators they are just good examples of "simple" devices for which they are very useful. It is enough to leave it on (with the button in the ON position) and connected through the plug to be able to control it remotely when we need it. If we are away from home and the doubt arises as to whether it is on or off, we can check it from the mobile and proceed to turn it off.

The opposite case: typical hot summer night in which the fan or air conditioning are essential to cool the sleeping environment. Connect the fan or air conditioner to a smart plug and so you can program the time at which it stops working.

However, on cold nights electric blankets They come great to warm us up. If we want to prevent them from being on for too long or forgetting about them, simply connect to an electrical outlet and set the time to turn off.

You can also turn on/off and program other air treatment devices such as purifiers and dehumidifiers.

If you have a power strip to unify all your devices in a single plug to turn them off at once and so on avoid the stand-by with a ruler, you can in turn connect the power strip to a smart plug (there are also smart power strips) to do it from your mobile… or check if you have forgotten to do it. In any case, make sure that plug electrical specifications support the power of the devices you are going to connect
Hama | WiFi Smart Power Strip with 4 Plugs (Multiple Plug without Hub/Gateway, with USB, 4 Plugs, with Overload Protection, App and Voice Control, 10 A), White Color
the water heater. Without expanding on its operation, electric water heaters come into action when the temperature of the water they house drops below the set temperature. Now, we do not always require that all the water be at that temperature. One way to save electricity is to connect it to a smart plug, so that you can program in what time slot it passes power and comes into action. If one day you need more hot water, you can activate it from your mobile.

For turn a grill on and off. Some basic models (mine is an older version of this). If you plug it in, it heats up, if you unplug it, goodbye to the heat. By connecting it to a smart plug you can manage its operation from your mobile.

Crock pots are great allies for eating rich dishes that require slow cooking. Can you plug a crock pot into a "smart" socket and turn it off wherever you are, even if you're going to be home late. Or program its operation.

Our morning routine features several simple appliances that are great candidates for using a smart plug, such as coffee makers and kettlesto scratch a few more minutes before going to work and have our coffee or water for infusion ready when we get to the kitchen.

Following with the people who rush the alarm clock, you can connect your hair straightener or curling iron to a smart plug so they're ready for action when the session hits. sheet metal and paint

analyze the electrical consumption of your devices with a smart plug that has this function, as is the case with this Meross model (16.99 euros)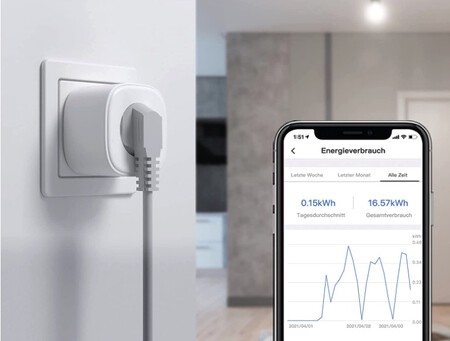 Smart Plug, Measures Consumption 16A 3680W Wi-Fi Smart Plug, with Remote Control Meross App. Compatible with Alexa, Google Assistant and SmartThings. MSS310
For those who have a pool: you can control pool maintenance pumping systemwith chlorine and flocculants, so that you can program its operation and turn it off when you don't need it

We continue in the garden: just as we can connect a lamp to a smart plug, it is possible to use it with the lighting for the gardenso you can activate them when you need them or program their operation so that they are on at certain times of the night.

For pretend you're home and thus turn on some lights or even appliances, so that you simulate activity. The perfect candidates are the lamps that are next to the windows.
Can you make a light bulb or lamp almost "smart" (although the bulbs smart They have more functions such as color variation, brightness intensity, among others) simply by connecting it to the current through the "smart plug" to turn it on or off remotely.

If you have specific lighting for plant growth in your greenhouse, you can activate and program its operation thanks to a plug.

Similarly, you can also remote control and schedule the aquarium lights.

If you have children at home who are afraid of the dark, you can connect a smart plug to a child's night light or light projector and thus program it or activate it when you go to bed.
If you like optimize device loading time such as a mobile phone, a scooter or a wireless vacuum cleaner, all you have to do is connect them to the smart plug and thus program their operation for the hours recommended by the manufacturer.

A drastic but effective way of limit how much time the kids in the house watch TV is to plug it into an electrical outlet. Thus, you can configure times when it can be on (for example until 10 pm) and even turn off the plug so that, even if they want to and are at that allowed time, they do not watch TV. Who says the TV also says the console

You can turn the sound systemsomething interesting to activate just when you need it, but also to simulate activity if you are away from home.

To turn on and off from the mobile a radio of all life, so common in shops and workshops. It can even serve as an alarm clock if you program it at the time you want to wake up.

automate christmas lights. I have a kit of lights bought in a bazaar that can be used to decorate the Christmas tree, but also for a window, shelf… whatever you want. Its operating system is that when they are connected to the current, they work. If you connect them to a smart plug, you can turn them off and on from your mobile.

Who says Christmas, says other festivities like Halloween. If as a servant you are a fan of any pretext to decorate your house tacky and baroquewith a smart plug you can not only control the lighting of electric candles or a lighted pumpkin, but also emulate a haunted house turning lights and other devices on and off randomly.
At Xataka Selección we publish the best offers in technology, computing and electronics from the main internet businesses. Prices and availability may change after publication.
You can be up to date and informed at all times of the main offers and news from Xataka Selección on our Telegram channel or on our Twitter, Facebook and Flipboard magazine profiles.

Note: Some of the links posted here are affiliate links. Despite this, none of the items mentioned have been proposed by either the brands or the stores, their introduction being a unique decision of the editorial team.
George is Digismak's reported cum editor with 13 years of experience in Journalism