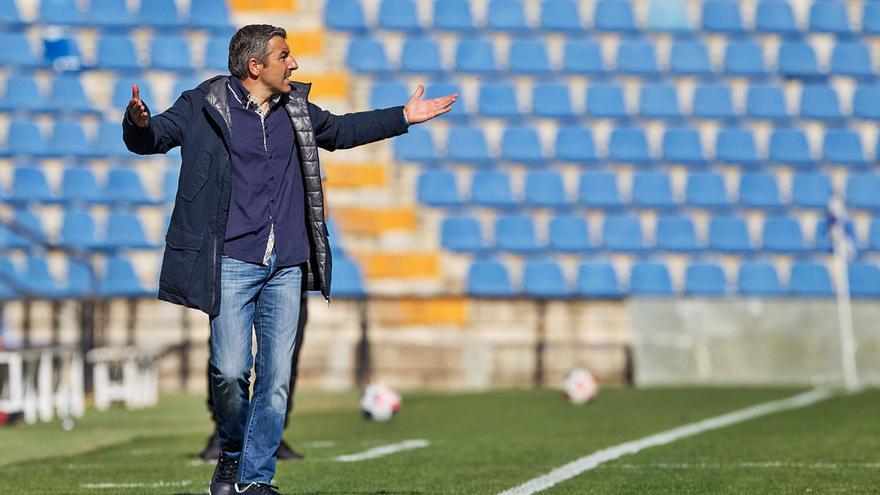 Calm, but not passive. David Cubillo, without losing his calm tone, is convinced that Hercules will manage to impose the quality that is presupposed to a squad as expensive as the one that has been made this year. But for this he will need two things: to recover all the footballers who are now on leave (all four are essential) and for the referees to be able to ensure the showiness of the attack game. In Madrid's opinion, the rivals his team has faced so far have skirted the regulations defensively.
TOO HARD
The blue and white attacking game does not shine because the players are subject to many fouls
"We face very aggressive teams and that makes you get stuck in attack in the end. We see how before five minutes of play, we have received two very violent tackles and, then, the same trend is maintained throughout the match. We have faced teams that go to the limit of the regulation when they defend us and that try not to emphasize our attack, "laments Cubillo, who understands that jams in the exit of the ball like the one experienced in El Colla obey an opponent's strategy.
HATE COMPARISONS
The blue and white coach does not look in anyone's mirror because that does not help the team
«We do not look at others. We can only focus on ourselves and do things well so that Orihuela does not put us in trouble. I do not think it is good that we are comparing ourselves with the other teams in the group (referring to Ibiza, a direct rival that has won all their league games), not even with Hercules from last year or from other times. We have to go week by week and dedicate ourselves only to work, in defense, so that they do not mark us, and in attack, to generate more clear chances, "said Cubillo, who is convinced that the team has room for improvement.
THE HERCULES IS NOT 100%
Until the injured recover, the full potential of the project cannot be seen
"Things have been seen, but you won't be able to see Hercules (from Cubillo) until the squad is 100% available. I am very satisfied with everyone's performance so far. With so many adverse circumstances (permanent casualties and muscular discomfort that slow down workloads), what one wants to see costs, "admits the coach. "We are seeing a team team, which, despite the absences, is very competitive and very regular. We can improve in everything, yes, it is true, I think there is scope, but, so far, and in our circumstances, I am very satisfied with what we have been able to show, "he says.
ANOTHER MATCH
Second match of maximum rivalry in 7 days against teams that are motivated to the maximum
"Sunday will be another great game against another complicated rival in the province, with all that that adds pressure to the match, and that, in addition, is in a good moment of play and results. This is once again a derby and we are going to face it with the same enthusiasm as the four previous days, "said Cubillo, aware that the opponents show extra motivation when they have to face Hercules, as he made very clear seven years ago. days, in the appearance before the derby in El Collao: "for them, playing against us is the game of the year," he stressed
THE ORIHUELA
A mix of seniority and youth, with quality footballers and good defenders
Under Cubillo's magnifying glass, Orihuela «is a very well worked team (by Gerard Albadalejo), which is quite correct defensively. Mix good defensive work with good ball handling. There is no bad footballer, none who does not treat the ball well. They handle set pieces well and have enough quality upstairs. If they are tied on points with us, it is because they are doing things well and because they have important names like Chechu or Toché who are surrounded.
THE GOALS WILL ARRIVE
The coach remembers that all his teams have been very efficient in attack
«The more chances we generate, the more likely we are to score. We have to improve the set pieces because those situations unblock difficult days against very close rivals. We can grow a lot from our defense, my teams have always scored goals and here I also want it to happen and I work daily to achieve it, but it is evident that this is the most difficult plot, "he said.
NO TRACES OF CORONAVIRUS
The tests, negative; Appin will not play and Pedro Sánchez will be the first to rejoin
The former Marbella technician revealed that all the mandatory antigen tests that the 48-72 squad undergoes before the day's dispute are negative, he did not clarify who will replace Appin and he confirmed that the first to receive discharge will be Pedro Sánchez, but without specifying when.

www.informacion.es
Digsmak is a news publisher with over 12 years of reporting experiance; and have published in many industry leading publications and news sites.