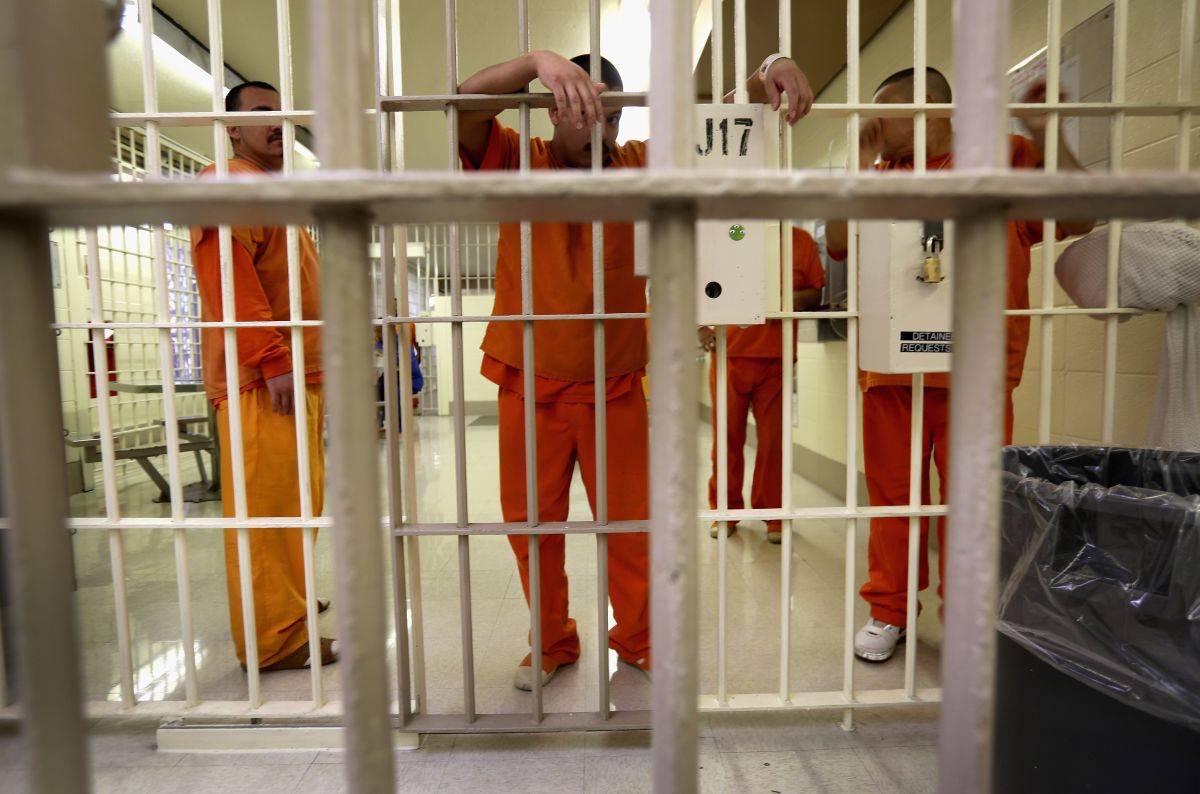 When COVID-19 cases in New York jails they do not stop punishing their inmates with force and the health authorities are "locked up" by the low availability of the vaccine, more than 200 organizations that fight for the rights of the prison population and detention centers of La Migra urge to promote an urgent path of justice that includes an immunization plan and a series of reforms for probation and end practices such as confinement lonely.
More than 5,500 New Yorkers incarcerated in state prisons have tested positive for coronavirus, meaning that nearly 16% of New Yorkers behind bars have been infected, say spokespersons for Center for Comunities Alternatives (CCA).
"At least 32 of those deprived of liberty have died. Actually there are outbreaks of the virus in the correctional facilities of at least 14 penitentiary centers ", highlighted the CCA leader, Marvin Mayfield in a virtual conference held this Thursday where state assemblymen and senators they shared details of their visits to some of these prisons.
"We saw up close the cruelty, the inhumanity of the system, of people subjected to solitary confinement for weeks. It is brutal, but the most shocking thing is that it is not illegal. That is why we must fight to change the laws. It is a political problem ", reacted Senator Julia Salazar of the Brooklyn 18th district, who visited the Fishkill Correctional Facility, located about 60 miles north of the Big Apple.
They rush a plan and new laws
A group of Albany legislators, monitoring several prisons throughout the state for a month, not only demand to rush the health authorities in access to the COVID-19 Vaccines for Incarcerated New YorkersRather, the approval of a package of draft laws that would enact a reform of the parole system, would erase the application of punishments and guarantee that life "is easier" for those released.
By reviewing your visit to the Orange County Correctional Facility, Colombian-American Senator Jessica Ramos, representing Queens, clarified that although he found clean and disinfected areas, an application could be observed almost no periodic COVID-19 tests, both for the staff and for the inmates ".
"The challenge is to have an urgent vaccination strategy for this population and to accelerate the reform of the penal system. We must not expect more tragedies", Argued Ramos.
Although Governor Andrew Cuomo included in the coronavirus immunization plan New Yorkers deprived of liberty who are 65 or older, or are "medically fragile," organizations continue to push for the 100% of the population of these environments, where it is almost impossible to maintain social distancing, are included in the first stage of vaccination.
For her part, the Assemblywoman Anna Kelles who toured some areas of the Auburn prison, 260 miles from New York City, shared some statistics: There were 1,300 people incarcerated there. 70% are people of color. 40% are serving a life sentence. There were 65 people in solitary confinement, 23 hours a day.
"The #JusticeRoadmap needs to be passed now. We shouldn't wait for further tragedies. The best way we can begin to redeem ourselves as a state is by passing this package of bills."

— Senator @jessicaramos who visited the Orange County Jail & ICE detention center pic.twitter.com/7Osgd2zW6a

— Center for Community Alternatives (@CCA_NY) February 18, 2021
Prisoners during the pandemic
Other coalitions like Alliance of Families for Justice (AFJ), who has been fighting on the front lines for the rights of incarcerated people and their families since 2016, are also pushing for new protocols against this health crisis in the New York State prison system.
"The response from Governor Cuomo and the Department of Corrections and Community Oversight (DOCCS), which oversees the 52 prison facilities that house 33,393 incarcerated people, has been weak, opaque and inhuman ", he highlighted Soffiyah Elijah, executive director of AFJ, in a statement.
Almost a year has passed since the start of the pandemic and during all that time several coalitions have requested that they be applied emergency policies such as judicial pardons, to liberate the greatest number of vulnerable people, especially the elderly.
"Unsurprisingly, the virus spread throughout the entire New York prison system with painful results. Just before Christmas 2020, all New York prisons were closed to family visits, with all that that implies. The response during the pandemic has been more punishments, slower proceedings and solitary confinement for weeks and months in a row, "concludes AFJ in a report shared with the media.
Indeed, the Puerto Rican senator, from the 33rd district of the Bronx, Gustavo Rivera, narrated that during his visit to a prison in the Hudson Valley he spoke with an inmate who had been to six parole boards, without any advance in your case.
"We have a system strictly focused on punishment. That is why each and every reform must move forward. It is a human issue ", he specified.
"I spoke with a gentleman who had gone to 6 parole boards. We still have a system focused strictly on punishment. That's why every single bill in the #JusticeRoadmap is so damn important."

— @NYSenatorRivera pic.twitter.com/6uiPbAL4OS

— Center for Community Alternatives (@CCA_NY) February 18, 2021
DOCCS: More jails to be closed
In accordance with the proposal of executive budget 2021-22 New York Governorate includes legislation that would allow you to close correctional facilities as long as you notify state legislative leaders at least 90 days before the closings. Under existing state law, there is a one-year notification requirement.
Anthony Annucci, the acting commissioner Department of Corrections and Community Oversight (DOCCS), testified at a hearing on the state budget on Wednesday and briefly mentioned the governor's plan for close more state prisons.
"Based on the continued decline in the incarcerated population, we anticipate additional facility closures in the next few two fiscal yearsHe explained.
Annucci's balance sheet holds that since Cuomo took office in 2011, they have closed 18 state prisons.
He also highlighted that as of February 1, there are 33,376 people incarcerated in the 52 state prisons in New York, which translates into the population has decreased by 54.1% since 1999 when there were 72,649 inmates in the penitentiary system.
When consulted in previous sessions about the protocols to prevent COVID-19 in prisons In his charge, the state official has concluded that New York "has been a national model for the control of COVID-19 within correctional centers. With one of the lowest mortality rates ".
What are the reforms that are expected?
Fair and timely probation: applicable to all people in prison who do not represent a clear risk of breaking the law and a danger to communities. It would also involve the review of sentences that amount to death by imprisonment, which do not consider the changes that a person may have over time.
Review of convictions for people over 55: It is proposed to address these "inhumane" sentences by allowing people in New York State who are this age and have served 15 continuous years in prison or more to be considered for parole, regardless of their crime or sentence.
Elimination of criminal records: In the opinion of reformers, even after a person completes a sentence, the current New York system continues to punish them with barriers to access to housing and employment. A bill also proposes options to seek post-conviction relief for crimes that have been decriminalized.
HALT ban: It refers to eliminating the practices of confinement or solitary punishment of inmates for acts of "misconduct".

Ready for parole:



eldiariony.com
Eddie is an Australian news reporter with over 9 years in the industry and has published on Forbes and tech crunch.