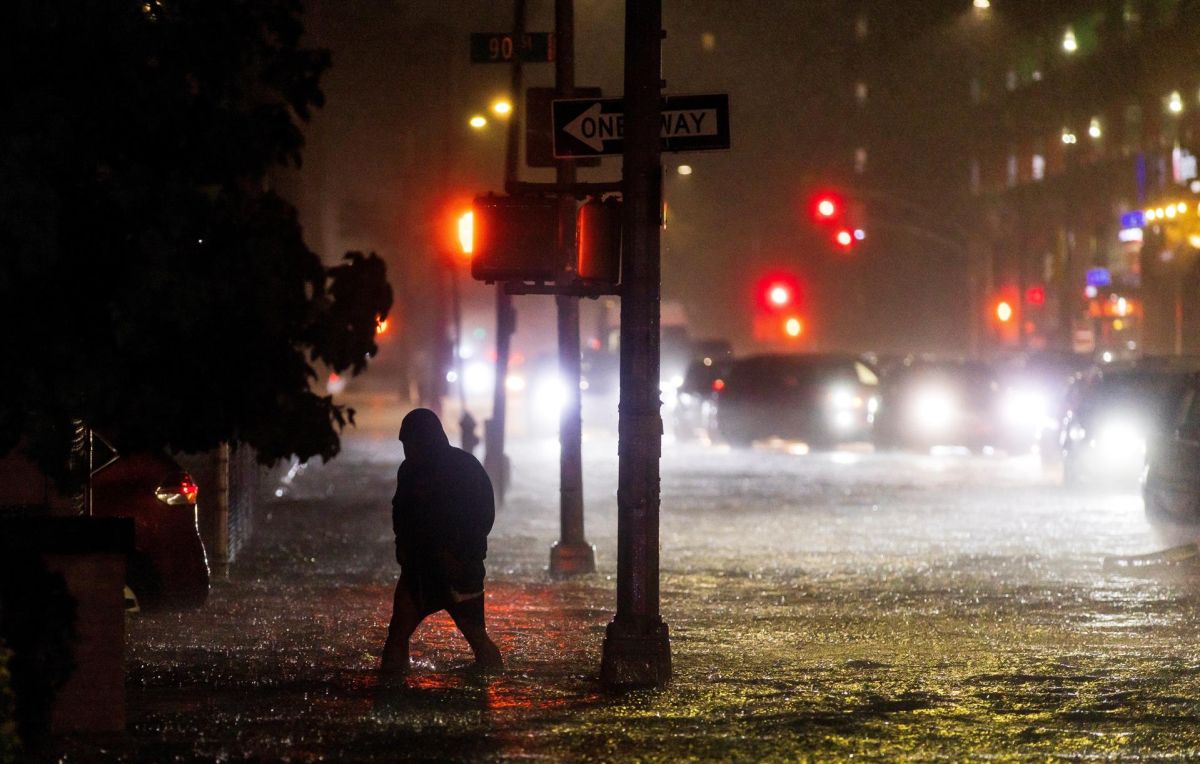 The passage of Hurricane Ida left devastation in New York during the week, specifically in Queens, where human and material losses hit the area. Between them, an entire family were found to be fatal victims of the floods by drowning in the basement of their apartment.
In statements provided to New York Post, Nancy Pico, a 49-year-old citizen, who was a neighbor of this family, stated that the state police officers could have prevented these deaths, since during the evacuation process of the building he begged them to knock down the door where they were hours before he died, but they did not.
The evacuation was carried out by eight New York police officers, said Pico, and said that they came to evacuate the building when the water rose, but they decided not to force the door where the deceased were. Ang Gelu Lama (50), Mingma Sherpa (48) and two-year-old Losbang Lama.
He recalled that on the day of the ravages of the storm Ida had seen Ang Gelu arrive home after working at 7:00 pm on Wednesday, hours before he learned of his fatal fate.
In the midst of the floods, Pico insistently asked the police to enter, he said in his story, receiving as a response that only firefighters could enter the house to perform the rescue; however, they did not arrive until after 2:00 am, by which time they had already died.
"I am very angry with the police, because if the fire department does not come, they must act"Said the neighbor of the deceased family amid tears that were noticed as she told her story.
Through a statement from the New York police, they reported that the agents arrived at 10:00 pm, and found a very high level of water two feet above the street level of the basement, for which it was "Completely submerged".
Responding officers immediately requested a response from ESU dive teams and the New York City Fire Department to assist in the rescue effort. Upon arrival, ESU and Scuba Team staff determined that the basement was not safe to enter due to the high levels of water and electricity throughout the residence, "stated Sgt. Brendan Ryan, NYPD spokesperson.
An unconfirmed report of people in a flooded basement brought police to a Woodside home. Without special equipment they made valiant efforts. Locked doors, rising water level & live electricity forced the officers to call for the @FDNY. (1 of 2) pic.twitter.com/zlbw828pvP

— NYPD NEWS (@NYPDnews) September 5, 2021
They had to wait for the water levels to recede to street level before "Use a pump that would remove excess water from the basement"continued the spokesperson, who revealed that it did not happen until 2:00 a.m.
Pico's outrage was very evident, and in commemoration of the lives of the family that came from Nepal who lost their lives, he lit three candles with a sign that read: "Your voice is my voice. No rule should prevail over human life. All government workers must be prepared to act in the face of imminent danger! "
You may also like:
Mayor creates task force to assist basement residents in future mandatory immediate evacuations in NYC
Preliminary Report: Over $ 50 Million in Damages for Ida in NY
President Biden will travel to Queens and New Jersey to assess damage from Deadly Storm Ida; New York City Hall opens 5 support centers



eldiariony.com
Eddie is an Australian news reporter with over 9 years in the industry and has published on Forbes and tech crunch.