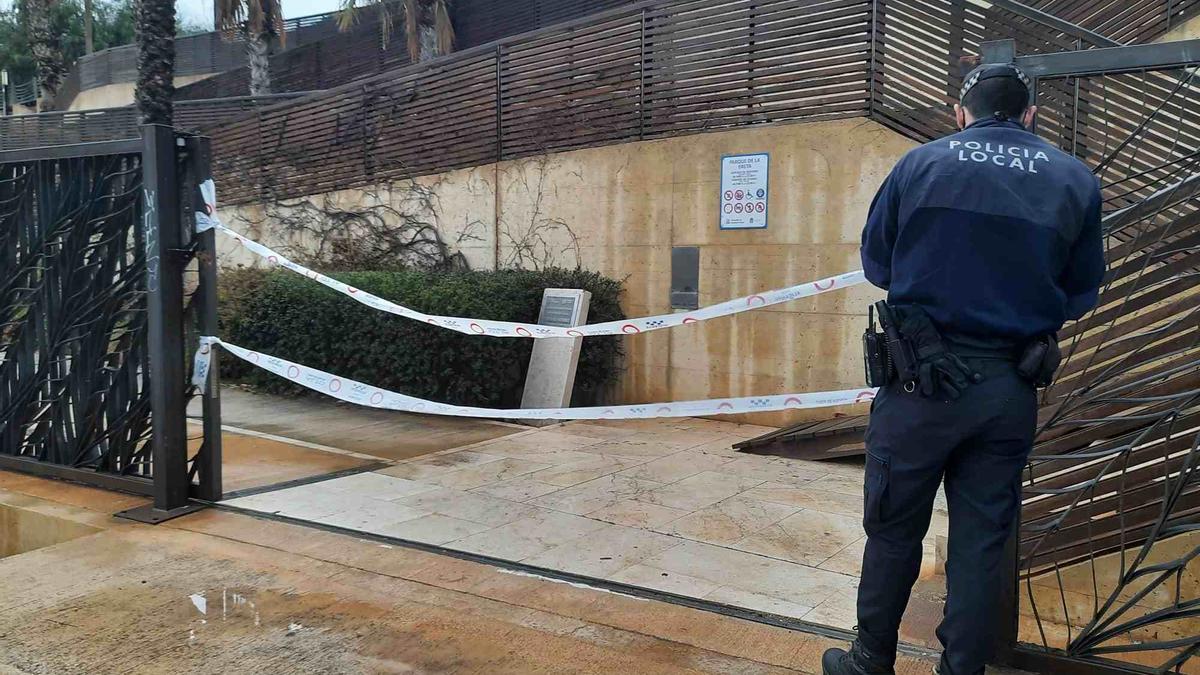 The Department of Security of the Alicante City Council informs that on the first weekend of opening the hospitality establishments, the Local Police during the afternoon of Saturday organized an operation to dissolve a group of 300 people that after the closure of the bars in the Old Town, the Downtown area and the Market, they moved to make bottles in the surroundings of La Ereta and through the entrances to the Castle of Santa Bárbara that had to be closed.
The balance of Saturday of the Local Police closed with a total of 107 penalties due to alcohol consumption, not wearing masks, being in groups and 29 parties were dissolved in houses to ensure compliance with security measures and stop Covid infections in this pandemic, and with three detainees.
The operation in La Ereta was organized with dozens of agents during the afternoon after verifying that the young people after 6:00 p.m., and the entertainment venues were already closed, they were heading to the entrances of La Ereta park to make large bottles in large groups. The Police entered with the patrols through various entrances, at which time, upon observing the police presence, the young people fled to avoid being identified and punished, the agents managing to denounce a large group of about forty of those who were consuming alcohol without masks. , and all the drinks were seized.
The Councilor for Security, José Ramón González, has urged young people to "not challenge the virus and fight together from the individual commitment of each one so that no more people die of Covid, respecting the rules as much as possible and without making bottles in the city, avoiding groups that are not allowed. "The mayor, has crossed out the behavior of the hundreds of young people who yesterday met in La Ereta as "irresponsible, misplaced and without conscience", while expressing his discomfort since "these behaviors can generate new outbreaks of contagion and lead us again to have to implement restrictions with a significant damage to our economy that has suffered so much this year and what would be worse than a fourth wave ".
The City Council reinforces surveillance and security control with the Local Police to be able to cope with large bottles and parties in houses every weekend with specialized units such as Fox or Goir and the Night service, since in both cases they put themselves at risk of contagion because they meet a higher number than allowed and of non-cohabitants, without masks and in turn generate discomfort and noises to the neighbors.
In the surveillance with traffic controls and patrols throughout the city, 26 reports of complaint have been drawn up against people who have breached the use of the mask and the groups, and several meetings of more than four people were intervened, filing minutes for exceeding the maximum limit of people in a group allowed, with 4 complaints for disobedience of the Security Law, and 2 for urinating on public roads.
Of the total number of interventions, specifically during the afternoon, a control was set up on Avenida de País Scandinavos denouncing three people for driving under the influence of alcohol, instructing judicial proceedings, as well as 14 complaints for traffic infractions such as not having the ITV in force, insurance as well as driving without a belt or talking on a mobile phone.
The night service last night set up a control on Denia avenue, denouncing 7 people for breaking the curfew and proceedings were instructed to 3 people with complaints for driving under the influence of alcohol and testing positive for breathalyzer.
Finally, along with these interventions, it should be noted that yesterday the Local Police arrested three people for an alleged crime of gender violence, another arrest occurred in a control for falsification of a commercial document, and a third for alleged sexual abuse.
The Local Police dissolve 29 parties in homes
During the entire day on Saturday, 29 parties were dissolved in homes, in the afternoon 16 complaints from individuals who were celebrating parties at home were attended, one of the most important was dissolved on Denia avenue, with young people who had stayed on social networks , raising 14 minutes for non-compliance with the grouping of people who do not live together and disobedience.
Likewise, the Night service from ten to five in the morning dissolved another 13 parties in homes, generating noise and annoyance to neighbors and complaints from individuals. The agents dissolved and sanctioned them and went to the homes located on Jose Mª Py streets, Denia avenue, Alcoy avenue, Rodrigo Caro, Salabre, Primo de Rivera, Pantaleón Boné, Rodrigo Caro, Musician Alfonsea, Doctor Claramunt, San Carlos , Photographer Pilar Cortes and on Loring avenue.
Councilor José Ramón González has once again made an appeal, "This is not the time to party and we must continue to be responsible and become aware of the situation by complying with security measures. The virus continues to kill many people every day, let's not do recklessness like bottles, and although there is an improvement in the infection data, we cannot relax with social gatherings or break any rule, because we put everyone's health at risk, which is the most importantly, I ask for maximum prevention, protect ourselves, and take care of ourselves so that new outbreaks of Covid do not occur and we get out of this pandemic as soon as possible ".

www.informacion.es
Eddie is an Australian news reporter with over 9 years in the industry and has published on Forbes and tech crunch.