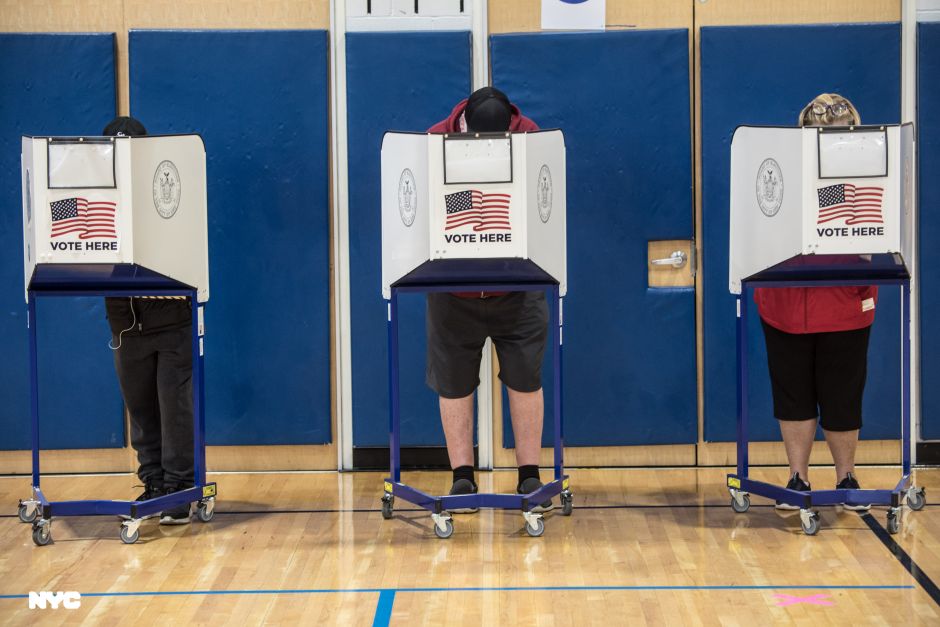 Finally the day expected by many has arrived and while New York authorities anticipate that thousands of voters who have not yet voted, Come this Tuesday, November 3 to the voting stations to exercise their right to elect the president who will govern the destinies of the country from January 2021, as well as to congressmen and state legislators, this time there is a fear in the environment.
Social groups, activists, community organizations, immigrant advocates, and even one's own Blasio Administration, they fear there might be attempts to intimidate or even suppress voters of their right to vote, due to the intense political climate that prevails in the country.
And in an effort to guarantee that the voters of the Big Apple are not violated their right to choose freely, they have not only asked to be with their eyes wide open and denounce any irregularity, but they have launched different support plans so that the electoral day passes fairly.
One of those initiatives is the New York City Election Observer Corps, which was launched last week and will run through Tuesday night.
"The right to vote must be protected. That is a central and fundamental responsibility of any government and the Election Observer Corps will join the invaluable efforts of community groups that have worked for years to ensure that voters are aware of their rights, "he said. Mayor Bill de Blasio. "Voter intimidation is a crime and we will stand together as a City to protect voters."
There are 500 volunteers against bullying
The Mayor's Commissioner for Immigration Affairs, Bitta Mostofi, He commented that there will be about 500 volunteers trained to precisely address possible acts of intimidation, and they will be in charge of directing the complaint to the competent bodies such as the Electoral Board, the Prosecutor's Office or the police.
"You have to go out and vote and if something irregular happens we will be there to help"Said the official.
Vanita Gupta, executive director of the Leadership Conference on Civil and Human Rights, cautioned that the laws are clear in stating that no person, whether acting under the guise of the law or otherwise, will intimidate, threaten or coerce, or attempt to intimidate , threaten or coerce any voter.
"Voter intimidation is against the law and in today's political environment, there is a palpable concern about voter intimidation that should not be underestimated," said the activist, warning the importance of election observers being vigilant.
Donna Lieberman, director of the Civil Liberties Union of New York warned voters that if they have problems casting their vote, they can ask for help.
"It is important that everyone knows their rights: Voters must remain vigilant at the polls, and those who have any difficulty queuing can always go to the front of the line and ask a poll worker for help," Lieberman said. "If they queue after the polls close, you have the right to cast your vote, no matter how long it takes. If you need any assistance, call 866-OUR-VOTE to get help".
Phantom of voter suppression "is more real"
Aracelly Cantos-Moreira, from the organization Make the Road NY, assured that the ghost of voter suppression is more real today than ever, so he made a direct call to voters who see "strange things" to report it.
"The fear that there will be intimidation or suppression of the vote is real, not only at the polls, but also from before, with the late arrival of absentee votes, many have been lost. I know of many people who have filled out the form and never received the votes. It is evident that there are black hands behind this attempt to take away our right to vote, "said the Ecuadorian activist, who is very excited to vote for the first time this Tuesday.
"And we have to denounce, because as the phrase says: 'he who is silent grants', and if we keep silent about the blessed irregularities, we are going to be accomplices. You have to talk, because the vote has to be transparent and fair. We cannot afford to lose the power we have to vote, since it is urgent to bring our country back, "added the young woman.
Freddy vega, originally from Puerto Rico and who has lived in New York for 56 years, also gave credence to the fear of attempts to prevent voters from exercising their right, protected and at liberty, and said that being a greater threat to minorities , you have to be united, and with a magnifying glass.
"Latinos have to unite, because they have loved us not just now, but long ago, they have thrown us aside. We have to be with our eyes open so that they do not take away our right to vote, because this election is very important, "said the Puerto Rican," For Latinos and brunettes, especially, for us minorities, this vote should be more careful ".
Even protests are protected by law
The Legal Society association He also urged voters not to allow their rights to be violated at the polls and even warned that even eventual protests are protected by law. And since the De Blasio Administration announced that there will be a police presence in each of the polling stations, something that has raised concerns, they explained that it is vital to be well informed.
"New Yorkers have the right to come together and express their views and concerns about our democracy and the electoral process," said Jennvine Wong, attorney for The Legal Aid Society. "And given the New York City Police Department's abysmal record of violating these rights, it is essential that those who choose to protest are informed and prepared for a variety of scenarios."
"They have the right to protest. You do not need a permit to drive on the sidewalk, as long as pedestrian traffic is not blocked. A permit may be required to march down the street or meet in a city park, "they warned. "During a protest under social distancing rules, you can gather in groups of up to 10 people, as long as you keep a distance of 6 feet from others. Even if you follow these rules, the police can issue a dispersal order. If they do, they must provide clear notice and an opportunity for you to leave the area. "
Voters protected by law
The New York Board of Elections stressed that under electoral laws, registered voters not only have the right to vote with enough time to do so and receive help to vote, due to "blindness, disability or inability to read or write", but also have protections for that their vote is secret and there is no intimidation or abuse.
"They have the right to cast their vote, free from coercion or intimidation by electoral officials or any other person," said the Electoral Board. "Equal, nondiscriminatory access to the electoral system for all voters, including the elderly, the disabled, alternative language minorities, the military, and foreign nationals, as required by federal and state laws."
The New York State Attorney General's Office Letitia James, He has also joined anti-suppression efforts and activated the elections hotline 1-800-771-7755 to offer help.
"Both federal and state law prohibit any person from intimidating or attempting to intimidate or dissuade any other person from voting. Beware of phone calls, emails, or other media, including newspapers, television, radio, or social media, that try to persuade you not to vote. Only trust reliable sources and independently verify any information you receive, "he assured. "If you have been subjected to intimidation or voter misinformation, please report it to our office. Also, if you notice any irregularities on your ballot, or if you have received an absentee ballot that you did not request, or if you receive a pre-filled absentee ballot, please contact us. "
For help and to report facts against the vote:
You can call The Legal Aid Society at 212 298-3303
You can call 866-OUR-VOTE
On Election Day you can also call the NY Attorney's Office at 1-800-771-7755
The day after the election you can call the Civil Rights Bureau at (212) 416-8250
You can also file a complaint at the following link: https://vote.nyc/page/contact-us
You can report irregularities directly to the Electoral Board at the following email: [email protected]
You can call the Board at (866) 868-3692 and ask to speak in Spanish

eldiariony.com
Digsmak is a news publisher with over 12 years of reporting experiance; and have published in many industry leading publications and news sites.