Madrid
Updated:
save

Families with children enrolled in special education – currently 37,500 – have been fighting for years, even before Isabel Celaá was Minister of Education, for the rights of their children. Now what worries them is not only that the new norm, the Lomloe, threatens to close the centers in ten years (it was already the case in its original wording of a year ago) but the current text is more aggressive and, for the sake of "inclusion", the best interests of the minor are placed second. ABC collects testimonials from families and teachers that explain why special education is the best option.
Mago More, father of Marcos, a boy with cerebral palsy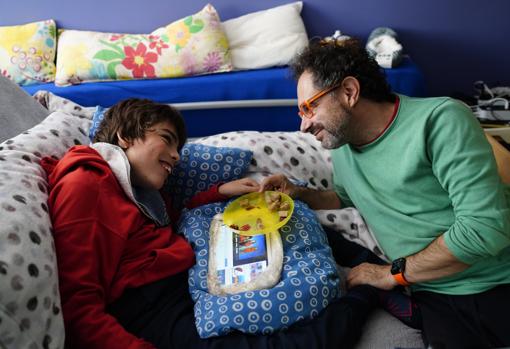 "They think this is like the Champions movie"
Marcos cannot walk or speak but, according to his father, he loves to laugh. At night, before going to sleep, he has so much energy that his parents make him laugh in order to make him sleep. Marcos is 15 years old and suffers from cerebral palsy, but he is a child full of vitality. His father, who is publicly known as Mago More, keeps asking himself the following question: "What are the means and attention that our children are going to receive after the approval of this law?" José Luis Izquierdo is a comedian and screenwriter, but when he talks about the future that awaits Marcos, his usual funny tone gets worse. The real problem, in the opinion of this father will come "when we have to send our children with intellectual disabilities to ordinary school" and he argues that the law has not been accompanied by an economic report. To call for the closure of special education schools is to "condemn" ourselves as parents to suffer great uncertainty about the care that our children will receive, he regrets.
Izquierdo recalls that with this law, Celaá insists on the strange idea that "children do not belong to parents." The magician wonders: «So. Whose are they?». He considers himself an advocate of integration, but of "real integration" and points out that "the Taliban who want to end special education schools do not have children with intellectual disabilities." In addition, he comments that the Celaá Law also represents an added problem for ordinary school teachers, since "the theory is very beautiful", but teachers are not prepared to serve children who require other types of training and attention from the teacher. faculty. "They think this is like the Champions movie."
Indirect closure
This father emphasizes that it is "bleeding" that the Cermi (Spanish Committee of Representatives of People with Disabilities), which has not visited a single special education school, is in favor of emptying these centers so that, over time, they end up closing. In this line, he argues that the Celaá Law supposes in practice an indirect closure of these schools, which they will end up disappearing when they start to be deficient.
Izquierdo condemns that "no one has asked any therapist to draw up the law", as the end result is that "our children are increasingly being cared for worse", and adds that "the Government has created a problem where there was none". The punishment for special education, he concludes, "is a drama" for Marcos.
Alba del Río, mother of Javier, 13 years old who has Down syndrome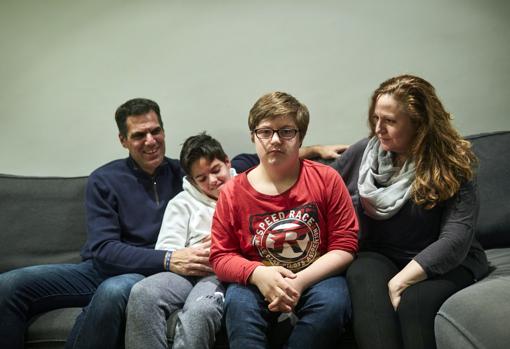 "Integration is wonderful, but don't instrumentalize my son"
Javier is 13 years old, and although he currently attends class at a special education center, this has not always been the case. He began his academic career in a concerted integration center, where he stayed until he was 4 years old. There «they treated him very well, but it was just a little piece of furniture, always on one side of the class"Because the teacher" had to take care of twenty-odd more students and she couldn't cope, "says her mother, Alba del Río.
At that stage of childhood, Javier's Down syndrome more or less allowed him to grow at the same rate as his classmates. But this difference «is accentuated when they grow up, and children without disabilities evolve naturally, at a different rate», Adds Alba. With his classmates he had a good relationship and coexistence, but nevertheless, in the four years that he was enrolled in that school "no one, except for a girl, never invited him to his birthday."
Due to his special needs, his parents decided to change him from a school to one where he received so-called "special education." From the first moment he stepped on it it was "Absolut happiness", because he understood that there he did not stand out in the negative: he ran like the others, he no longer stayed last and they also counted on him.
The main fear of these parents is that their child will suffer a setback in his development. In the school he attends, everything is focused on his specific needs and is fully integrated. «When we are with other families or friends without disabilities, it is super integrated because they also teach that»Adds his mother.
In ordinary schools, according to his own experience, these children with specific needs "obviously do not learn as in a special education center, where professionals focus on them. PairHow to teach a child with Down syndrome to read or write you have to know how to do itIt is not just anything or an easy task. Taking him out of his center and enrolling him in an ordinary one may mean that "everything he has learned stagnates. Because he can't stop learning. At home, during the summer months, he receives classes from a private teacher: "His mind can't stop. There are things in which, if you don't do it like that, you back off. Something that can happen to Javier if the next Education law is processed is that he has to use his extracurricular hours to go to the psychologist or speech therapist. If so, "when can my child rest? It would be pathetic if she stopped receiving such care at the center and having to go to specialists outside of class hours, "exclaims this mother indignantly.
Alba positively values ​​the intention of integrating people with disabilities. He argues that «integration is wonderful, especially for children who do not have disabilities; the personal enrichment that they will have by being with them in their classrooms is tremendous. But I would like my son not to be exploited. And also that they let his parents choose how we want to educate him.
José María Escudero, father of Jaime, an 11-year-old autistic boy
"We ask for diversity and not a coffee for all"
José María Escudero is the father of Jaime, an 11-year-old boy with autism, but he is also the president of «Inclusiva, Sí. Special, too ", a platform that fights for the" real integration "of people with intellectual disabilities into society. Escudero relates with pride that his son has gone through all the types of school that exist: he started in an ordinary school; then he was in what is called a "stable classroom"; and now she goes to a special education center, where "she is very happy." In the "stable classroom" children are in a normalized environment, but a percentage of the time they receive specialized care. Jaime was in a "stable classroom" until he was 6 years old. At that time, according to his father, at the school itself they were advised to take the minor to a special education center "Thinking of the good of Jaime, who would be better cared for there."
Although at first they were afraid of the change because they did not know how these centers worked, Escudero acknowledges that "as soon as we opened our eyes, we realized what we had been missing». In his opinion, until now "it was the school that adapted to your son", but with this law, the children are the ones who are going to have to adapt to the school
Without educational plurality
Escudero fears that cases of bullying at school will skyrocket and insists that "the most important thing is to protect the most vulnerable people" and not forget that these children need, as they grow, a very specific education that changes.
In his words, it is worrying that there is no longer a plural educational offer that meets the different needs of minors like Jaime, who can experience a great evolution in the right center. «The Government is obviating with this law the qualities of each child. We ask for diversity and not a coffee for all ».
«They don't learn the same; they train to brush their teeth »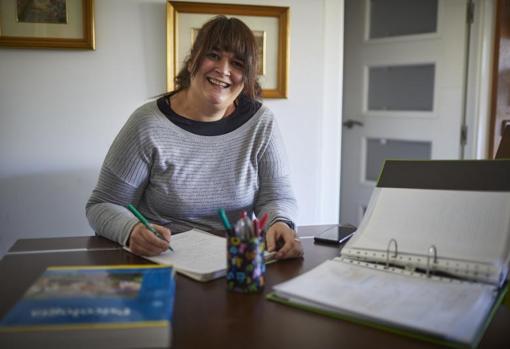 Bárbara de Lorenzo knows first-hand, the fruit of her 16 years of work in a special education center, what is the truth behind this type of teaching. Nothing less than the suitability, usefulness and success of it as a way for children with disabilities (its center educates children and young people with cerebral palsy) have a life as independent as possible. «There is something basic with all this mess that the law has generated and it is not clear to me if anyone thinks about it: these children do not learn the same, they need specific training, such as visual support or a sequenced structure of steps simply to be able to brush their teeth », Explains this counselor from the Los Álamos center.
Take the subway or the bus
«What is the use of going to an ordinary center to add and subtract if they don't really learn those concepts? They can do it mechanically but they don't understand it. It interests me that they talk to the fruit vendor, with the butcher, that they can pay, take a book out of the library and for that you have to train them in social skills that they develop not by imitation, that's why we really spend our lives outside of school », De Lorenzo explains. She clarifies that she is not against children who can go to ordinary centers, but not in the case of children like the ones she prepares, with intellectual disabilities. «They learn curricular content but also what can help them to be independent and that is what they have to gain: that they can dress, shower, take the subway or the bus alone … I don't know how they propose to do it in an ordinary center, take them all to the subway? How are you going to do? They haven't explained it to us.
De Lorenzo points out that the most delicate stage is Secondary. «There is a lot of ignorance of the work we do and the needs of these children, most of them come from the ordinary school, at the end of Primary where there is an integration that works moderately but in Secondary they find few teachers, unstructured spacesWithout individual monitoring … they cannot continue the ordinary itinerary, it is impossible. He insists on the importance of individualized attention: «When there is an excess of stimuli, they decompensate and bad behaviors appear and cannot continue; Furthermore, the interests are not shared because the mental age is lower, 13-year-old boys come and have more childish interests. When they arrive here they feel linked to the center, with boys like them and the barriers are lowered ».
See them
comments

www.abc.es
Digsmak is a news publisher with over 12 years of reporting experiance; and have published in many industry leading publications and news sites.