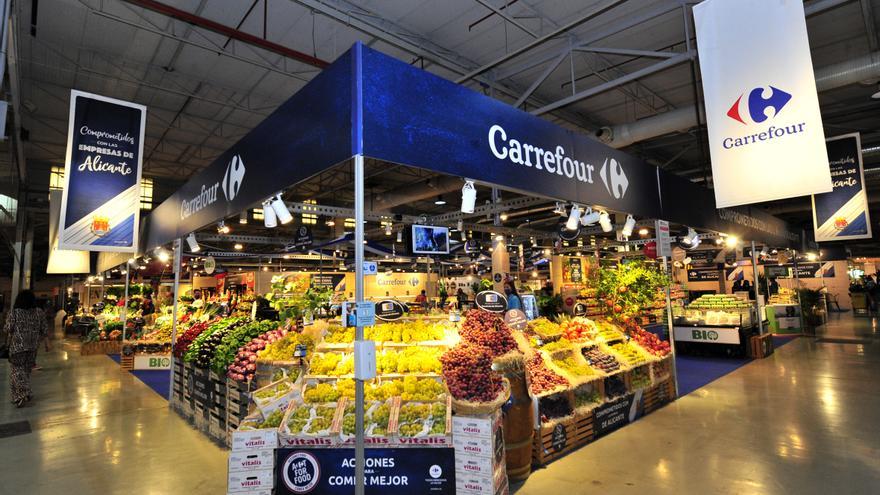 Betting on proximity and proximity products is an option that promotes the economic and social fabric of our environment, especially in a sector such as agri-food that in the last year, has shown more if possible, its importance. Of course, although many have realized as a result of the pandemic the need to support the national producer, At Carrefour they have this philosophy in their DNA since the beginning of the company's activity.
«Support the local product and take advantage of new opportunities To make the economy of Alicante grow is our priority ", highlights Francisco López Nieto, Carrefour Levante Sur Regional Director.
Currently, they maintain a firm commitment to economic dynamism of Alicante, which it reached in 1977 with the opening of the first hypermarket in the town of San Juan, increasing its presence to currently reach 13 Carrefour hypermarkets, three Carrefour Market, 13 Carrefour Express and 36 Express CEPSA.
For this reason, the commercial dynamism of Alicante fits in with the diversity of the multilocal model of Carrefour, since one of its strategic lines is to continue betting on local producers in the area and in this way, also respond to the demands of the Alicante customer who demands more and more products from proximity, higher quality and to better price.
This firm impulse to the business fabric of Alicante means, at the same time, responding positively to customers. An example of this is the collaboration agreement with the Regulatory Council DO Vinos Alicante for the promotion of products Alicante PDO wines
«With this signature we reinforce the bet of Carrefour for the promotion and dissemination of the wines of the DO Vinos de Alicante and adds in a positive way as support to the SMEs of Alicante ", highlights Francisco López Nieto.
In addition, at Carrefour they maintain a firm commitment to the democratization of the consumption of organic products with which to satisfy the needs of a customer who increasingly demands more healthy, quality and residue-free products as flavor enhancers, flavorings, artificial colors, synthetic fertilizers, additives and preservatives.
Francisco López Nieto, Carrefour Levante Sur Regional Director: «We have a great commitment to the citizens of Alicante and to the business fabric of the region. Our main priority is investing in local and proximity products »
To achieve this, the company offers a wide range of quality organic food, reliable, transparent and always with the best prices, among which the products of its own brand Carrefour Bio stand out, which it has been marketing since 1992 and which currently adds more than 400 references, all of them coming from the farming and cattle raising ecological.
«We have maintained at all times the commitment to the sustainable development in the production and distribution of organic products, as well as reinforcing the commitment to local producers, since we also support the transformation of its production model ", underlines the Regional Director Carrefour Levante Sur.
All within an omnichannel strategy, hypermarkets, supermarkets and where the online commerce has become in recent months the best alternative to carry out fast and safe shopping by guaranteeing its clients from Alicante strict measures of security e hygiene in your orders and deliveries.
"It is a great satisfaction to be in your different points of sale"
Alfonso Jurado Mesa, manager of Café Jurado
– How long have you been working at Carrefour?
We started working with Carrefour in 1996. After several visits and commercial meetings, our products began to form part of the great offer of coffee that Carrefour centers offer to their clients. As local producers we notice the acceptance of our products quite quickly and therefore we earn the confidence of Carrefour at the provincial level.
– What items are sold in Carrefour stores?
We sell a wide assortment of our products such as: ground coffee, coffee beans, soluble, capsules compatible with different brands and condensed milk. Our star products most demanded by the Alicante consumer is the selection grind and our sharable capsules.
– How is your relationship with Carrefour?
It is a very close relationship with the centers of Alicante and the province. We enjoy a fluent and very frequent communication, that greatly facilitates that bidirectional information is constant, respectful and productive.
– What does it mean for you, an Alicante company, to work with a company like Carrefour?
It is a great satisfaction for us to be in its different points of sale in the province and that customers value our products. Zoom in on quality Alicante product to all points of our territory, it is something that makes us proud and that gives great value to our work. See how a hundred-year-old and family-owned company like ours grows stronger every day as a trusted producer of the centers. Carrefour It is something that helps us grow every day and above all encourages us to develop constant improvements in our systems from control and quality.
"Carrefour has allowed us to improve as a company"
Francisco Javer Martínez Penalva, Manager of Meat and Sausages J. Martínez, SL
– How long have you been collaborating with Carrefour?
In 2004 we started serving mainly built-in fresco and over time we have been expanding our range of products.
– What kind of articles are available to Carrefour customers?
Sausages and elaborated mainly, fresh sausages and hamburgers.
– How is your relationship with Carrefour?
The relationship is daily and very cordial but no less demanding. As a customer, Carrefour always demands a high degree of quality and food safety.
– How would you define working with a company like Carrefour?
We are proud that a prestigious company like Carrefour supports the food sector in our province. It has allowed us to improve as a company, thanks to support human and professional of the Carrefour team.

www.informacion.es
Eddie is an Australian news reporter with over 9 years in the industry and has published on Forbes and tech crunch.