At the beginning of 2020, a plague that had not been seen in decades broke out in the Horn of Africa: billions of locusts crossed the borders of the Arabian peninsula, without any passport or permit, and devastated land and fields, putting in threatens the food security of up to 32 million people, according to the UN Food and Agriculture Agency (FAO) warned at the time. After a series of cyclical droughts and floods, the extreme climatic variations that this region suffered during the previous year created the perfect breeding ground for these insects to reproduce.
Six months later, in August 2020, some 650,000 hectares had already been sprayed with biopesticides, killing about 440,000 million lobsters. The plague was in retreat, but it was still too early to claim victory. At present, the battle continues its course. One of the fronts is located in northern Kenya. There, FAO has joined forces with the private sector, community elders and the Kenyan government to combat these swarms. In densely populated areas, the control operation has to be carried out on the ground, with trackers spraying the insecticide from special backpacks or from spraying devices mounted on the back of pickup trucks.
However, this procedure is not feasible in the vast plains and extensive forests of the north of the country. For this reason, it has been chosen to send surveillance helicopters from small airfields that record information on the location and dimensions of the swarms. This data is then gathered in the so-called joint operations control center, where experts from different areas can decide where the fumigation planes with their special teams have to fly.
"Last year we did not have data," explains Casper Sitemba, FAO representative. "When we started, there were people calling on the phone to report where they had seen lobsters, but in this campaign we have used a lot of technical means to fill in the data gaps. We have created several applications, and with their help we have been able to collect huge amounts of data. Right now, the success rate of our control efforts is almost 86%. Now we can measure the results. Last year we didn't even know how many swarms there were, or where they were when the invasion occurred. "
According to FAO, the operation in northern Kenya has been "a great success". Sitemba estimates that there are only a few swarms left in Kenya at the moment, and they are not even swarms. "They are what we call enjambrillos, groups of locusts that have split from larger ones. They can cover between 20 and 30 hectares, while last year some covered up to 3,000 hectares. We are reducing the scale of the operation, since the situation has improved a lot, but we remain vigilant, given that the rainy season is approaching ", sums up the expert.
To find out how a locust infestation is fought from the air, we have climbed into one of the surveillance helicopters that fly over the region in search of data. And this is what the fight to save Kenyan crops looks like:
1. Let's fly!
Helicopters and aircraft deployed by FAO at Nanyuki airport. Aircraft are equipped with fumigation devices to spray pesticides on large swarms of locusts.
2. The lobster hunter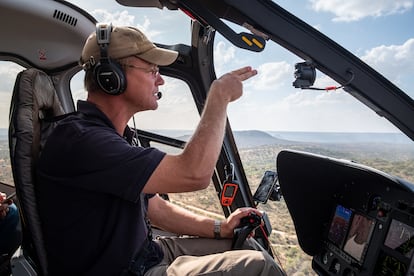 Before the locust invasion and the COVID-19 pandemic, Kenyan pilot Chris Stewart used to drive and bring celebrities, royalty and other personalities to luxury accommodations in exclusive protected areas. Now he hunts lobsters. "It's easy to mistake smoke or dust clouds for a swarm, and if the insects are perched in trees they look like acacia flowers," he says.
3. On Samburu land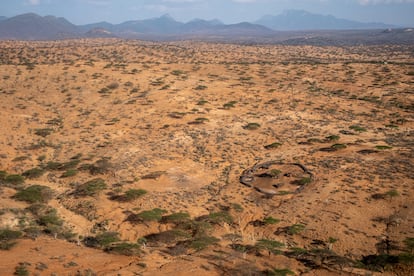 In northern Kenyan counties like Samburu and Isiolo, semi-nomadic herders live with their herds. Their houses can be clearly distinguished from the air, located within the so-called bomas, enclosures made of thorny acacia branches so that wild animals do not approach livestock at night. As the area is not as populated as other regions of the country, it is possible to use small planes to spray the swarms with pesticides.
4. Is that a lobster?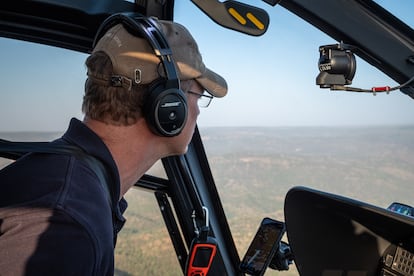 "I think I see something," Stewart says just before taking a sharp turn to direct the helicopter into a possible swarm. On his iPhone he receives information from the Lewa operations center, where a team collects data on sightings and possible locations.
5. Collecting data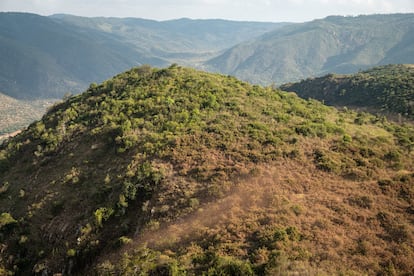 Stewart was right: a swarm of locusts has perched on the top of a mountain in Isiolo. The pilot flies around it and enters GPS locations on his mobile phone to measure their dimensions in hectares. Take note of the wind direction as well, as the swarm may take flight again. With this information, analysts can make predictions of which way the insects might move.
6. Cold-blooded creatures
In the morning, desert locusts usually stay where they landed the night before. They are cold-blooded nomadic creatures that rarely spend two nights in the same place. When they have landed, they wait for the ground to warm up and the air to warm their bodies before taking off to find new green leaves to devour.
7. In the operating room
Yussuf Kurtuma, Christine Kebaba (both 51 Degrees employees) and Casper Sitemba (FAO member) look at a screen full of data. Information from Somalia, Ethiopia and Kenya is collected and analyzed in the operating room. "We gather the information that the community provides us," explains Kurtuma. "It is collected by seniors and trackers employed by different organizations. We unify all that information on one platform, and then share it with everyone working on the ground to stop the desert locusts. "
8. Final goal: avoid hunger
The data collected by the helicopter crews is sent to the Lewa Joint Operations Control Center, where Christine Kebaba (left) works for 51 Degrees, a wildlife tracking company turned locust monitoring organization. "It is exciting to know that I am working to ensure food security in the Horn of Africa by exterminating desert locusts," says the technician. "If we don't take care of this situation, many people will go hungry, as food will be scarce because lobsters have eaten it."
9. A coordinated work
Technical advisor Heath McRae presents a series of data on desert locusts to Martin Gichuru, who works for a British government consultancy. In the control center, employees of private companies work together with experts and representatives of the Kenyan Government and Army. The FAO campaign is funded by different institutions, including the British Foreign Office and Commonwealth of Nations.
10. The memories of the old Samburu
Once the coordinates have been sent to the Lewa control center, a fumigation plane is dispatched. Meanwhile, the helicopter and its locust fighters await the plane's arrival on top of a nearby mountain. Their presence attracts several Samburu men who were in the vicinity. A old man (old man) Samburu explains his memories of a locust infestation in the 1950s.
11. The moment of the photo
Various morans and Samburu elders heard the helicopter arrive and came to see what was happening. While the crew awaits the arrival of the fumigation plane, it is time for a photo session.
12. And the fumigation plane arrives
The spray plane has already arrived. Although their wings bear the blue FAO logo, the planes are owned by a private company. Some aircraft equipped for aerial pesticide application fly to East Africa from as far away as Canada.
13. A risky operation
While the plane sprays pesticide on the thickets full of desert locusts, the helicopter crew waits at a safe distance before going to examine the fumigated area. Spraying is a dangerous operation: a few weeks ago, a plane crashed in Ethiopia, and the pilot died.
14. The damage of the plague
"A little over a year ago, billions of locusts covered the area," explains Casper Sitemba, FAO, while holding an insect drowsy from the fumigation it has collected from the ground, adding: "It has been one of the worst pests in over 70 years. It has jeopardized the food security and livelihoods of some of the most vulnerable people in northern Kenya. "
15. Always hungry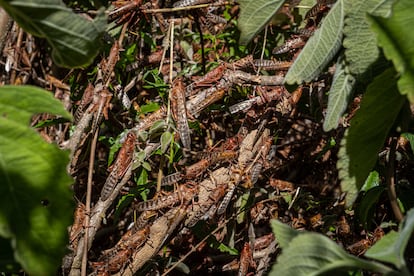 A male lobster can be six centimeters long, and a female nine. They are always hungry, and in one day they can eat the equivalent of their weight. They like millet, rice, corn, and sugar cane, and they eat practically every part of the plant.
16. From swarms to bricks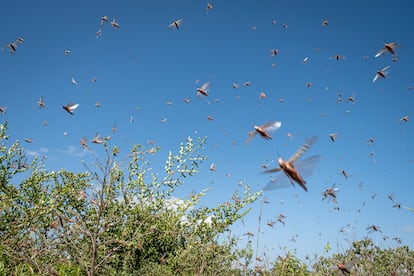 Although the spray plane has hit most of the locusts, it is almost impossible to spray pesticide on each and every insect. Therefore, there are always small groups that can be separated from the large swarm. At this time, the groups that exist can cover between 20 and 30 hectares.
17. Working among wildlife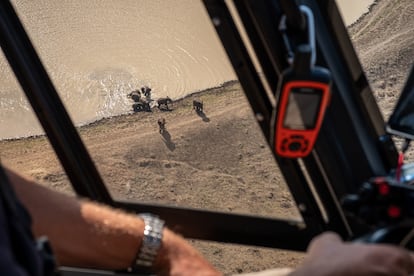 The operations center collecting the field data is located in the Lewa Reserve, north of Mount Kenya. Planes and helicopters come and go along a narrow runway surrounded by wildlife such as giraffes, elephants, and rhinos (pictured).
18. Impact exams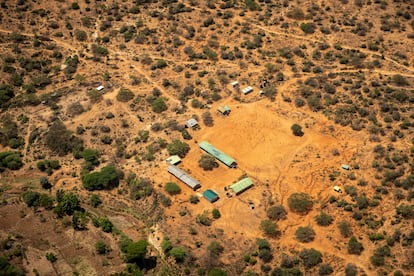 Aircraft equipped to spray pesticides can only operate in areas where there are no water sources, livestock, or villages in the vicinity. The insecticide used has been classified as safe by the United Nations, but to verify this, the fumigated areas are periodically examined.
19. Swarms of up to 80 million insects
Back in Lewa, another group of desert locusts appears on the horizon. A swarm of these insects can consist of many millions of hungry specimens, between 40 and 80 million on average. Although one by one desert locusts like to live in isolation, when found in large groups they become gregarious. "A year ago we did not have the systems or the data management capacity to deal with a plague," acknowledges Sitemba, "but little by little we have developed them, and if there is an invasion, we will be prepared."
Note to readers: EL PAÍS offers openly all the content of the Future Planet section for its daily and global contribution to the 2030 Agenda. If you want to support our journalism, subscribe here. You can follow PLANETA FUTURO in Twitter, Facebook e Instagram, and subscribe here a nuestra 'newsletter'.



elpais.com
Eddie is an Australian news reporter with over 9 years in the industry and has published on Forbes and tech crunch.