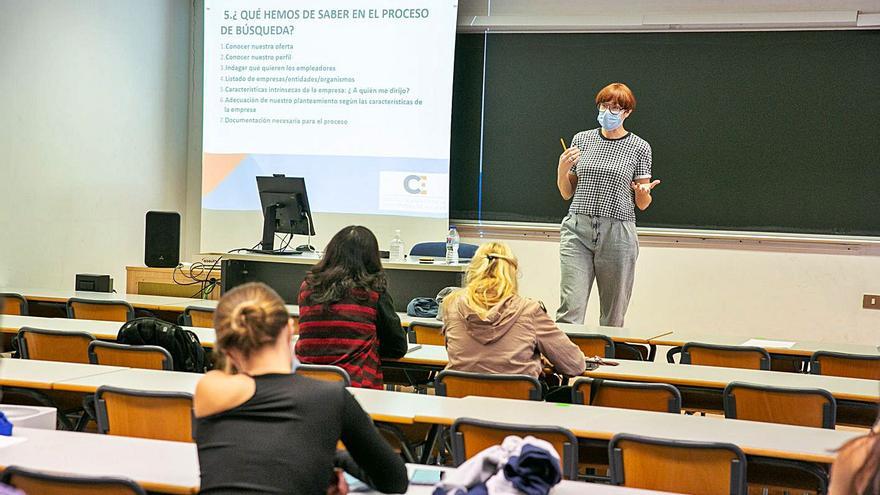 When you are on the verge of winning a contract and you receive an appointment for a telematic meeting of between five and ten minutes, it is crucial to be prepared because that moment will make a difference with other applicants. Punctuality at the computer, good lighting and appearance, gestures, attitude, collaboration, temperance, security, everything counts.
Those responsible for human resources in companies do not seek to obtain information at that moment, but to draw an extra academic profile that indicates if they are capable of leading, working as a team, if they have a hook or if they can get on your nerves.
The virtual has completely banished the personal tour to deliver the curriculum in hand and the profile or creation of a brand has to be fed from the beginning of studying, because everything counts.
"In the employment workshops at the University we guide them to improve the profile of graduates -those students who have successfully completed a degree- throughout the career," explains the delegate of the rector at the UA Employment Center and former vice-rector for students, Nuria Grané.
Doing internships, studying languages, mobility abroad or volunteer actions are some of the pluses that improve "personal brand", as the delegate highlights. "Doing things in addition to studying and passing exams improves your profile."
The workshops also become punctual meeting points to contact the companies from scheduled visits in both directions because the employers themselves also come to the UA.
"Students are encouraged to know all the tools available for an effective job search and to be trained in current personnel selection procedures." The rector's delegate abounds that the panorama has changed substantially and the same things no longer work. "Today you are looking for a job through social networks or rather you design your personal strategy on how to do it." The four-year career is basic to be configuring the brand to emphasize everything that can be offered and distinguished.
Grané points out, for example, that the fact of having trained a team can give many points against the false belief among students that something like this is better or even name it. «It provides substantial information to the employer because to begin with it shows that you have not been idle since the end of your studies, that you are also skilled in managing a group of people, that you have knowledge of human resources and that you have ability both to organize time and to transmit and communicate ».
Any activity added to the studies can position before the employer that, in addition to the video interview, is inclined according to which jobs to organize a meeting with several applicants and, based on gamification, transfers the mechanics of the game to solve strategies and group problems . "If in these situations one remains silent, it will not be who they choose", because good note is taken of what is demonstrated.
Bag
In the Gipe or Employment Cabinet of the University there are registered a total of 2,716 graduates in active search of employment, specifically in the job bank managed by the UA itself in contact with companies.
There are 338 companies interested in the university students of Alicante and in turn from the employment office they have managed within a year and two months, including a pandemic, more than half a thousand job offers.
Grané abounds that the workshops that have started this Tuesday in classrooms of the Polytechnic Higher School where the Employment Center is located are complemented throughout this course with specific actions organized with each faculty for their graduates.
For example, with the Faculty of Education an activity is organized to teach how to face an opposition. It will be from the second semester in which there are also experts from the workplace who will explain in detail how to manage one's own fingerprint to optimize the job search as much as possible. And they add an entrepreneurial culture in a broad sense that encourages and enhances skills.

www.informacion.es
Eddie is an Australian news reporter with over 9 years in the industry and has published on Forbes and tech crunch.