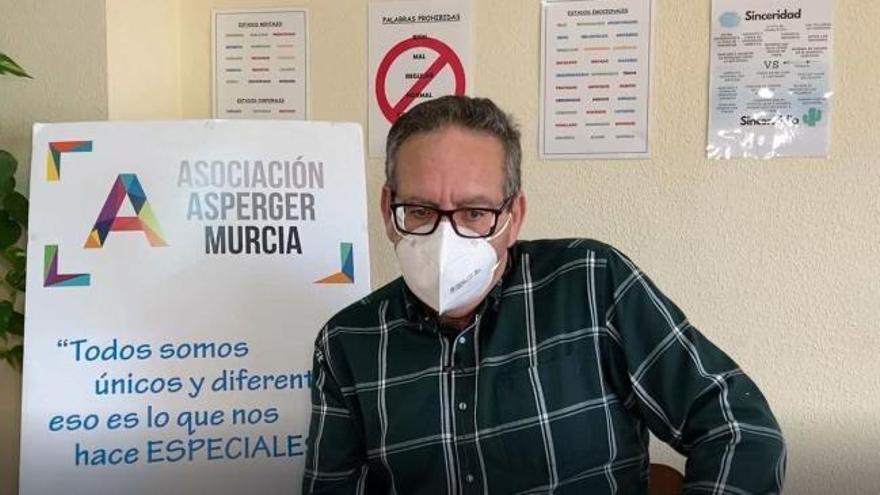 When Marcos was diagnosed with Asperger Syndrome two years ago, his life began to make sense. He was fifty-five years old when his wife decided that it was time to find out the reason for some of his behaviors. Both are teachers and handle information about this type of disorder, so it was easy for them to identify some of its traits in Marcos. It is then that they get in touch with Aspermur, a Murcian association that supports family members and those affected by Asperger's Syndrome, and with a psychiatrist who gave them the definitive diagnosis. "At that moment, my life lit up. I started to make sense of many of my performances. ", Explain.
One of the weaknesses of people affected by Asperger's is social communication. This difficulty generated a lot of conflict for Marcos: "I didn't know why I was unable to give my children a hug or a kiss or say 'I love you' to my wife, if I don't consider myself a bad person." Now he feels "liberated", having a base to work on.
It also assumes that those affected with this syndrome do not end up being integrated into society. As they do not have a physical appearance different from other individuals, their behavior is not attributed to a disorder, thus being a totally invisible problem: "It is not susceptible to see what we have, but when you interact, they see you and think 'this guy, what is he doing?'"." We are not strange creatures or have bad character, we are like that, "he says. In this sense, Marcos explains that only the closest family knows his diagnosis:" I have not published it, it is something that I have to learn to cope with. and that's it. I don't have to explain to anyone. I shouldn't, "he says.
Marcos says that being aware of his disorder and the complications he is going through "is very complicated" and, on many occasions, affects him psychologically. "You have lows, you come down many times", he regrets, "but you have to learn not to look back so much and not think about the mistakes you may have made."
Currently, he attends the association every fortnight to receive psychological therapy. "It seems not, but talking, just talking, relieves you a lot", he comments. In these sessions, he explains, he learns to file his performances and to communicate better with others. For him, this is very important: "I have this and I will always have it. The main thing is to assume it and modify my relationships with others as much as possible."
On the other side of the disorder is Paqui, mother of Ana Laura, affected by Asperger's disease. His twenty-seven-year-old daughter has always had problems communicating with other people and this worried Paqui: "We thought she was a shy girl and we took her to the psychologist because we wanted her to interact with the rest of the people around her." Over time, the mother began to realize that Ana Laura used a different vocabulary from the other children. He was also interested in subjects that were not typical for his age: "There came a time when I thought my daughter was not related simply because she had nothing in common with others". Parents began to worry when in high school she only had one friend and she spent her breaks locked in the library to isolate herself from the rest.
This situation worsened when she entered university, where, in addition to feeling lonely, she learned that her only friend had passed away. This event was the trigger for an eating disorder, the result of an implicit difficulty in those affected by Asperger's to manage their emotions well. Ana Laura began to lose weight and, after many tests, a psychiatrist detected the syndrome. "The diagnosis was a break, we already knew what to expect", says Paqui.
In Aspermur mother and daughter receive Psychological attention: "What I like the most is that they teach me to give my daughter wings." She emphasizes that, contrary to popular belief, Aspergers are not very dependent people, so she is very happy to learn to open doors for her daughter so that tomorrow she can live alone.
He recommends other parents with Asperger children to ask for help and to accept their children: "you have to get to know them, look inside them, because they will be surprised." In addition, he advises that they pass what they will say "It is a horrible scourge."
"You have to apply common sense to adapt to your needs"
Aspermur's headquarters in Murcia is an environment created in 2009 by a group of relatives of people diagnosed with Asperger syndrome. The association was born with the intention of providing assistance to both the affected people and their closest circle.
In this center, they carry out diagnostic assessments, therapy, and social skills workshops. It is precisely on this last point that they emphasize the most: "There is no cure for Asperger's Syndrome, there is simply a normalization. We learn to lead a normal life" describes José Manuel López, president of the association and affected with the syndrome.
"People with Asperger's learn to interpret if others are comfortable because we study the gestures based on hundreds of conversations, otherwise we would be unable to do so," he says. López explains that they have to make "a brutal effort" to educate their behavior. That is why working in this area is essential for the association: "We give them techniques so that they can make up for their deficiencies."
However, they are also aware that this work is not only the responsibility of those affected and their families, but that the rest of society must also be made aware. For this reason, several talks are planned in schools in the Region with the aim of preparing both parents and teachers for when there is a case of asperger in class. "It is not so much that they know him, but also to apply common sense to adapt to his needs and integrate him into the group," says Álvaro Tomás, Aspermur coordinator. "The worst thing that can be done is to remove it because they perceive that discrimination", Add.
When the health situation allows it, it is also proposed to make disclosures in mental health centers and primary care centers "so that both doctors and psychological and psychiatric personnel know on a practical level what to look for and how to help these people. "
Likewise, they highlight the importance of awareness and labor integration of those affected. "Many times companies have quotas to integrate people with disabilities, but here there is not always disability", explains the president. Asperger's Syndrome is considered a social disability and current disability assessment systems do not address this issue. "This is a problem, since you can meet apparently normal people, but who are unable to develop regular jobs", López argues.
From the center they make a call any person, affected or family, who feels lost regarding this disorder and encourages them to ask for help.

www.informacion.es
Eddie is an Australian news reporter with over 9 years in the industry and has published on Forbes and tech crunch.