Madrid
Updated:
Keep

The former secretary of the PP Francisco Álvarez Cascos has repeatedly denied before the court that judges the alleged payment of the works at the party headquarters with funds from box B that he received or delivered any amount in cash such as those collected by the ex-treasurer Luis Bárcenas in his accounting with entries under your initials: "Those entries have nothing to do with me."
In his statement as a witness and summoned by the popular accusations, Álvarez Cascos has stressed that "absolutely all" his remuneration throughout his career in the PP "are declared to the Treasury" and "incorporated into the income tax returns" and "They have been transparent."
«We have always received them through nominative checks or transfers, therefore, the value of these notes is none because they do not correspond to anything that has to do with me, "he has settled.
The also former Minister of Development has denied having received "any amount of money" outside the official channel while he was in the PP, neither from the party nor from donors to the party, nor has anyone ever, according to his statement, contacted him to make a contribution. «No one even asked me for an appointment to make a donation because no one goes to buy fruit at a hardware store ", he assured.
Denies knowing box B
Cascos was also secretary general, treasurer for a few months between the resignation of Rosendo Naseiro in 1991 and the appointment of Álvaro Lapuerta, although he has said that at that time he did not make any decision, nor did he review anything that was underway, since the treasury team as the manager, who was Luis Bárcenas, "They continued to perform the ordinary treasury functions." The point is that "someone had to be in charge" and it was him.
In this sense, he has ensured that there was no transfer of powers as such "nor did the circumstances motivate a meeting" with Naseiro, that is, he was not updated on the existence of that alleged accounting in B that Bárcenas would have inherited from his two predecessors. "There was never any knowledge of that accounting that you mention at that time, neither before, nor during, nor after.", has apostilled.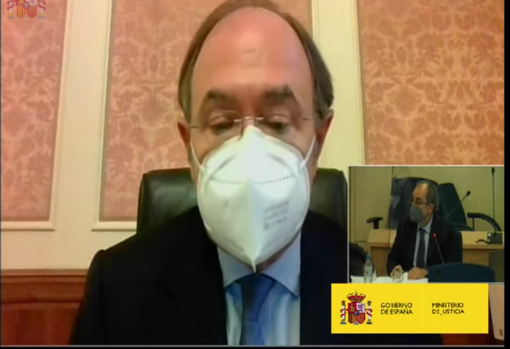 The loan from García Escudero
After his testimony, it was the turn of the popular senator Pío García Escudero who, in line with what was already stated during the investigation, has acknowledged before the Chamber that when in August 2000 ETA attacked his home, he had to confront "Very high expenses" in repairs before being able to collect any compensation from the insurance consortium.
"This is why I decided to apply for a loan from the party. This loan, for 4 million pesetas, was granted to me by the party through a bank transfer that I repaid in four installments with four bank stubs in 2001 and 2003. All this is documented in the party's accounting and before the Court of Accounts", He pointed out, to later emphasize that when the scandal broke out, he went to the party's books to verify that, indeed, everything was declared.
García Escudero has nevertheless denied that there was an advance in line with what Bárcenas noted in his papers, where there is a return of one million pesetas as an advance on that same loan. As he has declared, he does not know the reason for that annotation: «I did not ask for any advance or advance nor was any amount given to me to make that return. I asked for 4 million and they gave me 4 million ", he added.
In addition, he said he did not know why Bárcenas would make such a point, since "he had nothing to do with the entire loan management." According to his statement, he turned to the then secretary general, Javier Arenas, and asked for his help. He referred him to the treasurer Álvaro Lapuerta and he was the one who granted him the loan "With all kinds of facilities" and without any interest. He was also the one to whom she gave the stubs to return the money.
See them
comments

www.abc.es
George is Digismak's reported cum editor with 13 years of experience in Journalism