Correspondent in Havana
Updated:
Keep

Beatings, arbitrary detentions and summary proceedings, forced disappearances, psychological torture and other cruel, inhuman and degrading treatment of the protesters of July 11 (11-J) 2021 in Cuba and also pressure and threats to their families, is the balance of the events of that day. More than two months after the massive protests against the Cuban dictatorship, thousands of people continue to be detained throughout the country, hundreds more were released with precautionary measures or fines, without even the right to defense.
Prisoners Defenders (PD) in its most recent report on the "dark balance of J 11" estimates that the number of people arrested by J 11 could be between 6,000 and 8,000, classifying the situation as "terror in Cuba." For its part, the NGO Cubalex reports 1,074 complaints after 11-J; of them have been released 458 people and 533 remain in detentionAmong the latter, there are 15 of 18 years or less.
Official sources refuse to officially declare the numbers of detainees, whom they classify as "criminals" and the protests as simple "vandalism" or "riots"; they also deny human rights violations and justify repression. On August 18, the official press reported a total of sixty-seven people prosecuted, of which only one was acquitted, and only 42 had legal representation; all the habeas corpus appeals had been declared "without place."
For PD, "11-J was not just an attack against the Cuban people. It has been an aggression against the human being as a species ». The testimonies of the victims and their next of kin show this.
Teen judged
Gabriela Zequeira, 17 years oldOn July 22, she was sentenced to 8 months in prison for the crime of "public disorder" through a summary trial in which, she says, many did not even have a defense attorney. Gabriela was transferred to the Occidente women's prison, where she shared a cell with adult women.
The desperate complaint of his mother led to his release two days later, under the measure of home confinement. The teenager told the independent press that they had hardly presented evidence or witnesses against her; During her confinement, she was interrogated on several occasions without the presence of a family member or lawyer, was held incommunicado, and even received threats of rape from police officers.
In a second trial held against the student, in mid-August, the sentence was ratified, but this time to be served at home.
The Cuban Observatory for Human Rights reports that, among the 1,306 detainees since 11-J, 27 minors are included.
Chilling testimonials
"They took us to the 'Jóvenes del Cotorro' prison (Havana). There the reception was brutal: when we got off the truck, we had to pass between two German Shepherd (dogs), who barked and threatened to bite us. Then, between shoves, we entered one of the cubicles, our heads looking at the floor, hands behind. We were led to the cubicle sunroom, but it was so dark that we had no idea where we were. Pushing, with their hands behind our back and tilting our heads down, they place us facing one of the walls of the solarium. In that instant, I thought we could be shot. Then I imagined that they could hit us, as it ended up happening. (…) The new inmates were greeted like this, then they were pushed into the cells. The screams of pain or those of the military to sow terror were piercing. The sound of the canes and other objects on the bodies was horrible, "he told ABC Rolando Remedios, one of those arrested for participating in the J11 protests.
The 25-year-old was imprisoned for twenty-seven days; His case was made one of the most visible thanks to iconic photos taken by the photojournalist Yamil Lage, during his violent arrest in the vicinity of the Capitol, in Havana.
«In the two cubicles I was in, I shared with prisoners from La Güinera, that poor Havana neighborhood. I was very sorry to hear that one protester had died and that others had been shot by the authorities. The welcome they received was horrifying. They were brutally beaten. One group told us that they were sent to punishment cells for about five days, where the only water available was the one carried by the beans or the soups they drank, "he says.
On August 16, they imposed a warning report on him for "meeting with anti-social elements." Although Remedios studies online at a foreign university and at the French Alliance of Cuba, the authorities consider that he is unemployed. «On the third of these minutes my lawyer says that I can be accused of what is called 'Pre-criminal Dangerousness'». For this crime stipulated in the Penal Code, he could be punished to between one and four years of deprivation of liberty; the measure sentences to prison, mainly young people, without having committed any crime, simply because the authorities assume that they are prone to commit them.
Two sisters, imprisoned
Lisdany and Lidiani Rodriguez Isac, two of the triplets daughters of Bárbara Isac, were arrested four days after the demonstrations in Placetas, Villa Clara province. The 22-year-old girls are being held in the Guamajal women's prison, in the same province, awaiting trial for the crimes of "contempt", "vandalism", "spread of epidemics", "attack" and "public disorder ».
Since then, their mother has not been able to see them, they only allow them a phone call on some occasions. Barbara Isac explained to ABC that her daughters have even asked her bring them medicinesBecause one of them got pimples on her body from mosquito bites and the prison has not provided them with the required medical attention.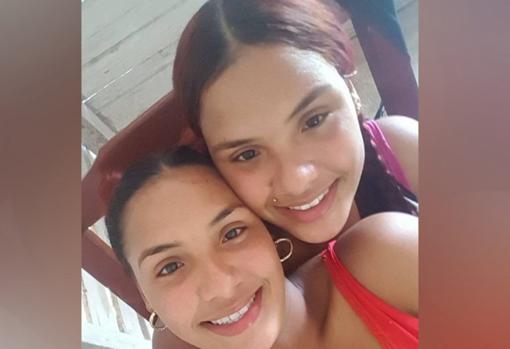 «Imagine, how am I going to be able to bring them medicine if there aren't any out here. Not to mention food and cleanliness. The lady tells that she cannot work due to health conditions that prevent it, she has even had to sell her or her daughters clothes, or the food that they give her through the supply book, in order to survive and send supplies to her daughters. to prison; "But yes, I have to support them, even if I have to sell my house."
Isac has been in the care of her 3-year-old granddaughter, who constantly asks about his mother. «Sometimes I have to ask a friend to talk to her on the phone as if she were her mother, but the girl hardly believes it, she says that her mother does not speak like that. I also tell her that her mother does not come because she is working in a cookie store to bring her enough cookies, she tells me that she does not want her mother to work there anymore, that what she wants is for her to come and give her lots of kisses ».
One of the young women worked in a school, as a result of her participation in the protests, she was expelled from the center. «The director sent me to tell me to get paid, not for the whole month, but until the 11th (July), the same day of the march, and that I couldn't go any more. She, my daughter, was the one who helped me. (…) This is an injustice, an abuse, they have the right to think what they want, and they have said it, that they could sentence them to one hundred years for demonstrating, that was their right, "says the mother.
Make them collaborators
Ángel Jesús Veliz is the only son of Ailex Marcano Fabelo. The 26-year-old was arrested on July 18 at his home in Camagüey province. A video of the protest shows Veliz walking down the street with hundreds of peaceful protesters shouting slogans such as "Freedom" and "Homeland and Life." He is currently being held in the province's maximum security prison known as Kilo 8, charged with "public disorder".
«I feel with a total uncertainty, helpless. It's been more than sixty days in this situation, I can hardly sleep. It is terrible, overwhelming. I feel minimized, with no right to anyone, "Ailex Marcano confessed to ABC.
The mother also explained that State Security had tried to capture her son, with the intention that he will collaborate with them, ratting out other protesters or infiltrating future similar initiatives. Veliz had refused to do so and for that reason, the mother thinks, it is likely that they have been cruel to him.
A few days ago, Ailex learned that all the J11 detainees in Kilo 8 had been placed with common prisoners. You can imagine the worry. There he is with at least three men who are serving time for murder (…). All this has a moral, physical and psychological repercussion for my son, who does not have a criminal record.
Destroy families
Marcano assures that the relatives and neighbors who have supported her have been harassed by State Security. This repressive body also tried to turn her against her son, something that she rejected: "I know who he is, I know the values ​​I instilled in him and nothing they told me about him was true. The objective is that, destroy, destroy even families.
For this desperate mother, even though her son is behind bars "he is my great pride and I will continue to move forward until I see him free; that is what I ask, freedom for my son and all the protesters of July 11. We cannot forget them.
See them
comments

www.abc.es
George is Digismak's reported cum editor with 13 years of experience in Journalism