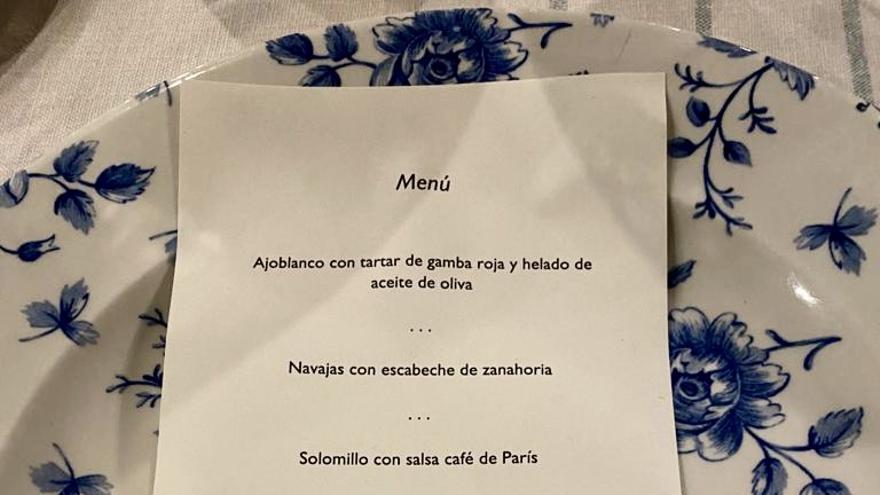 A good meal, they say, has to be accompanied by a good wine. In the province there are them of excellent quality, as has been well demonstrated in the recently closed Alicante Gastronomic Fair. But, paradoxically, in the menu of the closing dinner of this important event, which was held this Monday night in a well-known Alicante restaurant, it was offered with two other denominations of origin very far away, Rioja and Rueda. A detail that has not gone unnoticed by the Protected Designation of Origin Wines of Alicante, that in his official Twitter account he has charged against the Alicante Gastronomic organization which he accuses of "lack of respect".
The contest, organized by the Chamber of Alicante and the Alicante Fair Institution (IFA) and that sponsors, among others, organizations such as the Provincial Council of Alicante and Tourism of the Valencian Community (Generalitat), has not spoken in that social network in response to Vinos de Alicante, but the president of the Alicante Provincial Council, the popular Carlos Mazon, who is very proactive on Twitter. Mazón alleges that "I'm not a communist", so "each collaborating restaurant can decide without pressure or intervention." In addition, he adds that it was the Alicante Gastronomic organization that decided the venue for the closing dinner and that the fair "has been a great success" and that "Alicante wines have triumphed." Monastrell, which represents 75% of the cultivation of the Denomination of Origin Alicante, "does not need to impose it" because "by promoting it, it already triumphs" and that "we treat our guests with affection". "We are not ungrateful to those who come to invest and spend in Alicante", He added in a long tweet, in which he recalled that he is neither a nationalist nor an interventionist.
The guests at the Alicante Gastronomic closing dinner "watered" with wines from Rueda (Castilla y León) and Rioja, a ajoblanco with red shrimp tartare and olive oil ice cream, razor clams with carrot pickle, sirloin with brown sauce de Paris and cheesecake with red berry coulis. Specifically, the chosen wines were a Lan D-12 red from the Rioja Denomination of Origin and a white Loess, Verdejo from the Rueda Denomination of Origin. Many of the guests entertained by the organization of the contest, surely, had tasted hours before the renowned Alicante wines at the fair.
The reactions to such "daring" leaving aside Alicante wines, have not been made wait on social networks, where Alicante Gastronómica is accused of "lack of delicacy", "garrafal error" and who asks that "heads roll" for being something "unforgivable". Even the spokesperson for Compromís, Gerard Fullana, has entered the controversy accusing Carlos Mazón of "fake provincialism". And there are those who put their finger on the wound and point out, not without error, that if it happened the other way around: "If in 'Logroño Gastro' they put wines from Alicante, they will burn the kiosk".

www.informacion.es
Eddie is an Australian news reporter with over 9 years in the industry and has published on Forbes and tech crunch.