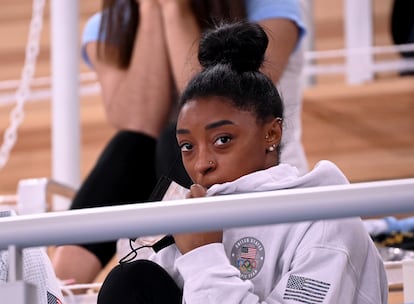 The road to elite sport is really long. Achieving that status requires great sacrifices, accepting situations beyond your control and living very difficult moments. Let no one be deceived: as in so many things in life, on the path there are more thorns than roses; doubts and disappointments are the order of the day. Learning to manage the mind is as important as any technical or tactical attribute. In the search for that balance, in the management of those emotions, is where your mentality and your character are forged.
When your career throws the first successes in your hands, hunger is accentuated. When you win, when you know the taste of victory, you want to do it again. It's an instinct, I guess. In parallel, expectations are growing. Not just yours, but also people watching your career. Many want your path to go faster. But sport is a ladder where it is impossible to skip steps; On the contrary, many times you have to go back and start the road again.
Not everyone tolerates this pressure well. Having professional success reports fame, social recognition or the interest of sponsors who give you their support. That comes with a responsibility: express ourselves in public regardless of our state of mind. Thanks to the press our effort is recognized, our stories are shared. Sport goes far beyond the field of play. It is a lifestyle and reality with many faces outside of a cut backhand or a serve to the line.
The professional athlete feels pressure to perform 100% every day at work. Does it do us any good? We are not all equal. Our character and way of dealing with situations varies. Great importance is attached to physical, technical or tactical preparation, but the mental field is often relegated. Actually, for all athletes it is the most important thing.
A withdrawal for physical discomfort is normalized. Why is it that when someone steps aside because of a mental factor, everything is magnified? This reality must be made visible, adopted as an important factor and not viewed as a rarity.
The examples of Naomi Osaka and Simone Biles are the most visible in recent times. Two of the best athletes of this era demonstrating the effects of being under enormous pressure. They are expected to win every championship they participate in. Has anyone thought about the effects of that constant attention on them?
I applaud your decision to put mental wellness before competition. I can't imagine the inner suffering that comes with being in her skin every hour of the day. If they suffer from it having achieved their dreams, why can't it happen to the rest of society on a day-to-day basis?
Let's normalize that it is not always possible to be well, let's accept that someone can suffer and say it with total ease. Let's normalize that mental health is the most important thing. We must protect that part of our being. Asking for help is not a sign of weakness. Let's normalize that not everything depends on a competition, life is not a competition. Life and sport are there for us to enjoy it to the fullest.
Let the athletes take their rhythm, let us set the records, avoid predicting the future with realities that might never happen. Many depressions come from feeding expectations that are never met. Words are free, but they come at a high price. The greatest gift an athlete can receive is to be valued for their daily effort. The end result, like so many things, never depends on yourself.
Subscribe here to our special newsletter about the Tokyo Games

elpais.com
Eddie is an Australian news reporter with over 9 years in the industry and has published on Forbes and tech crunch.