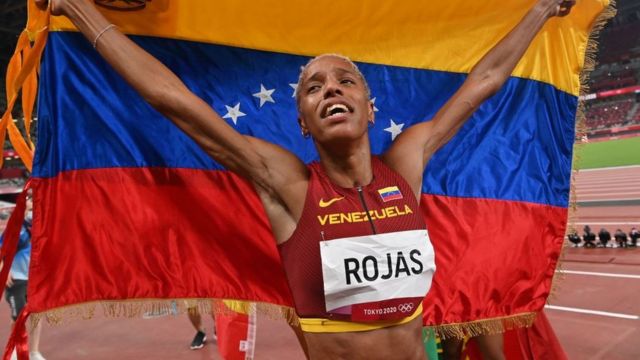 The Venezuelan athlete Yulimar Rojas continues to jump higher, reaching further and, consequently, breaking records.
Born in Caracas in 1995, but raised with her six siblings in a humble neighborhood of Puerto La Cruz, in eastern Venezuela, Yulimar showed her interest in sports from an early age.
He played volleyball and tried other facets of the athletic world, but it was in the triple jump that his talent became apparent.
And throughout her career, fate would agree to all who believed in her From the beginning.
With just 25 years and an imposing height of 1.92 meters, the Venezuelan athlete made history this Sunday by breaking the Olympic and world record, obtaining the gold medal in the women's triple jump in Tokyo 2020.
Rojas, who also became the first Venezuelan woman to win an Olympic gold, reached 15.67 meters with an impressive jump, surpassing the Cameroonian Francoise Mbango's Olympic mark of 15.39 m and the world record of 15.50 m that the Ukrainian Inessa Kravets obtained in 1995, before Rojas was born.
A dream come true
"A dream come true, what can I tell you? Olympic champion, world record holder here in Tokyo and a dream that I had since I was a child, today it materializes and I am very happy to be able to live this experience (…) I am now the most happy planet, "said a radiant Yulimar before a group of journalists at the end of the competition this Sunday.
"There are no words that can describe it right now. I am in a cloud. I do not believe it. We have fulfilled it, it has been a long journey that today materializes here in Tokyo as the new era of Yulimar Rojas," he added.
It was during the 2008 Beijing Olympic Games that the Venezuelan began to dream of becoming an athlete, after the participation of the Venezuelan volleyball team in that sporting event.
"I was excited about the volleyball team that had qualified for the Beijing Olympics, but when I went to the sports hall there were no volleyball coaches, and it was the athletics who saw me, and they immediately noticed me", he recalled in 2016 in an interview with the Venezuelan news portal Runrunes.
Example of struggle and perseverance
Little did that 13-year-old girl who loves salsa, vallenato, merengue and reggaeton know that her dream would come true.
"The dream was born in the little ranch (humble dwelling), which got wet (…) it scared me with storms, with rains, it moved and now I am a consecrated Yulimar Rojas. example of struggle and perseverance, that if you believe and fight for your dreams you can achieve them ".
Two years later he participated in the XVIII National Games of Venezuela, in the State of Lara, winning the high jump test with 1.70 meters.
In 2011, the Venezuelan obtained her first major international achievement at the South American Junior Athletics Championship in Medellín, Colombia, in which won in high jump, with 1.78 meters
In subsequent years, he continued to break records and collect medals until he earned a well-deserved place in his first Olympic Games, in Rio de Janeiro 2016.
On August 14 of that year, she obtained her first Olympic silver medal in triple jump with a mark of 14.98 meters, placing herself behind the Colombian Caterine Ibargüen.
And in 2020 Yulimar Rojas was named athlete of the year por World Athletics.
"I can not believe it (…) I have no words. I am a little surprised. I saw myself among the candidates for what we had done in the year, but not to win," said Rojas shortly after learning of the World Athletics decision .
"Women can reach the top"
But her participation in Tokyo that catapults her as a superstar of world athletics confirms that the title of athlete of the year was well deserved.
From his first appearance in Tokyo, Rojas left no doubt that he would go far.
In fact, it only took one try to enter the final of the women's triple jump setting the best record of the qualifying round, with a jump of 14.77 meters, enough to advance comfortably.
"I entered the test very calmly and I had no problems qualifying, and now I am thinking about the final," said Rojas at the time.
"It is something that I want with all my heart, my focus is on the Olympic medal. I know there will be good results and it will be a real show," he added.
At the end, his perseverance and his desire to take that medal they paid off for their country.
"I have always said that I wanted to be the first woman to get an Olympic gold medal in Venezuela. I have always had this in mind, it has always been there latent in my heart and it is what has lifted me every day, it is what has made me what I am, "said Rojas from Japan this Sunday.
"Women can reach the top and make history."
Remember that you can receive notifications from BBC News Mundo. Download the latest version of our app and activate them so you don't miss out on our best content.

www.bbc.com
Eddie is an Australian news reporter with over 9 years in the industry and has published on Forbes and tech crunch.