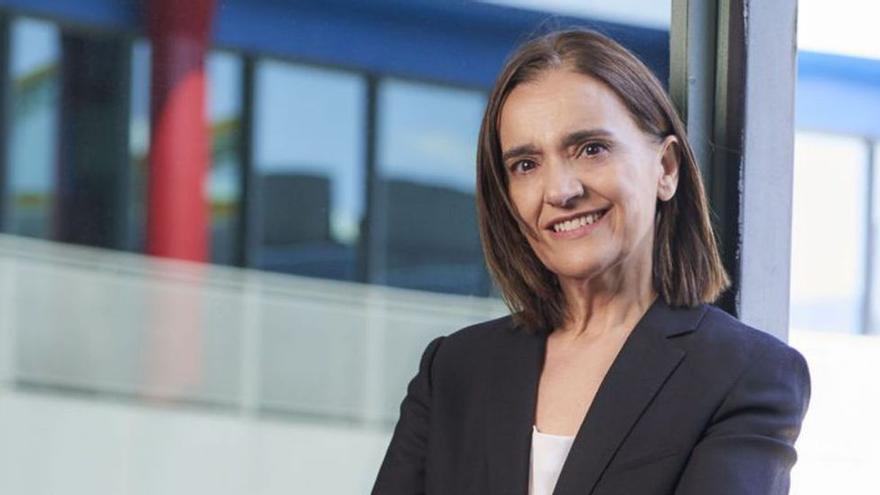 The Oviedo Mary Valcarce directs the International Tourism Fair (Fitur) since the last "normal" edition. It arrived in 2019, it organized the 2020 one and then it has hit all the obstacles of the pandemic to carry out the 2021 ones, moved to May, and this one from 2022 that returns from today to its usual place in the January calendar. From a Leonese family, he was born and lived in Oviedo until he was eight years old, in Pamplona until he was eleven and since then in Madrid. She has a degree in Economics and Business Administration and from 1987 onwards she has developed her entire career at Ifema, where before coming to Fitur she directed more than twenty fairs, from Car exhibit hall to the technological SIMO.
-Being here has been a success for Fitur. How much has it cost to maintain the fair against the virus?
-We have moved in an environment of uncertainty in which we have had very solid support from the sector and the desire of exhibitors and administrations regarding the continuity of Fitur has helped us. In the 2021 edition, we started planning the fair for January, as always, but in September 2020 it became clear that the international mobility situation would not be sufficiently restored. The decision was then made to go ahead, but changing the date to May. All the exhibitors accompanied us in this movement, even with new registrations of participation, and we had a very particular fair, but with a considerable international and successful presence, knowing that it could not reach its normal dimension but also that being able to celebrate it was a great success because with her we were saying that there was a will to restart tourist activity and support the summer campaigns.
-Today normality returns, at least on dates. With how many doubts?
-There are always people who ask you, in these times it is not possible to escape all the uncertainties but we have monitored the situation and we have decided to move forward. That is the position of Ifema, which from March 2021 began to hold events, with strict and careful security protocols, and it is already almost at full capacity. Fitur is the most important fair of Ifema and we face it with great enthusiasm and strength, hoping that it will serve to contribute to the takeoff of tourist activity.
– Is it urgent above all to instill confidence in the markets?
-Not only. The objective is to contribute to the reactivation. The very fact that the fair is held favors the establishment of many business contacts that prepare the takeoff of the tourist activity. That is our main function. But Fitur is also a showcase of tourist destinations and companies and the messages they want to send to the market; and this time, of course, the one with the confidence that it is possible to resume activity safely will be present at the stands. The very celebration of the fair is also a way of setting an example of the certainty that commercial, economic and tourist activity is compatible and can coexist with health security.
-The fair is the message.
-Yes. A very powerful one regarding that possibility of making the activity coexist with these troubled times and with a health security scheme. There are many other events that knowing that Fitur is made they understand that move on is possible but in addition to that message, what happens in Fitur matters a lot. It should not be forgotten that the fair is focused on business, and that in its first three days it is strictly professional, focused on commercial meetings that favor many essential commercial agreements for tourist activity.
-In Ifema there is going to be a lot of talk about the date of recovery of pre-pandemic levels in the tourism sector. 2023?
–There are many experts doing rigorous studies. I can speak from what I hear from one to the other, and the conclusion I draw is that growth is expected to start strong and sustained as early as 2022, but that pre-pandemic levels can actually be reached in 2023.
–Is it now more difficult than ever to sell tourism?
-I believe that people are willing to travel, that the only thing missing is for the restrictions to be lifted and the tourist to feel definitely safe, but it is not at all a problem of demand. Upside down. Perhaps even the desire to travel has been heightened. When we don't have something we realize how much it matters to us and, as soon as security is perceived, as soon as the restrictions that are maintained in some destinations is going to produce that tourist movement that we all want because it is very important for the economy, but also because it is what we like to do. Because the world is made to be known and explored by people…
–What should a destination like Asturias get from its showcase in Fitur?
–We have an absolutely wonderful region, the slogan of the natural paradise is very well chosen. I am a superfan of Asturias, and I think that Fitur is its best showcase. It is actually very special for the destinations in Spain, and there Asturias is an extraordinarily rich region in natural, heritage and cultural resources, with that wonder that I love and that is the proximity of the sea and the mountains and an impressive natural beauty, some cities with an enormous cultural and artistic wealth… It is a place to be very proud of that it carries out a very intelligent and well-planned tourist promotion, which in Fitur always makes a lot of useful contacts. It is also a very attractive destination for domestic tourism, privileged in these times of pandemic in which people have decided to opt for local tourism.
–This year's stand exploits "landscape cuisine", the fusion between gastronomy and nature or the cider culture… Good?
I've been watching the montage, but not in its entirety yet. The culture of cider, above all, seems very good to me as differentiating sign of the offer, but it is that Asturias has an enormous wealth of resources and many singularities that it can exploit.

www.informacion.es
Eddie is an Australian news reporter with over 9 years in the industry and has published on Forbes and tech crunch.