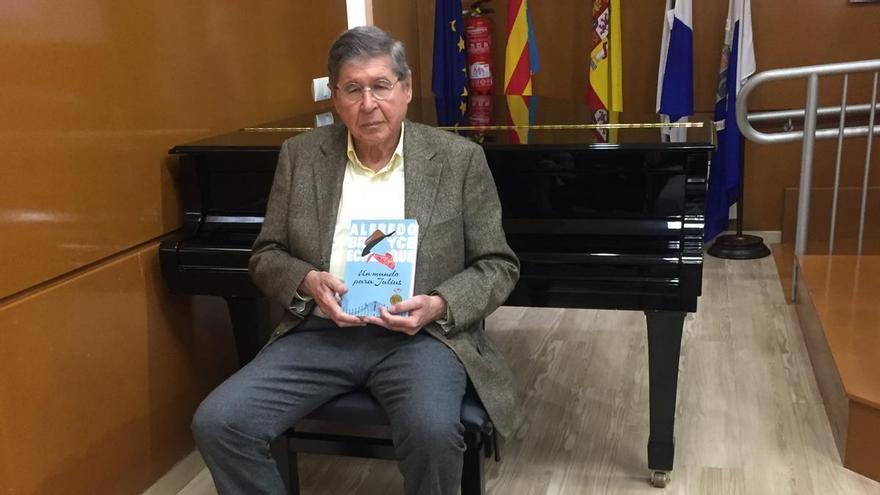 The Peruvian writer returned to Alicante yesterday, city ​​you last visited in 1998, and he did it to receive the tribute of the Center for Ibero-American Studies Mario Benedetti of the UA, on the occasion of the 50th anniversary of the publication of that novel. "For me it was a satisfaction, but also a torture because the first edition had 783 very serious misprints… where 'an increasingly fancied lady' had to appear, it appeared advantageous, and so on in about 800 words. Years later, in Puerto Rico, I discovered that this edition with errors had been used. "
Bryce Echenique says it with a mixture of irony and resignation, accompanied by some of the professors and critics who participated in his tribute. "I was quite oblivious to all that, I was a first-time writer, although I remember pleasant sensations because we met some writers, among whom was Vargas Llosa, to read us the work of the week and that is how this novel was born."
A story in which he put before the eyes of a child the oligarchic reality of his country in the 60s. "There has been a big change; the novel tells in a casual way what the Peruvian oligarchy was of those years, destined for a decline to an end that would come with him, he ruled a revolutionary in the 70s who carried out the agrarian reform in Peru and ended with the large estates, although later it was considered a failure. factor of the peruvian revolution because it portrayed an unjust society that had to disappear. This is how the criticism received it. They asked me if I was going to be like Che Guevara".
Nothing is further from reality, he assures. "I was never very rebelliousMy only rebellion was wanting to be a writer; which my father complained about. When I entered Cambridge he did not want me to go and he cut off my tap, so I had to come to Europe on a cargo ship against his will, although later he supported me, he told me: go your way, but always keep it up. "
And he made something of a case because Bryce Echenique, who has lived in France, Italy, Greece, Germany and Spain, has published a dozen novels, as well as a good number of storybooks, autobiographical texts and essays, in addition to having been recognized with numerous awards, such as the National of Literature in Peru in 1972, the National of Narrative in Spain in 1998, the Planet in 2002. "Permission to retire", published in 2019, it is, he says, the last in the literal sense of the term. And he says it bluntly if asked the possibility of publishing another book. "No. The last one was" Permission to retire "which is goodbye to everything I have experienced these years, the years of writing."
For the Peruvian author, what name Julio Cortazar As his most direct influence on his literature, if Un mundo para Julius changed something in literature, it was the use of humor to look at critical situations. "If there is something that Julius introduces in Latin American literature, which was serious and heavy, it is the humor. It was not a question of giving a message to humanity but of reflecting everyday life to know how to laugh and cry ".
A literature that now, he says, "is in very good health" because there are "great new authors." In addition to "many women in Hispanic American literature; there are important writers but the one who paved the way was Isabel Allende because until the boom, literature was a thing of the male sex ".
On November 11, "A world for Julius" will hit the big screen as film, directed by Rossana Díaz Costa, whose filming was attended by the author. "She is a filmmaker who made a film, 'Journey to Timbuktu', which I saw without ever thinking that I would later make one of my book. I had great confidence and the results that I am seeing are formidable."
What would Julius say if he lived in this moment? "I don't know, I would think that the world is wide and alien to him. Julius was a great observer of his world, the world of the Peruvian oligarchy and its contradictions. All that continues to exist."
Working day
The day had the participation of the teacher Jose Carlos Rovira, which reviewed Bryce Echenique's visits to the University of Alicante in the 90s, and with the speech dedicated by Fernando Iwasaki, as a laudatio, to the honoree. A round table was also moderated by Jorge Eduardo Benavides, with the interventions of Luis García Montero, Teodosio Fernández, Carlos Franz and Eva Valero. Finally, César Ferreira interviewed the writer. The tribute closed with the intervention of the rector Amparo Navarro.

www.informacion.es
Eddie is an Australian news reporter with over 9 years in the industry and has published on Forbes and tech crunch.