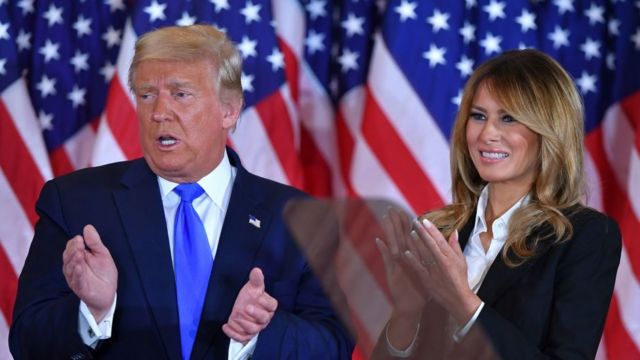 Donald Trump's impeachment trial in the United States Senate only lasted five days.
As was widely predicted, the final verdict on Saturday was that the former president was not guilty of inciting the insurrection on the US Capitol in January.
In American history, there were only four presidential impeachment trials and this was by far the shortest.
However, what it lacked in duration, it will make up for in consequences.
This process set a precedent: that of a former president on trial.
The reputations of some were redefined and a turbulent stage was created for future political battles.
Here's a look at some of the key players and how they stood at this point in American history.
Donald Trump
Once again, Trump avoided Senate condemnation because his fellow Republicans generally stood by his side.
And although the majority of senators voted to convict him (including seven Republicans), the final count of 57-43 fell short of the two-thirds required by the Constitution.
That, at its most basic level, is a victory for the former president. He is still eligible to run for president again in 2024, if he so chooses.
His political support, by all indications, remains largely intact, in both the House of Representatives and the Senate.
Most Republican lawmakers opposed the impeachment process. Those who broke ranks already face fierce criticism and, in some cases, formal reprimands from their Republican constituents.
In a press release, the former president celebrated his acquittal, condemned Democrats and said his political movement is just beginning.
However, Trump and his movement, they did not emerge unscathed from this impeachment.
One of the most memorable parts of the impeachment case was the new videos of Trump supporters, wearing baseball caps. Make America Great Again and waving Trump flags, looting the Capitol.
Those images will be forever associated with the Trump brand.
Every campaign event you hold from now on will evoke memories of those incidents.
It may not cost you among the Republican ranks, but independent and moderate voters are unlikely to forget it.
Republicans in Congress
A year ago, only one Republican senator, Mitt Romney of Utah, voted to convict Trump. This time, others joined him.
However they were not enough. More Republican votes to convict him would have drawn the ire of voters, many of whom would view this turn against Trump as treason.
But in traditionally Republican states, a challenge from a fellow conservative is a far more pressing concern than any Democrat who faces them in the next election.
Perhaps the one with the most compromised situation is the senator from Kentucky and leader of the Republicans, Mitch McConnell, who supported the acquittal of Trump but did not hold back the criticism.
"There is no question that President Trump is practically and morally responsible for provoking the events of the day," McConnell said.
He said that his vote of not guilty was due to the fact that he considers that it is not constitutional for former presidents to be subjected to impeachment.
Critics of McConnell will see that as an excuse, not a principled stand.
Time will tell if his fellow Republicans are satisfied with his vote, or with his words.
And ultimately Much will depend on what Trump does from now on.
Will he throw himself into politics again, reminding his supporters – and his critics – of these impeachment battles as the next election day approaches? Or will you be secluded in your private clubs and golf course?
I think we all know which one is more likely.
Joe Biden
The current president's strategy to handle his predecessor's impeachment was to keep his distance.
He was not closely following the hearings, they said from the White House.
During the trial, he kept a busy schedule of events related to the coronavirus pandemic.
When Biden made a comment, it was only to refer to new videos that were shown about the Capitol violence, images that had been repeatedly played on television news.
The Biden administration's calculation is that its long-term political achievements will depend on its success in dealing with the pandemic, the economy and other concerns of the American public and not on the outcome of Trump's impeachment.
In the end, the trial had little practical impact on his progress toward enacting his legislative agenda.
The Senate missed only three days of activity and will not be able to accept Biden's covid relief bill until the House of Representatives passes the version he has spent the week working on.
With the trial concluded, the Senate will also resume confirmation of appointments from the Biden administration, including attorney general candidate Merrick Garland.
All of this should please Biden and his team.
However, if the Democratic base decides that the price of moving forward with Biden's political agenda was not holding Trump fully accountable, for example by conducting a speedy trial without witnesses, it may pay a political price anyway.
In the political battles to come Biden needs a united Democratic Party. If there are doubts after this impeachment, cracks could start to emerge.
Remember that you can receive notifications from BBC News Mundo. Download our app and activate them so you don't miss our best content.

www.bbc.com
Eddie is an Australian news reporter with over 9 years in the industry and has published on Forbes and tech crunch.