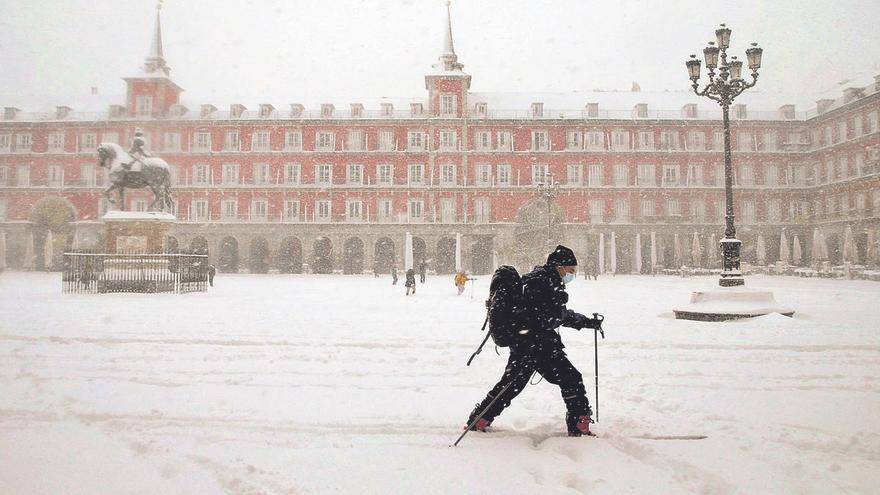 Meteorologists discredit the predictions of Las Cabañuelas, used by Jorge Rey, the 15-year-old who predicted Filomena and predicts a similar phenomenon by the end of the month

This ancestral method is said to be based on the observation of nature during the months of August or January and is very widespread in rural Spain
He is only 15 years old, lives in a town of Burgos of 164 inhabitants -Monasterio de Rodilla- and just with a computer and a telescope and after many hours observing nature and the sky, he has part of Spain with his heart in his fist.
"Could we have another episode similar to Filomena? The answer is that yes, we could have a fortnight, a month of January, with snowfalls at low levels […] There could be heavy snowfall in many areas of the Peninsula, accompanied by strong frosts and cold, "Jorge Rey warned a few days ago., fourth-year ESO student which rose to fame after Filomena predicted last year before it happened.
Filomena, the most damaging storm in the last 50 years, paralyzed half of Spain just a year ago, causing great chaos in multiple cities, including Madrid, in addition to the closure of Barajas and the collapse of roads and highways.
Four people died in the phenomenon that was formed when a cold air mass from northern Europe collided with a storm that entered the south of Spain.
Rey's new forecast, prepared based on the ancestral method of Las Cabañuelas, based on the analysis of atmospheric changes in the first days of August, These days it has taken up spaces in the news and in newspapers.
Antena 3, La Sexta, Okdiario, La Vanguardia, Onda Cero, As, 20 Minutos or El Mundo, among others, have encouraged the fear of another great storm based on the young man's predictions.
"They are not only my cabañuelas, but cabañuelistas from Murcia also say that we could have these snowfalls," Rey assured in a broadcast video the weekend in Antena. The young man already advanced in September the possible date of an episode similar to Filomena in this 2022: January 24. He did so based on the "position of the moon."
"Ridiculousness"
A prediction that experts and meteorologists throw to the ground because "it has no scientific basis whatsoever." "It's ridiculous, the cabañuelas was an attempt to know what the weather would be like at a time when no predictions were made. It's like tossing a coin", says Luis Balairón, former director of the Climate Change Program of the State Meteorological Agency (AEMET).
Currently, the main source of atmospheric forecasts is in the European Center for Medium-Range Forecasting, located in the British town of Reading. There the temperature, humidity, speed and direction of the wind are analyzed and predicted in each of the 21 million mesh boxes into which the atmosphere is divided, fragmented "like a kind of mesh."
"We use data from the surface, from meteorological stations and from probe balloons, which are launched into the atmosphere several times a day. This is done because down on the earth, the data is disturbed by the heat of the heaters or of the forests ", specifies this graduate in Physical Sciences of the Earth and the Cosmos.
"[Las cabañuelas] It has generic things that could hit; in January, for example, certain phenomena occur … ", he slides over this centennial method, which predicts the weather months in advance based on the clues that nature gives during a specific period, the first 12, 18 or 24 days of August or January depending on the chosen formula.
Experts in this methodology, widespread in rural Spain, analyze different aspects, such as the flight of birds, the characteristics of the sun and the moon, the humidity in the stones or the intensity and direction of the wind.
Jorge Rey, in particular, learned this method from pastor Rafael Sedano, a neighbor of his town with whom he has good times.
This ESO student gives his forecasts on the local radio station Radio Espinosa Merindades and has his own website where he makes his predictions, in which he also uses the models used by experts for the short term: eltiempoconjr.es. It also has channels on different social networks where you communicate your forecasts.
On his website Rey designs maps and posts photographs of atmospheric phenomena that his readers send him. Just three months after meeting what Filomena predicted, his 'site' accumulated more than 70,000 visits. Currently it has a banner where it offers space to advertise.
"I have it as a hobby, I do not do it for popularity or fame, but so that I can fulfill my dreams and improve myself every day"said Rey, who would like to study something related to Meteorology, in a recent interview on the Antena 3 program" We speak it ".
98% reliability
As the aspiring meteorologist, with whom this newspaper has tried to contact without success, has explained on occasion, his method has a high probability of success, between 90 and 98%.
According to Jorge Olcina, head of the Laboratory of Climatology at the University of Alicante, however, "no reliability should be given" to the Cabañuelas because "it is very far from the scientific method".
In fact, according to experts, predictions usually exceed 90% accuracy only when they are made for the next three days, but further on in time that percentage is significantly reduced.
"In the medium term, what they set is a trend that you have to confirm because it depends on many things, such as the types of air masses. 15 days can have a reliability of 65% or 70% at most ", maintains this expert, who still values ​​this ancestral method.
Roman age
"It is a cultural heritage that we have in Spain, of how agricultural activity has been linked to the weather. It is an interesting cultural heritage. Since Roman times, signals of this type were used to predict the weather ", appreciates the university professor, who establishes an analogy between the differences between" astronomy and astrology "and between "scientific prediction methods" and Las Cabañuelas.
"The Cabañuelas are gives a ball that does not touch them. It's like using grandma's methods or reading the horoscope. You cannot make forecasts for meteorological episodes with them ", he maintains in the same vein Carlos Benito, Canal Extremadura meteorologist with more than 20 years of experience. "We always make it very clear that forecasts for more than two or three days must be taken with care."
In that sense, the Former director of the AEMET Climate Change Program points out that specifically Precipitation predictions are "the most complicated" to forecast, hence the experts warned that there could be snowfall in January 2021 but not as intense as it ultimately was.
"It depends on variables derived from the data and they can go wrong a lot with respect to the quantities or the exact place … whether it be snow or heavy rain, they are indirect predictions", says Balairón.
There is another circumstance lately, in addition, that complicates the work of meteorologists, and it is climate change. "The weather has lost regularity. In 24 hours there can be drastic temperature changes," says university professor Olcina, who gives as an example the "tropical mass" that entered the Peninsula at the end of December. "In the context in which we live, time changes occur in little space and with great intensity."
Related news

www.epe.es
Eddie is an Australian news reporter with over 9 years in the industry and has published on Forbes and tech crunch.