Vigo (Pontevedra)
Updated:
save

At 3:00 p.m. this Thursday, November 19, 2020, twelve of the IMOCAs participating in the Vendée Globe 2020-2021 have already crossed to the southern hemisphere: «Hugo Boss», «LinkedOut», «Apivia», «Yes We Cam "," PRB "," Bureau Vallée 2 "," SEAEXPLORER – YACHT CLUB DE MONACO "," Maître CoQ IV "," INITIATIVES-COEUR "," OMIA – WATER FAMILY "," ARKEA PAPREC "and" GROUPE APICIL »(At 2:01 pm today); of which three do not have "hydrofoils".
Le Cam crossed at 00:32 today, and as always full of sly humor when this morning they asked him how he was running the race: "When you cross Ecuador everything is backwards, it's quite fun. There is a step, and since the Earth is flat, you end up at the bottom!I was expecting a calmer crossing in the Doldrums, but there was a 20/25 knot downpour. At night you can't see anything. When you are sailing, during the day you see the showers arrive and you wonder what sauce you are going to eat …
In the end, I am fine because my rivals are not foils: I am in the "Renault 4L" category, not in the "Ferrari" category, but I realize that my racing car, which I know well, is enough! Quick! Between adjusting the sails, cooking, changing sails, inspections of the boat, etc… I don't have time to get bored! ".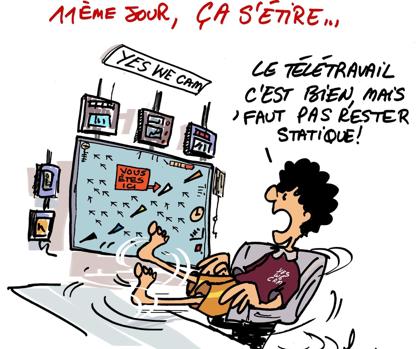 Meteorologist Christian Dumard says that the lead group will have to make a curved trajectory to navigate with fast wind angles and gradually turn the course when the wind moves north.
"In the ideal scenario, they would have to stay in this corridor until their roaring forty. This low pressure shaft is sadly less and less active next week. Therefore, the wind should subside and it is not certain that the participants can maintain a sustained wind for as long as they wish. Models launching in the coming days will bring more long-term and on-stage visibility as the Cape of Good Hope approaches, which could become complex with many possible options. The time to make important decisions could be Sunday, November 22 ".
The following IMOCAs to cross these days will have a more difficult time passing through the Doldrums. The Intertropical Convergence Zone is widening in view of the weather patterns for the next 48 hours. «PRYSMIAN GROUP» and «V and B-MAYENNE» are located 90 miles from Ecuador; and the third 250-mile group consisting of «MACSF», «PURE – Best Western®», «BANQUE POPULAIRE X» and «LA FABRIQUE».
"The trade winds remain strong for all competitors that are north of the latitude of Cape Verde. They take advantage of good sailing conditions and can repair minor injuries. On the other hand, stagnant conditions could deteriorate slightly from Friday with weaker winds and more storms in Ecuador "; Dumard reported.
Eleven days of racing have passed since the fleet set sail from Le Sables d´Olonne on 8 November. Of the 33 participants who started the Vendée Globe, there is only one retired, Nicolas Troussel due to the breakage of the mast of his boat «Corum L´Epargne», one of the favorites, and Jérémie Beyou would also narrowly enter this negative balance due to the breakdowns suffered in the «Charal». But his team worked hard so that he could return to the competition, and today he was already 195 miles west of Cape Finisterre sailing at about 17 knots of speed on the back of the northeast winds that reach him from high pressure; and with luck it will be able to be hooked to squall located to the west of the Canary Islands.
See them
comments

www.abc.es
Digsmak is a news publisher with over 12 years of reporting experiance; and have published in many industry leading publications and news sites.