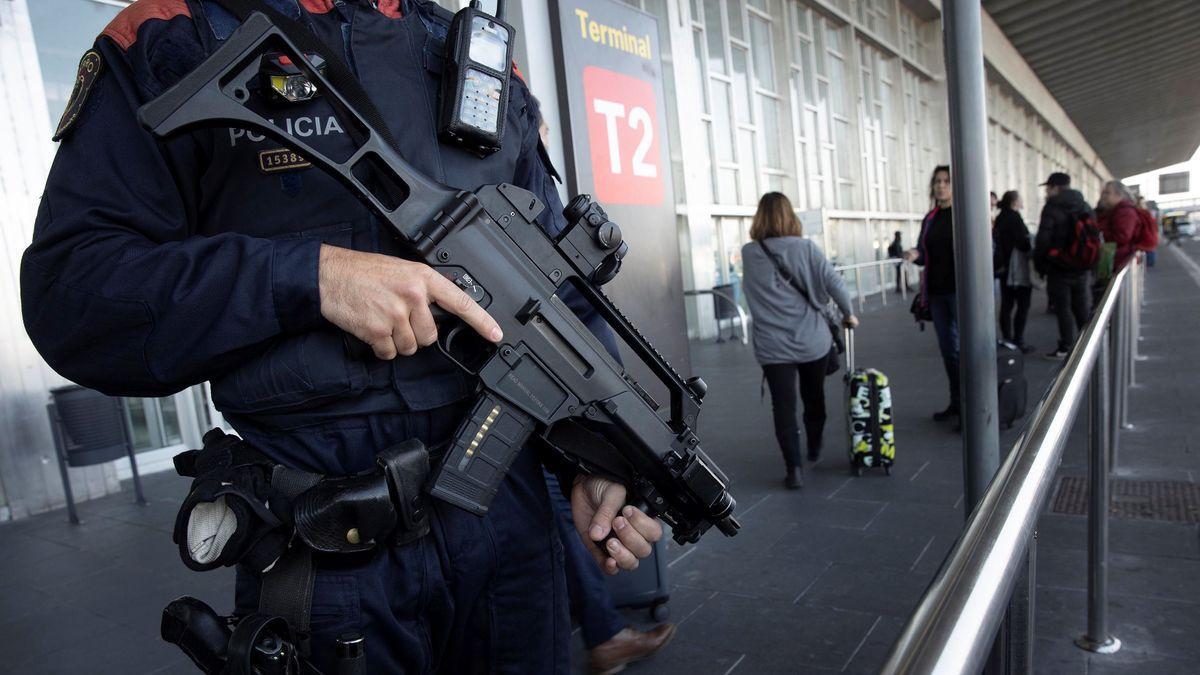 A quarantine of Palestinian passengers with Lebanese passport of a flight from Egypt with a stopover in Barcelona They arrived last Monday at the Barcelona-El Prat Airport, to request international protection in Spain. They are different families, with children and the elderly in charge, what did they decided flee a refugee camp located in Beirut (Lebanon) for the harsh conditions in which they lived. Most of them (29 people) have already recognized the right to request asylum in Spain and are housed in a Red Cross center. Everyone is expected to leave the terminal this Saturday. This is a common way of entry into Spain, which has nothing to do with the irregular arrival at the Palma airport two weeks ago.
They arrived last Monday afternoon after a long journey. First they flew to Addis Ababa (Ethiopia). From there they went to Cairo (Egypt) until they reached Barcelona. The trip continued to Bogotá (Colombia) and Quito (Ecuador) but they stopped in Spain to ask for refuge. It is told by one of the lawyers on the ICAB's duty shift who attended a couple with three children at the airport. "Nor are we talking about a riot or any kind of illegal migration. These people met all the legal requirements as refugees, they are fully entitled to request asylum, "says lawyer Helena Martínez.
Martínez cared for a family consisting of a father, a mother, and three children. The youngest, eight years old. But he explains that among this group of Palestinian families there were also elderly people. "The oldest, a 90-year-old woman who, after the trip they had made, had to be treated by the toilets"He says. All of them had Libyan passports, but they were Palestinians." These families have been living in the Palestinian refugee camps in Lebanon for years, most of them were born in them, but they do not have Lebanese nationality, they have a passport from that country that it reminds them that they are Palestinian refugees in Lebanon, "he says.
Flee the refugee camp
These people decided flee the refugee camp because of the harsh conditions in which they were living. It is, at least, his testimony. "They told me about deplorable hygienic conditions, but what also happens to the refugees in Libya is that they are excluded from the entire system, they live on the margins, without any prospect of improvement," explains Martínez. She was called the Wednesday 17 November, but throughout the week specialized lawyers have been passing through the airport. With the help of translators, the lawyers have been submitting asylum applications to the Asylum and Refuge Office of the Government Delegation in Catalonia. The authorities have 72 hours to give them an answer. At the moment, they have all been attended to correctly and, according to sources from the delegation, there are only 10 people left in the terminal waiting for a response.
During all this time, this group of 39 people has been living in a Barcelona airport facility set up for it. "It is true that they have been tight and that they are not the same conditions in which they would be in a house but we are not talking about an unworthy or degrading treatment, they were well cared for, they had beds, showers and toilets," says the lawyer. In fact, for years El Prat, like Barajas, has these spaces for refugees seeking asylum in Spain because, on a daily basis, there are people who use this route. Those who are accepted for the procedure enter Spanish territory legally. Those who are not deported at the moment, or transferred to the CIE to await the deportation flight.
In principle, Palestinians have the right to asylum recognized in Spain, due to the conflict between the territory and Israel. However, and for four years, Spain has also asked them for a visa to set foot on Spanish soil. "It is an unnecessary and incoherent measure", lament from the Catalan Commission for Refugee Aid (CCAR). The NGO recalls that in this case the group of Palestinians were applying their rights, and they insisted that the delegation's responses could not exceed 72 hours after processing their requests.
Another reality will be the one that awaits you from now on. For the moment, the Red Cross has been accommodating the families who have accepted their asylum application. They are five families and six single men. Now it is a matter of time, the law says that six months, the Ministry of the Interior solves your case. That is to say, that they are considered refugees with full rights, or stop being so and end up being immigrants without papers. Last year, only 5% of asylum requests from Spain ended with the recognition of refuge, while 60% of applicants fell into irregularity. In the rest of Europe, more than 30% of asylum requests are granted.

www.informacion.es
Eddie is an Australian news reporter with over 9 years in the industry and has published on Forbes and tech crunch.