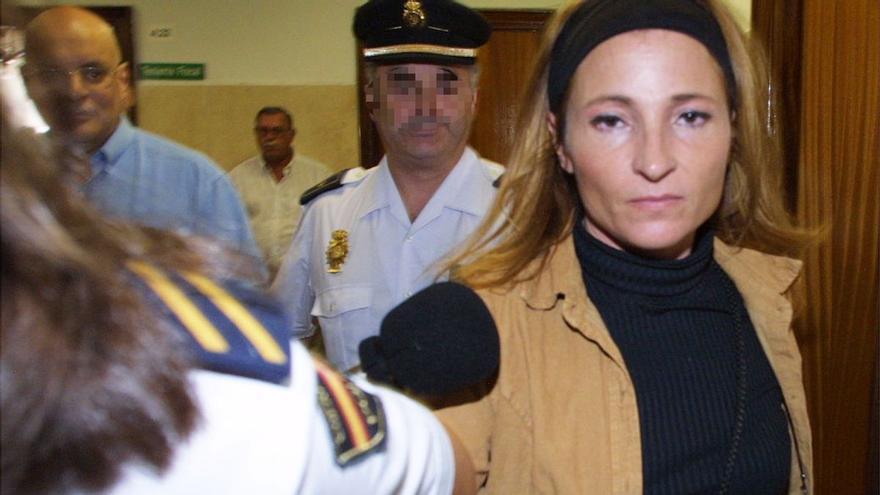 "Although outwardly it has a physical appearance… well, because I'm in a hairdresser in prison, because thank God you also live in prison, we also eat, we have a hairdresser, we fix each other… my sorrow is inside. Not a pity for two months. My sorrow is eternal, it is for life".
This is how it was expressed Paquita González Navarro, the parricide of Santomera (Murcia), in his turn to speak in the last session of the trial against her for murdering her two sons little ones, Francisco Miguel and Adrian Leroy, at his home in the aforementioned municipality of La Huerta de Murcia.
The two minors died of suffocation: they were strangled with the charger cable of a mobile phone. The older brother, Jose Carlos, slept in another room while the events were taking place. Francisca killed her two children, ages 4 and 6, on January 19, 2002. Two decades of the double crime will be fulfilled next Wednesday.
"I am not a cold, despotic, calculating person. I am a very loving person. In prison, I think I am the person who is giving the most there," he emphasized then to the people who had the task of issuing their verdict.
Paquita González's statement was the last thing the jury heard in a process that ended with a conviction: four decades behind bars for the two murders. The first permit was given in 2016 and, since then, he was able to enjoy some exits from the Campos del Río prison, which he left in the summer of 2020 in the car of his lawyer, after obtaining the third degree. "I feel a bit devastated", then declared to the journalists who were waiting to see her.
The third grade did not last long for Paquita. The condemned, when leaving prison, had to be located, and she provided the address of an acquaintance, resident in the neighboring province of Alicante. When this man learned that Francisca had given her contact details, but in reality she did not live with him, he reported it to Penitentiary Institutions and the third degree was revoked. Francisca is now one more prisoner, although she has permits, some of which have ended in punishment: a urinalysis found that had consumed drugs in the time he spent out of prison and stopped enjoying permits for a while.
"I had everything in order, even my mother-in-law loved me in abundance," he declared at his trial
Francisca González Navarro is the protagonist of one of the crimes that, together with the catana and the Dutch people, more impact has produced in the Region of Murcia in recent years. The double murder was in January 2002, she was arrested after the funeral of the little ones, was sent to provisional prison and the trial took place in October 2003.
A hearing during which Paquita blamed her husband, José, ("he continually threatened to kill me") and drugs ("I sheltered myself in cocaine and started taking it at five in the afternoon"), insisted that there was an intruder in his house that night ("I don't know if it was the effect of coca, but I saw an Ecuadorian there wearing latex gloves, like doctors wear") and remarked that he did not remember having death to their children ("I tried to resuscitate them, I gave them mouth-to-mouth resuscitation").
Paquita even asked at the oral hearing not to be released, since "I couldn't be on the street, I'm not well"
In her first statement before the court that was going to decide her fate, Francisca lashed out at her husband, José, and assured that "he had me threatened, humiliated, she has not killed me because I have always had an angel behind me; complaints, none, for fear of him. out of fear, out of what he could do to me or what he did to my children".
"My husband has a very good spirit, a good heart, but he was not like that with me," added the woman, defended by candid blacksmith, in a Palace of Justice where the media crowded. "He came from a bad relationship, he was a pimp", he continued about José, "he fell in love with me, according to him; I fell in love with him. But, after six months, he began to do things to me that I did not agree with."
Among those things, he unraveled, couple swapping. "All sexual issues: I was not satisfied, but I agreed out of fear. But it disgusted me, it disgusted me," he said.
Asked if she wanted her husband's death, Francisca said: "I'm not a killer, I don't consider myself a killer, of course not.". However, he admitted that he came to suspect that José "had hit a blow with the car."
"Cocaine destroyed my life, it took my children from me and I said that I would never try it again in my life"
About cocaine, he stressed that the night of the double crime he consumed a lot, "in cigarettes and through the nose, until he couldn't take it anymore." Despite taking drugs so much, he assured that in prison he did not do it. "I have been able to forget about her and she was an important addict", Held.
"Maybe you never know…"
"I entered prison with a lot of money and could have bought cocaine, but I said that cocaine destroyed my life, it took my children from me and I said that I would never try it again in my life. And from that day until today I have not tried cocaine, I hated it," he stressed.
Santomera's parricide reiterated that he did not remember having murdered the minors "And, if I remembered, I would say so, of course. I don't have to hide anything."
"It is said that I said in front of the Command that I had killed my children, when I have never said that," he blurted out in his statement, where he also indicated: "I was a responsible mother, I had everything in order, even my mother-in-law loved me in abundance". That night, in the duplex on the street The Montesinos"If I was alone, if there was someone… I don't know and it may never be known," the woman ventured in her statement.
"Even if I try to rebuild my life and have two or three more children, it would not be enough to remove the gap from them"
Francisca continued to focus on the shortcomings of your marriage, in which "I felt bad, not loved, very humiliated, distanced… what I wanted most in my life were my children, they are the ones who made me live".
When asked where he would like to be, after concluding the judicial process, he stated: "I would like to be in the psychiatric hospital, it is the best for me". "I would not like to go to the street, I could not. Not because of the people, but because I am not well," he stressed.
In her last statement, the parricide had words for "the media", and complained that "it has always been said that I am a cold and calculating person", although "the friends I have in prison, both officials and bosses, etc., know me and I'm not like that. My family, in the town, knows me… I'm not like that".
"I have a huge sorrow"
On October 30, 2003, in her turn to speak as a climax, Paquita González considered that she had been "a fairly effective trial". He got up when the magistrate asked him to Maria Jover and asked to sit down to give his speech.
"I had only seen this on television, I had never experienced it", he commented, to add that "there are many things that are not going to be known". "I am very tired. And all of you," she snapped at the jury.
Of her husband, she said that "he has not killed me because I have always had an angel behind me"
"My appearance cannot be that of smiling, because I am deeply sad and that pain is for life, because I have lost what I wanted most in life, which are my children; and even if I try to rebuild my life and have two or three more children, it would not be enough to remove the gap from them," said the woman, while specifying that "I suppose there will be fathers and mothers on the jury and they know that what they love most are their children".

www.informacion.es
Eddie is an Australian news reporter with over 9 years in the industry and has published on Forbes and tech crunch.