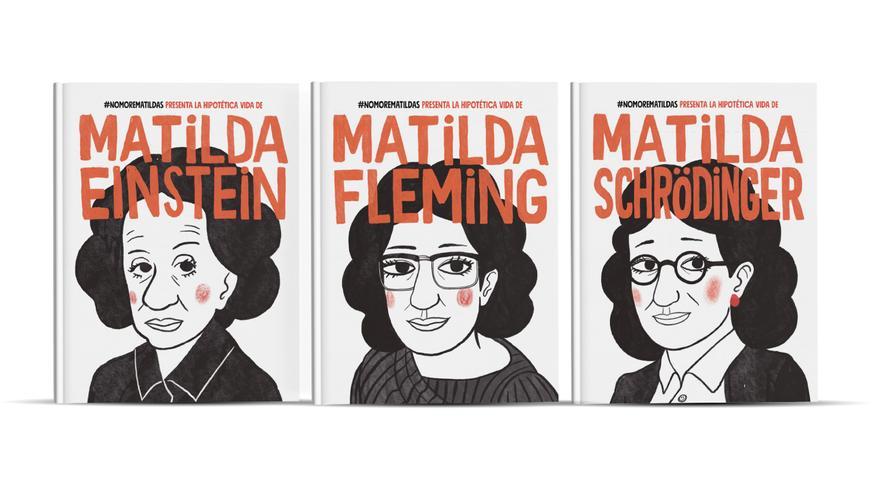 GettingBetter has achieved two silvers in the categories of "integrated campaigns" and in "public relations" with its #NoMoreMatildas campaign. Y Casanova, two bronzes for "Top Photo" and "Vecinooo" in the category of "branded content". The two advertising agencies in Alicante have returned from El Sol International Festival with four statuettes, a number that is a milestone for the province.
The Ibero-American festival of advertising communication has celebrated its 35th edition in Madrid, in which they have competed 1,075 campaigns and two years of work in American and Spanish agencies.
Since 1994, no Alicante agency had been awarded at this festival, considered one of the most important in advertising communication internationally.
The agency GettingBetter has received two silver for their #NoMoreMatildas campaign, a work done for the Association of Women Researchers and Technologists (AMIT), which tries to make visible the achievements of women scientists historically silenced by the "Matilda Effect" and which claims the greater presence of female references in textbooks so that girls feel motivated to develop their scientific talent.
Launched earlier this year, #NoMoreMatildas became a social movement, reaching thousands of schools around the world. In addition, it had the spontaneous support of the scientific and educational community, the media and institutions.
#NoMoreMatildas began with the writing of three stories, which pose, in imaginary language, what the lives of Einstein, Fleming and Schrödinger would have been like had they been born women. With the support of AMIT, GettingBetter decided to highlight the life of a series of scientists whose contributions had been silenced. And he proposed to educators and families that they include them in textbooks, as a form of protest for the invisibility to which they have been relegated until today.
There were exhibitions, didactic units, workshops, debates and even storytelling that were shared on social networks. All the materials designed by GettingBetter were available on the web for free use and more than 50,000 downloads were recorded.
The President of the goverment took sides by positioning itself in favor of the "Matildas" and members of its executive such as Vice President Carmen Calvo, Science Minister Pedro Duque or Education Minister Isabel Celaá, agreed to present the campaign in ethe European Parliament, where MEPs of all political colors (such as Dolors Montserrat, Susana Solis, Iratxe García or María Eugenia Rodríguez Palop) joined the movement.
"It seemed unthinkable to get two Suns from a small agency in Alicante, competing with the giants that were opting for a prize in the Integrated Campaign, such as Burger King, WWF, Seagram's, Cruzcampo or Adolfo Dominguez, but we have achieved it and we could not be happier", declares Nöel Lang, director creativo de GettingBetter
Two bronzes
For its part, the agency Casanova, has obtained two bronzes in the category "branded content" for his works "Top Photo" for Huawei and "Vecinooo" for Xiaomi.
"Top Photo" is the first talent show about smartphone photography created for television. It is an innovative format due to its theme, since it combines the world of television, social networks and mobile photography. As explained by the Director of Corporate Development of Casanova, Hope Blanc, "Since we all carry a camera in our pocket, we thought someone had to take mobile photography to the next level and we decided to do it ourselves. Thus was born Top Photo, a television program for Huawei broadcast in its second edition on Neox ".
"Top Photo" has achieved a loyal community created on Instagram in record time, with more than 100 influencers as content generators, 130 thousand followers with a reach of 8 million, 3 million impacted viewers and more than 10 thousand active users in the app. The project, the National Marketing Award in 2020, has also been recognized by the Branducers awards promoted by BCMA Spain, the Spanish delegation of the international entity Brandend Content Marketing Association.
Now it is the Ibero-American Festival of Advertising Communication that has awarded the Top Photo program, from the Alicante agency, in the category of branded content. In the words of Esperanza Blanc, "in short, Casanova has rewritten the rules of smartphone photography creating an unprecedented digital universe around mobile photography. We have thus become the first creative agency to take an idea and transform it into an unprecedented business success ".
On the other hand, "Neighbor"is a project of branded content generated in the most critical situation in recent years. In full confinement and through Xiaomi's social profiles, his followers were asked to inspire us with their stories of confinement. The result, a short film made entirely with the new Xiaomi terminal, in the hands of one of the most creative directors in the country, Paco Leon.
Another success in the generation of content that became the most viewed spot in the month of May. A story inspired by thousands of stories that today continues to go viral through WhatsApp, for example. For Esperanza Blanc, the two bronze Suns received by Casanova at the Festival reflect the good state of Alicante's creativity and, without a doubt, are a catalyst to continue working on the generation of content for brands.
The juries have awarded a total of 185 awards in 15 official competition sections, setting up a list of honors where Burger King's "Moldy Whopper" and "Stevenage Challenge" have shared the limelight with Corona's "The classic of history", "Lola" by Cruzcampo or "Be older" by Adolfo Domínguez ".

www.informacion.es
Eddie is an Australian news reporter with over 9 years in the industry and has published on Forbes and tech crunch.