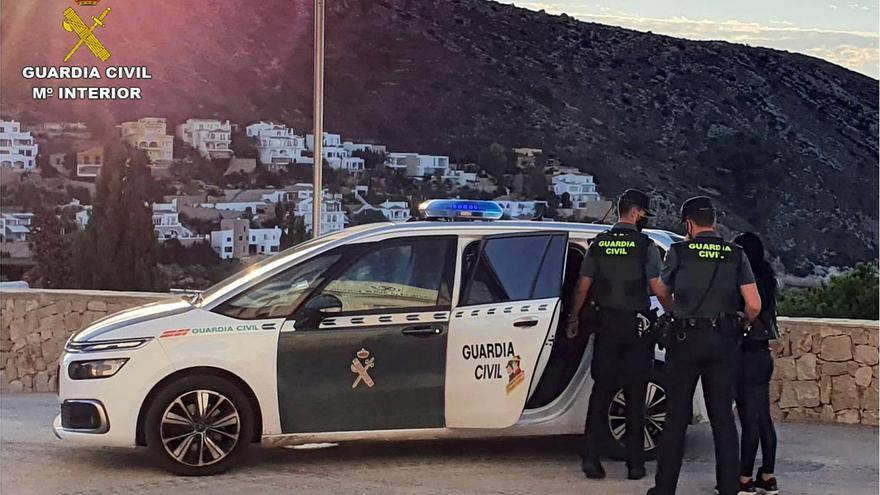 The Alicante Civil Guard indicated that it continues to fight against the now more than well-known "hug method", a type of crime difficult to prosecute, in which a young woman approaches her victim and after several gestures of affection, steals her jewelry, watch, or any other valuables you might be wearing. This method is so effective that victims do not realize that their wristwatch or gold chain is missing until several minutes have passed, and it is too late to reach the perpetrators. Despite the difficulties, in recent months, by officers of the Alicante Command, several people have been arrested thanks to the preventive surveillance work intensive that is exercised in the places where this type of event occurs the most.
In the case of the latest detainees, the agents were able to identify them before they had selected their next victim.
In Moraira, the agents were monitoring an area where similar events had occurred, when they observed a woman inside a vehicle, along with a man and a minor. Above all, what caught their attention was the abnormally slow speed at which they were circulating, but also his prowling and attentive attitude. When they were identified, it was learned that the two adults had records of crimes against property, specifically theft and robbery with violence or intimidation, using the hug method. In addition, the woman was subject to a judicial request to search for arrest and personification, emanating from a court in Malaga, for the same facts, and an investigation of her whereabouts at the European level.
Subsequently, it was decided to expand the investigation due to the possibility that those reviewed could be related to other crimes that occurred during that same week. After viewing security cameras, it was possible to recognize the woman, without any doubt, committing a "loving" theft in the restaurant parking from Moraira.
On the other hand, the Civil Guard of Calp detained a 27-year-old woman on whom several search and arrest warrants fell, emanating from four different courts, for crimes of robbery with violence and theft, committed against the elderly and vulnerable people or from reduced mobility As in the previous case, the arrest was carried out when investigating agents from the Main Post of Calp observed a vehicle that was circulating at low speed through the interior of the town, attentive to the movements of the pedestrians. This time, there were two occupants: a man and a woman.
After verifying that both members of the couple had a history of crimes related to the affectionate embrace method throughout the national territory, and were being sought by various police and judicial authorities of different autonomous communities. In total they had a history with more than 100 crimes. In addition to the police record, it was learned that the woman was being sought as the alleged perpetrator of a crime of robbery with violence and a crime of theft, committed in the province of Barcelona, ​​where she approached two elderly men, whom they could subtract two high-end watches valued at more than 10,000 euros. Finally, she was arrested for these two events and was presented to the judicial authority, which decreed her release with charges pending trial.
Tips
To prevent this type of crime, the Civil Guard recommends, whenever possible, to leave home accompanied, not to show off attractive jewelry for these bands and to be suspicious of strangers who approach us. If despite this, we are victims of a criminal of these characteristics, we must ask for help from the people we find nearby, and request that they immediately notify the 062 o al 112. It is important to remain calm and collect all the data that can help the agents to locate the alleged perpetrators (gender, complexion, height, physical appearance, clothing, accent), how many people we think we have seen, what direction of flight they have taken and if there is any related vehicle, the make, model, color and license plate. Subsequently, it is convenient to go to the nearest barracks to formalize a complaint, where the investigators will try to help us to photographically recognize the possible perpetrators.

www.informacion.es
Eddie is an Australian news reporter with over 9 years in the industry and has published on Forbes and tech crunch.